The NHL Awards had a different feel this year as the league mixed in a roster unveiling party on Wednesday night for its newest franchise, the Vegas Golden Knights.
Fans watched anxiously in T-Mobile Arena in Las Vegas as awards were handed out, awaiting their team's logo to hit the board behind Golden Knights owner Bill Foley and general manager George McPhee.
Players were "drafted" in order -- except when Foley jumped the Detroit Red Wings for the Dallas Stars -- of worst to best. It began with Foley picking goaltender Calvin Pickard of the Colorado Avalanche and ended with McPhee selecting Nate Schmidt of the Washington Capitals, where McPhee 17 spent years as the GM from 1997-2014.
Goalies (3)
Calvin Pickard, Colorado Avalanche
J.F. Berube, New York Islanders
Marc-Andre Fleury, Pittsburgh Penguins
Forwards (14)
Teemu Pulkkinen, Arizona Coyotes
William Carrier, Buffalo Sabres
Tomas Nosek, Detroit Red Wings
Cody Eakin, Dallas Stars
Jonathan Marchessault, Florida Panthers
Connor Brickley, Carolina Hurricanes
Chris Thorburn, Winnipeg Jets
Pierre-Edouard Bellemare, Philadelphia Flyers
Erik Haula, Minnesota Wild
William Karlsson, Columbus Blue Jackets
James Neal, Nashville Predators
Brendan Leipsic, Toronto Maple Leafs
David Perron, St. Louis Blues
Oscar Lindberg, New York Rangers
Defensemen (13)
Luca Sbisa, Vancouver Canucks
Jon Merrill, New Jersey Devils
Brayden McNabb, Los Angeles Kings
Jason Garrison, Tampa Bay Lightning
Deryk Engelland, Calgary Flames
Colin Miller, Boston Bruins
Marc Methot, Ottawa Senators
David Schlemko, San Jose Sharks
Griffin Reinhart, Edmonton Oilers
Alexei Emelin, Montreal Canadiens
Clayton Stoner, Anaheim Ducks
Trevor van Riemsdyk, Chicago Blackhawks
Nate Schmidt, Washington Capitals
These selections will join the three players already in the Vegas organization, which include Reid Duke of the WHL and Vadim Shipachyov of the KHL. But some of the above names are formalities of the process as various teams struck side deals with the club.
Anaheim enticed McPhee to draft Stoner in exchange for high-end defensive prospect Shea Theodore. Florida traded Reilly Smith to deter McPhee from drafting defenseman Jason Demers. Tampa Bay offered prospect Nikita Gusev in exchange for taking the Garrison contract.
Some of those deals included draft picks, as well. Vegas now holds picks Nos. 6, 15, 34, and 45 in addition to seven other picks in the 2017 NHL Entry Draft.
Since the close of the draft Wednesday night, speculation has been rampant of potential flips and other deals yet to be released, or even agreed upon. But until these trades happen, here is a look of the potential opening-night roster for the NHL's 31st franchise.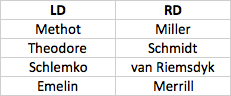 This projected lineup clearly excludes some of the expansion picks due to the roster limit of 23. This is where McPhee's strategy came in. At the beginning of the season, the team will be forced to place a handful of its expansion draftees on waivers, some of whom will be claimed while others will pass down to Vegas' AHL affiliate, the Chicago Wolves.
Taking smaller names and unproven NHL players will help ensure they make it to the Wolves without being claimed by various NHL teams.
Should some speculation come to fruition, this roster will certainly change. McPhee took a plethora of defenseman to corner the market on a prime position and will likely continue to stockpile draft picks for the future (see, Methot, Schlemko, and Emelin).
Following likely deals, Vegas' roster shows an immediate edge on the former expansion teams of the past two decades. On paper, the Golden Knights will compete every night and leave everything on the ice as a gritty, in-your-face club with defensive awareness and scoring upside.
Have a question or a comment for Jacob Messing? You can find him on Twitter @JMessing23.