While the Detroit Red Wings' run of 25 straight seasons with a playoff appearance is likely coming to an end this April, a new streak could soon be on its way behind the franchise's promising youth movement.

Aside from 20-year-old Dylan Larkin and 22-year-olds Anthony Mantha and Andreas Athanasiou, the Red Wings have an aging core. The trio of youngsters has shown it will be a big part of Detroit's future alongside another player who has yet to even play an NHL game.

That prospect is Evgeny Svechnikov, who Detroit drafted 19th overall in 2015. The 6-foot-3, 205-pound winger was chosen by the Red Wings for his combination of size, a deadly shot, and smooth skating.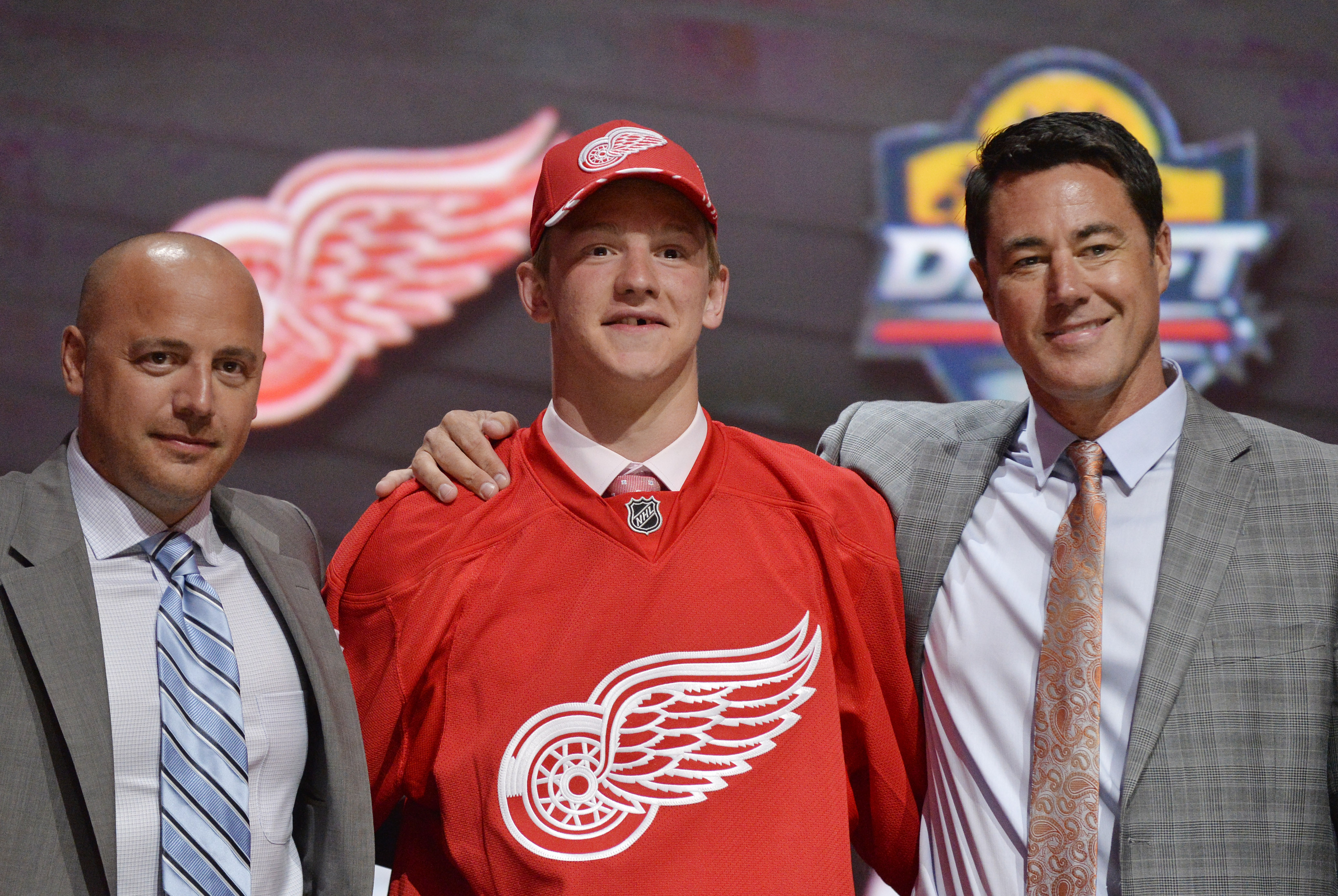 Evgeny Svechnikov poses for a photo with Detroit Red Wings team executives after being selected as the No. 19 overall pick to the Red Wings in the first round of the 2015 NHL Draft at BB&T Center in Sunrise, Florida. Mandatory Credit: Steve Mitchell-USA TODAY Sports

At the time, the 20-year-old Russian was also coming off of a 32-goal, 78-point rookie campaign for Cape Breton of the Quebec Major Junior Hockey League. He followed up his rookie year with another 32 goals and 79 points but in five fewer games.

Following his sophomore year with the Screaming Eagles, Svechnikov joined Detroit's American Hockey League affiliate in Grand Rapids, Michigan, and notched an assist in one of his two playoff games for the Griffins.

Svechnikov's history of quickly adapting to the next level can drastically accelerate Detroit's rebuild, and given his play in the AHL this year, he appears nearly ready to do just that.

The rookie seemed overwhelmed during his first 25 games with Grand Rapids, managing just five goals and 10 points. But much like his time in the QMJHL, he has learned fast with the Griffins and added another 10 goals and 21 points over his next 25 games.

Perhaps most impressive is the power forward's current 12-game point streak, having posted five goals and 14 points in that span.


Rounding Out His Game

There are still some areas the big-bodied winger has to work on. One is his two-way game, which means more defensive awareness and fewer penalties.
Svechnikov's stats do show some growth in his two-way game. He finished his rookie year in Cape Breton with a plus-19 rating in the regular season followed by a minus-4 rating in seven playoff games. Yikes.
In his second year of junior hockey, Svechnikov posted a regular season plus/minus rating of plus-26 and a plus-7 rating in 13 playoff games. OK, getting better.
In his two-game debut with Grand Rapids last season, Svechnikov went minus-2. Through 50 games this season, he has turned that minus-2 into a plus-2, and it's not because scoring all of his points on the powerplay.
His dedication to offense is molding him into a defensive liability, and that's not something the Red Wings organization usually tolerates.
The Russian's penalty rate could also be cause for concern; however, he registered 167 PIM in his 105 games with Cape Breton. Seventy of those PIM came in 2015-16, and the other 97 came during the five fewer games he played in 2016-17. That means he was trending the wrong way.
He has 48 PIM with Grand Rapids this year -- an average of nearly a penalty per game. No matter the level you're at or organization you're playing for, that's unacceptable.
Part of Svechnikov's undoing is standing up for teammates, which is often a good trait, but he has also shown a knack for taking dumb penalties. He'll need to keep his composure and minimize his time in the box when he reaches the NHL.
Should the young Russian be able to kick these bad habits, he could be an NHL star in the making with his scoring ability.
Svechnikov will look to keep his point streak alive when he expectedly returns to the lineup after missing Grand Rapids' last game with a finger injury. The Griffins host the Milwaukee Admirals in back-to-back games at Van Andel Arena on Feb. 24 and Feb. 25.