2023 Bowling Green vs Lake Superior State - Men's
CCHA Reasons To Watch: With Rivalries On Tap, Who Will Step Up?
CCHA Reasons To Watch: With Rivalries On Tap, Who Will Step Up?
Geography colors the four CCHA series this weekend, as all three UP teams host familiar rivals, while Minnesota State renews its rivalry with Bemidji.
Nov 16, 2023
by Tim Rappleye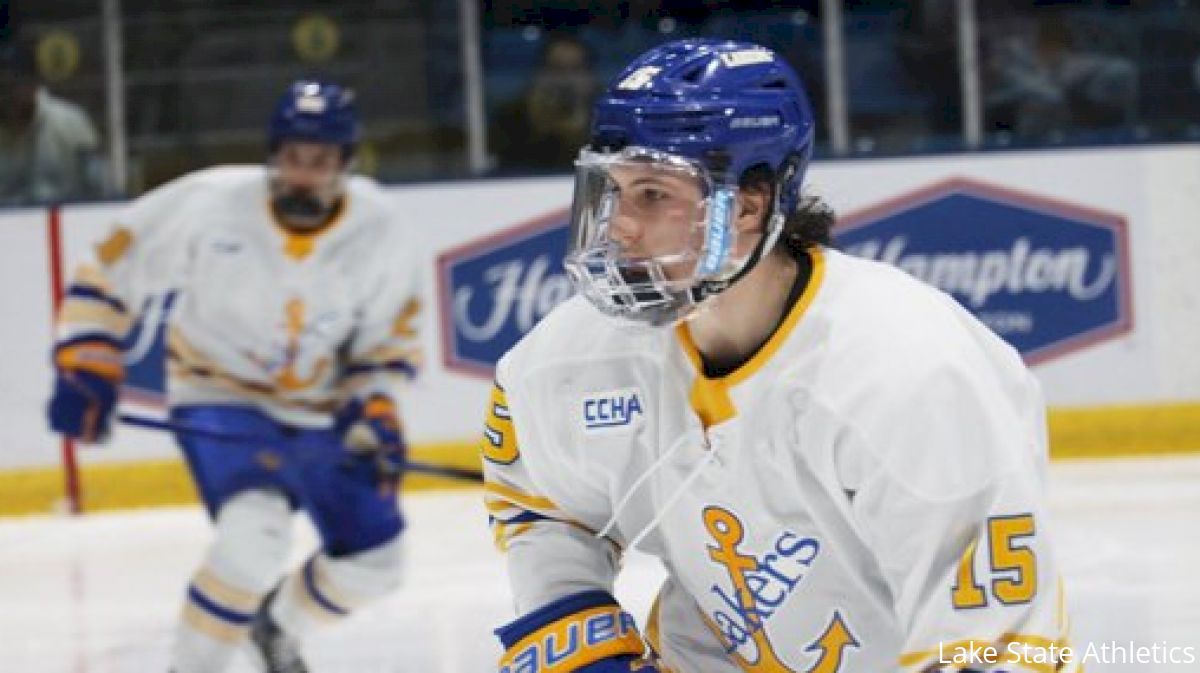 Geography colors the four CCHA series this weekend, as all three Upper Peninsula teams host familiar rivals, while Minnesota State renews its rivalry with in-state foe Bemidji.
Hockey may be the ultimate team sport, but it is the individual players who dictate the wins and losses, and they are the reasons we watch.
Bemidji Vs. Minnesota State
This weekend is when host Minnesota proves it is the CCHA's flagship program and once again the front-runner for the MacNaughton Cup.
The Mavericks have played the toughest schedule of all CCHA clubs – six of their eight games have been against nationally ranked opponents – and their record stands at 4-3-1.
They have a white-hot scorer in Sam Morton (five goals in his last four games played), and their goaltending is the best in the circuit (.910 save percentage).
What appeared to be their Achilles heel – the power play – appears healthy after three goals while a man up vs Ferris State.
This will be MSU's first home games in a month, and the Mavericks are eager to flex in front of 5,000 faithful fans in Mankato.
When we last saw Bemidji State, it was reveling after the greatest comeback in program history, defeating Michigan Tech after trailing 4-0.
The bad news for the Beavers was that it was the fourth straight game where they had dug themselves a hole of at least two goals to start the contest.
"It's a disease," said BSU coach Tom Serratore. "Psychologically, we just gotta be better."
Their disease might be physical more than psychological.
No. 1 goalie Mattias Sholl has not seen action for a month, and backup Gavin Enright's save percentage has plummeted to .976, 12th among CCHA goalies.
BEAVERS EMPTY NETTER!!
Kyle Looft unassisted! pic.twitter.com/ypFZvsCTMf

— Bemidji State Men's Hockey (@BSUBeaversMHKY) November 12, 2023
There is genuine star power in the Beaver lineup, most notably defenseman Kyle Looft, the CCHA's reigning Defenseman of Week and Defenseman of the Month. The left-shooting strongman powered in three goals and five points last weekend against Michigan Tech. There is legitimate talk of him being the league's best player this season.
Prediction: Bemidji comes into Mankato at the wrong time. Sweep for the surging Mavericks
Alaska Vs. Northern Michigan
The Nanooks from Fairbanks are the red-headed stepchild of the CCHA, abandoned by the old WCHA to fend for itself.
Alaska survived, topping all but Michigan Tech in Pairwise rankings during last year's regular season. This year, they are back at it, running off to a 6-3-1 record, knocking off then-ranked Tech and St. Cloud in the process.
This week, they invade Northern Michigan, the Nanooks once again on a crusade to bust into the NCAA postseason, a mission that fell short of by a single game last year.
Alaska has four scorers averaging at least a point per game, most notably junior Harrison Israels, whose eight goals puts him among the national leaders.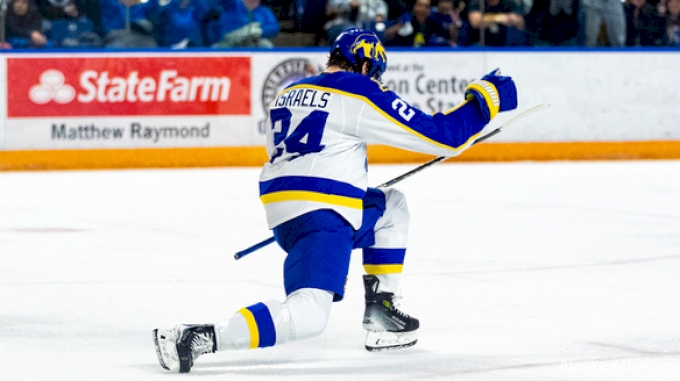 Grant Potulny's Wildcats swept a must-win series last week against Lake State, but for all their scoring talent, the Cats must learn to defend. They have allowed a league-worst 4.1 goals per game, they take the most penalties and their PK is near the bottom of all Division I schools.
Their offense will keep fans entertained, however, spearheaded by Forward of the Week Artem Shlaine (5-6-11), veteran Andre Ghantous (3-10-13) and defenseman Josh Zinger (2-9-11).
Everyone who stuck around for Northern's overtime game against Lake State last Saturday witnessed the combined offensive wizardry of Ghantous and Zinger. Northern plays a wide-open style from a forgotten era, a high-scoring offense that brings fans out of their seats.
Prediction: Edge to Alaska. Unlike Northern, the Nanooks are playing for their NCAA lives. The host Wildcats are counting on the Mason Cup as their ticket to the national tournament.
Ferris State Vs. Michigan Tech
"We just can't defend," Joe Shawhan surrendered after his Huskies coughed up six straight goals in Saturday's loss at Bemidji.
Michigan Tech, whose outlook at the start of the season looked so rosy, is driving toward a ditch.
The team's once-elite goaltending is cratering – All-CCHA goalie Blake Pietila is allowing over three goals per game, and former players are attacking Shawhan on social media for his heavy-handed style.
With Ferris coming into Houghton, it might be Blake's twin brother, Logan, who rights the ship. His career scoring against the Bulldogs is prodigious (5-10-15).
Bob Daniels' Bulldogs are not to be discounted. They amassed 23 shots in the third period Saturday to force overtime with Minnesota State.
WATCH: Highlights and scoring plays from the Bulldogs' 3-2 overtime loss to Minnesota State.https://t.co/UYI7fTthAw

— Ferris State Hockey (@FerrisHockey) November 12, 2023
FSU goalie Logan Stein was brilliant in net, kicking out 39 shots. He has rewarded Daniels faith in him, emerging as one of the CCHA's elite goalies.
Prediction: Another split for Ferris – glass half full for the visiting Bulldogs and half empty for struggling Tech.
Bowling Green Vs. Lake State
Though the "Affaire de Swankler" isn't officially over, the toxic cloud from hazing accusations by former Falcon Austen Swankler has finally lifted.
Now, Bowling Green can go about its business of trying to salvage the season.
Last week's box scores show the Falcons being swept at home by St. Thomas, but according to the eye-test, BGSU outplayed St. Thomas for the majority of the weekend.
A road trip to the Soo might be the ideal prescription for a team looking to rid the remains of a locker-room virus.
Lake Superior is a legit contender for home ice in the CCHA playoffs.
Minus a couple of bounces, the Lakers would be the ones celebrating the sweep in Marquette last weekend.
Premier sniper Jared Wescott, second in the nation with nine goals, is a primary reason for fans to point their streaming devices toward Sault Ste. Marie.
TIE GAME! Jared Westcott nets the equalizer for @HockeyLSSU with 22.5 seconds left in the 3rd!

Watch live on @FloHockey
💻: https://t.co/WoFCBfU2EN #CCHAHockey pic.twitter.com/qCVSOmAaoS

— CCHA (@CCHAHockey) November 12, 2023
His four goals last weekend included a 55-foot bomb, a goal-line dance from corner to cage and a breakaway snipe that was a mismatch in favor of the shooter.
In a sport where coaches have made goal-scoring an exercise in overcoming adversity, Wescott makes beating goalies look like child's play. He is a singular talent in hockey's most difficult task, and it should not be missed.
Prediction: Split in the Soo. The Falcons finally get a sprinkling of good news.