United States Hockey League (USHL)
Sioux City's Liam Hupka Changes Number To Honor Musketeer Adam Johnson
Sioux City's Liam Hupka Changes Number To Honor Musketeer Adam Johnson
Liam Hupka felt that the No. 7 Adam Johnson wore while with the Sioux City Musketeers should not be worn the rest of this season and switched his number.
Nov 9, 2023
by Chris Peters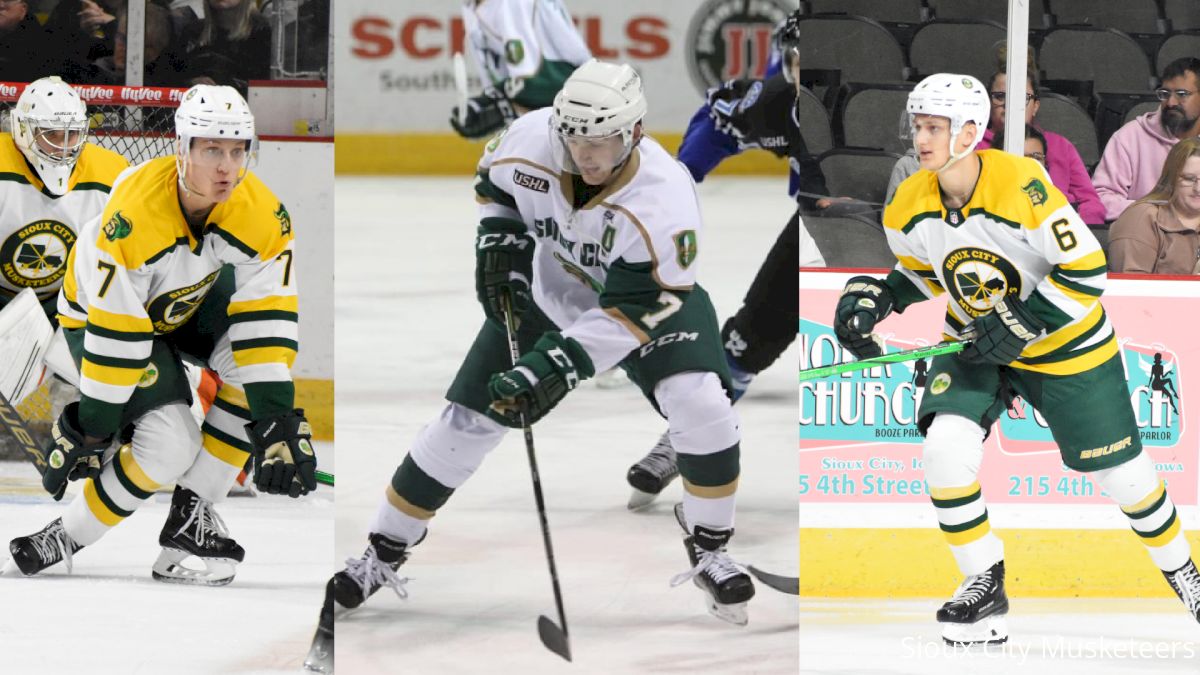 Adam Johnson made a massive impact in a relatively short period of time while playing for the Sioux City Musketeers and that impact is still very much felt today.
The hockey world continues to mourn the tragic passing of the former Minnesota Duluth star and one-time Pittsburgh Penguin. He was memorialized in his hometown of Hibbing, Minnesota, on Monday at the arena he played his high school hockey. It was attended by more than 3,000 people including current NHLer and former Sioux City teammate Neal Pionk, who spoke in memory of his dear friend.
The imprint Johnson left on Sioux City is still felt by the players who wear the same colors he wore while chasing his hockey dreams. So much so that one Musketeer in particular wanted to make sure that Johnson was honored for the remainder of the season.
Defenseman Liam Hupka, a Minnesota native himself, had been wearing No. 7 this season. That was Johnson's number while he was with the team for two seasons. Hupka did not feel he should be wearing that number any longer and will wear No. 6 instead, unofficially retiring Johnson's number for the remainder of the season.
.@Liam_hupka talks about his decision to change his jersey from number 7 in honor of fellow Musketeer and Minnesotan, Adam Johnson#SCMusketeers | @USHL | #BCGS pic.twitter.com/cMxOJtRzVR

— Sioux City Musketeers (@Musketeerhockey) November 7, 2023
"It was a pretty easy decision," Hupka said. "I know he meant a lot to the organization and meant a lot to the hockey world.
"Losing one of our own like that, it was a very important and very quick decision to say I've got to honor his family and honor him. It's a lot more important to me and everyone else to honor him than for me to wear the No. 7."
The Minnesota State commit noted how tight-knit the hockey community is in Minnesota and how that only makes it more difficult to lose someone of Johnson's stature in the community.
During two seasons with the Musketeers, Johnson had 117 points, which ranks third among Sioux City players during the USHL Tier 1 Era. He was a first-team USHL All-Star in his second and final season with the team. He also helped Sioux City take the bronze medal at the Junior Club World Cup in Russia, leading the tournament in scoring.
Tributes have continued to pour in for Johnson from around the sporting world. Nottingham Forest FC honored Johnson in the 47th minute of their Premier League game, with the players and fans pausing to applaud the hockey player.
Powerful & poignant scene as the City Ground remembers Adam Johnson, an American hockey player tragically killed in an on-ice accident playing for Nottingham Panthers. ❤️🙏 pic.twitter.com/WVzttnXU7E

— Men in Blazers (@MenInBlazers) November 5, 2023
The Nottingham Panthers have also been selling memorial jerseys, that have sold in the thousands, with proceeds going to Johnson's family and chosen charities. Additionally, the Panthers announced Thursday that the team will be playing a memorial game on Nov. 18.
🖤💛 The Nottingham Panthers are proud to announce we will face Manchester Storm in the Adam Johnson Memorial Game at the Motorpoint Arena on Saturday 18th November (7pm face-off).

More details 👉 https://t.co/APmVaZZGwc pic.twitter.com/GCSWbPUpWN

— The Nottingham Panthers (@PanthersIHC) November 9, 2023
Through gestures large and small, there's no doubt that Johnson's legacy will be one of fond memories of the player and person he was. He will never be forgotten. And for at least one more season, Sioux City's No. 7 belongs to Adam.