ECHL
Like The Rest Of Pro Hockey, ECHL Getting Younger
Like The Rest Of Pro Hockey, ECHL Getting Younger
As younger players excel at the highest levels, veteran players are having a harder time grabbing roster spots as the youth movement arrives in the ECHL.
Nov 7, 2023
by Justin Cohn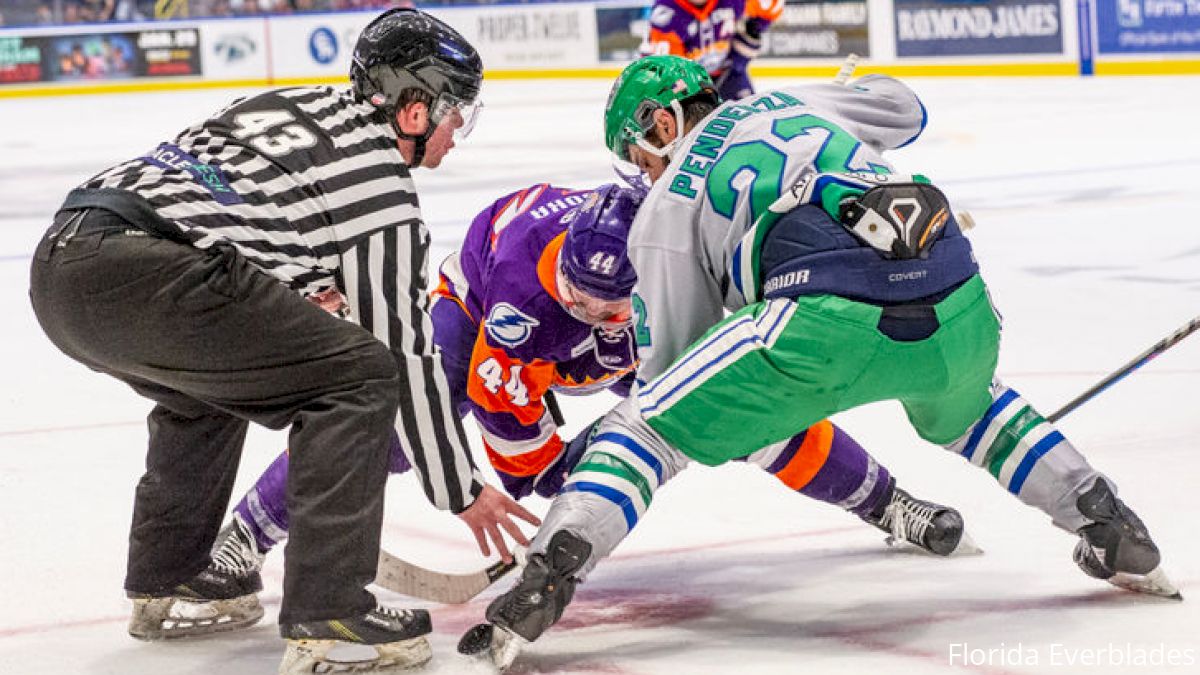 ECHL teams are only allowed to dress four veterans in games, a rule that used to seem incredibly important. But as the ECHL has evolved into a younger, faster developmental circuit for the NHL, the veteran limit has become increasingly inconsequential.
Feels weird to me, though.
I've been covering minor-league hockey for 27 years and worrying about the veterans – Who will they be? Are they producing? What if a better one returns from Europe? – is about as ingrained in me as wondering what color the ice will be in Kalamazoo. (It was orange last week, by the way).
🎃 Orange Ice is HERE!

We'll see you at 7 p.m., Kalamazoo! #ignitetheflight pic.twitter.com/ctjrtE7D9b

— Kalamazoo Wings (@KalamazooWings) October 27, 2023
But somewhere along the way, and it feels like it happened overnight, ECHL veterans became less important, or at least less abundant.
So we're clear, veterans in the ECHL are defined as non-goaltenders who enter the season with at least 260 regular-season pro games on their résumés.
Thirteen years ago, there were three Double-A leagues – the ECHL, Central Hockey League and International Hockey League – and they each had different ways of operating, different roster rules regarding veterans and different philosophies about their importance.
In the CHL and IHL, veterans were the lifeblood of the leagues; the surest way to position for a championship was to have a great core of veterans.
The ECHL was more concerned with producing future NHL and American Hockey League players even then, but veterans still had their place because they were talented, experienced and either proven winners or hungry to get a championship before retirement.
After the IHL folded in 2010 and the CHL followed suit 2014, and their remnants absorbed by the ECHL, attitudes on veterans varied, and one could argue the teams with a more veteran-heavy mentality were more successful; see the Allen Americans winning four championships – two in the CHL, two in the ECHL – between 2013 and 2016.
There are several players in today's ECHL who feel like throwbacks to a different, veteran-heavy era, such as the Idaho Steelheads' Matt Register, the Kalamazoo Wings' Justin Taylor, the Fort Wayne Komets' Shawn Szydlowski, the South Carolina Stingrays' Garet Hunt or the defending-champion Florida Everblades' Joe Pendenza – but not many teams still view maxing out on veterans as imperative to success.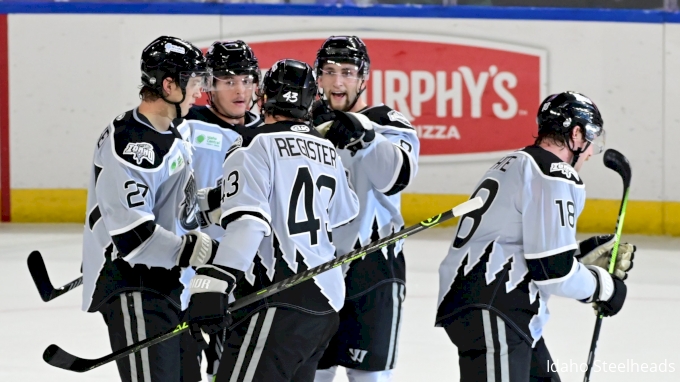 Of the ECHL's 28 teams, not a single one has four veterans this season. Only six teams have three veterans:
Allen: Matt Marcinew, Spencer Asuchak and Colton Hargrove
Jacksonville Icemen: Garret Cockerill, Matheson Iacopelli and Anthony Petruzzelli
Kalamazoo: Taylor, Tanner Sorenson and Erik Bradford
Maine Mariners: Connor Doherty, Alex Kile and Cameron Askew
Orlando Solar Bears: Tyler Bird, Alexandre Fortin and Brayden Low
Rapid City Rush: Alex Aleardi, Logan Nelson and Conner Bleackley.
There are three teams – the Kansas City Mavericks, Wichita Thunder and Worcester Railers – without a single veteran. And that leaves 19 teams with only one or two veterans apiece.
A league source who tracks player statuses shared the number of veterans dating back to 2016.
While it's hard to pinpoint the impact the COVID-19 pandemic had, there's no doubt that the number of veterans is way down from seven years ago – there are only 1.64 per team now.
Over the course of the full 2016-2017 season, there were an average of 2.52 veterans per team, which grew to 2.89 for the 2017-2018 campaign, before falling to 2.67 (2018-2019) and 2.50 in (2019-2020), the source said.
That's where it gets a little hazy because of the pandemic.
There were 2.93 during the 2020-2021 season, which makes sense, because 12 ECHL teams opted out of play, leaving their players to sign with other teams, while overseas opportunities were difficult to find because of safety concerns and travel restrictions.
During the 2021-2022 season, as the hockey world began to normalize, the average number of veterans per ECHL team dropped back to 1.90, and last season, it was at 1.94.
Aside from the simple desire to get more young prospects into the league, what are some other reasons we're seeing fewer veterans in the ECHL nowadays?
ECHL teams have been relying more on their NHL and AHL affiliates to stock them with players because it gives them more talent and less of a salary-cap burden. And, of course, NHL and AHL teams are less likely to send a 30-year-old lifer to the ECHL than a 21-year-old who's raw but could turn into something.

The ECHL had 151 players on AHL contracts to start this season, more than any of the previous five opening weeks, according to another league source, and the ECHL had another 39 players on NHL contracts.


Veterans typically cost more, and it's more difficult to squat on their rights, since they can more easily become unrestricted free agents. ECHL teams have been prioritizing keeping costs down and trying to get something in return for departing players, something amplified after so many teams lost money during the pandemic.


Agents steer their older clients to Europe, maybe more than usual, because it can be so much more lucrative, especially if they have a proven track record in the ECHL.


ECHL coaches have been thinking differently in recent years about leadership. A 26-year-old just out of college may be, by definition, a rookie, but if he's coming from a successful program, on the heels of a junior career, maybe even having taken advantage of the extra year of college eligibility because of the pandemic, he might be more experienced than players who have been in the ECHL for years.
It wasn't long ago that Double-A leagues were concerned their teams wouldn't carry enough rookies. Now, you've got ECHL teams loaded with them; the Newfoundland Growlers have 16, the Atlanta Gladiators 13 and Wichita and Worcester 12 apiece.
There are even stories of ECHL players sitting out games so they can put off becoming a veteran for another year. While that would seem counterintuitive, since becoming a veteran gives you more freedom, they've done it to give their teams flexibility to sign other players and, perhaps, because they believed proven non-vets generally are considered more valuable.
Of course, some markets still are adjusting to the new normal.
The return
@Szydlowski19 pic.twitter.com/qNR1vC5mZi

— Fort Wayne Komets (@FWKomets) October 22, 2023
Where I reside, Fort Wayne, Indiana, the Komets' fans were downright panicked over the summer because the team didn't have a veteran until Szydlowski signed in late September. Now, Szydlowski represents not just experience, but also familiarity, since this is his 10th season in Fort Wayne, but for some ECHL fans, not having veterans suggests there's not enough experience or leadership on the roster, even if it's not true.
In 2018-2019, the Komets started the season with the maximum four veterans – Jamie Schaafsma, Justin Hodgman, Cody Sol and Garret Ross – but got off to a poor start and signed Szydlowski, already a veteran then, in early November, after he went to Norway for a bit.
There was talk that maybe the Komets would stow one veteran on injured reserve, but instead, they traded Ross to avoid the potential mess.
That we're only five years later and the Komets are carrying only one veteran speaks to the league's changing demographics, even if the fans are still coming to grips with it.
The funny thing is, the Komets may have helped accelerate this change by the way they won the Kelly Cup in 2021.
Yeah, they were loaded with veterans – such as Justin Vaive, after the Cincinnati Cyclones opted out – but they also had a bunch of mid-20s rookies, including Matthew Boudens, Marcus McIvor and playoff MVP Stephen Harper.
They helped redefine the value of older rookies, and you can see that around the ECHL, light on veterans, as the league is today.