2023 Bemidji State vs Lake Superior State - Men's
CCHA Reasons To Watch: Snow, Candy & Hockey Take Spotlight In Upper Midwest
CCHA Reasons To Watch: Snow, Candy & Hockey Take Spotlight In Upper Midwest
This weekend, CCHA teams host five games – two in-conference, two nonconference and one that's a glimpse of the league's future.
Nov 1, 2023
by Tim Rappleye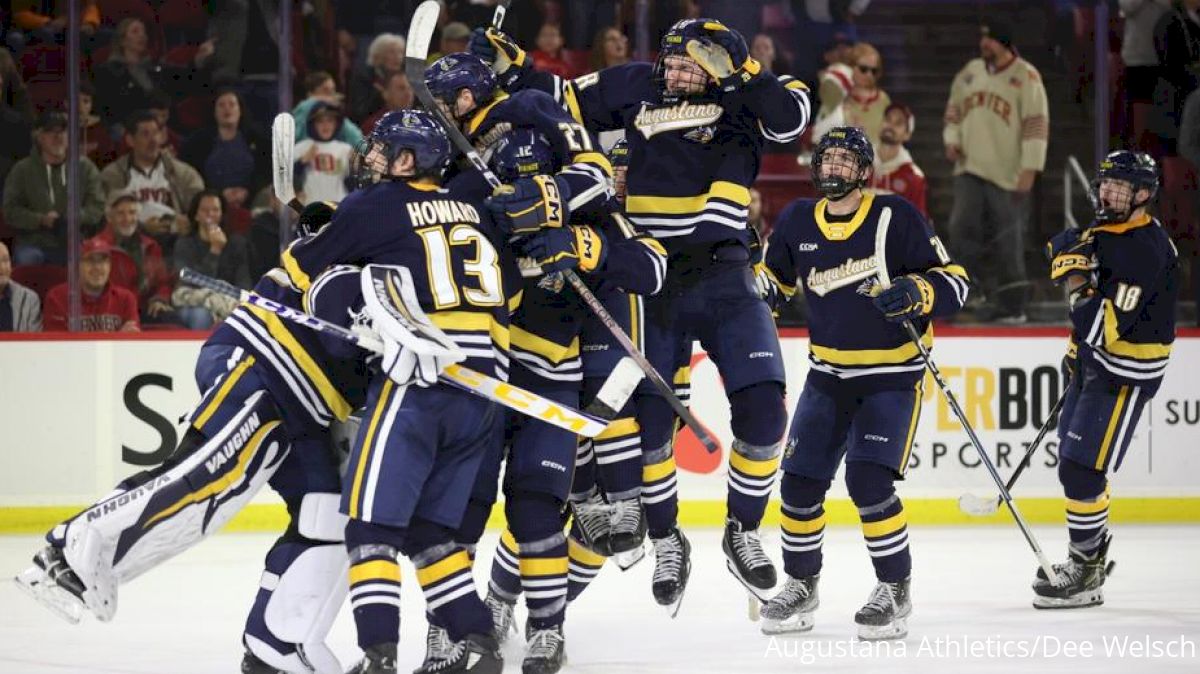 There is nothing subtle about November's arrival in the Upper Midwest: snow is flying, Halloween candy has been stashed and league play takes center stage throughout college hockey around the Great Lakes.
This weekend, CCHA teams host five games – two in-conference, two nonconference and one that's a glimpse of the league's future – as the projected champions host a fearless future member.
Augustana Vs. Michigan Tech
A month ago, this matchup would be predicted as a romp for host Michigan Tech.
The Huskies roster brims with veterans of two NCAA tournaments, while their opponents were only a figment of one's imagination.
October hockey has flipped the script.
A month into the season, the Huskies are the only CCHA school without a victory, while Augustana comes into Houghton with a winning record, a mile high after shocking NCHC stalwarts Denver and Colorado College with a tie and a victory in the Rocky Mountains last weekend.
Las Vegas bookmakers have ignored this matchup, but the trends all favor the road Vikings.
The Viking Story: Ep. 1 "The Beginning"

🎬 https://t.co/BmS211RbPQ#WeHoldThePen | #BuildingChampions pic.twitter.com/spywoW2Q3R

— Augustana Men's Hockey (@AugieMHockey) October 5, 2023
Reasons to watch: Can the Huskies break the two-goal skein that has torpedoed their season?
Reliable point-producers Kyle Kukkonen, Kash Rasmussen and Arvid Caderoth have yet to score a single goal between them this year.
Tech fans hope a tally from Kukkonen, the 2023 CCHA Rookie of the Year, will break the dam and open the floodgates.
On the Augustana side, veteran CCHA goalie Zack Rose led the Vikings to a sweep of his former school, Bowling Green, and he should grab at least one start in Houghton.
Coach Garrett Raboin has cobbled together a roster, both young and old, that includes former Colgate captain Arnaud Vachon (2-2-4) and freshman Hunter Bischoff (goals in three of his last four games). This complex stew has generated 16 goals in the team's last four games, more than double the production of the Huskies.
Prediction: Tech task master Joe Shawhan will have the undivided attention of his underachievers in practice this week, while Augustana's 10-hour bus ride to Copper Country will mute the fairy dust that has colored Raboin's season to date.
The Huskies finally get in the win column, splitting with the upstarts from South Dakota.
Bemidji Vs. Lake State
This is the CCHA's most intriguing weekend matchup, as both the Beavers and the Lakers come into the Soo brimming with confidence from respective sweeps.
The CCHA's player to watch at every opportunity is Bemidji sophomore Lleyton Roed. His six goals this season does not reflect his offensive dominance. He scores in the crowded confines of in-zone 5-on-5, and he also brings fans out of their seats with his speed and release off the rush.
You not only watch Roed, but you hear him, with loud reports of pucks off pipe. He is the most complete player in the circuit and should not be missed.
In the latest edition of @CCHAHockey RinkRap: @teeraps examines the fast start for @BSUBeaversMHKY standout Lleyton Roed and how it differs from another top rookie from last season. Plus news and notes from around the conference. https://t.co/FPOZaaNDd4 pic.twitter.com/LJNHmBMX7O

— FloHockey (@FloHockey) October 31, 2023
A couple of Alexander Ovechkin disciples will be on display at Taffy Abel Arena, as both LSSU's Harry Roy and Bemidji rookie Eric Pohlkamp line up on the left hash mark on their respective power plays, sticks cocked, ready to shoot.
Roy and Pohlkamp are master blasters, right-handed shots waiting to crank one-time slappers at hapless targets.
Pohlkamp is the consensus choice as the CCHA's Rookie of the Year, and putting him in the Ovechkin power-play role has given him a niche in the college game – one he won't relinquish. The freshman defenseman leads the Beavers with 24 shots on goal.
Prediction: Sweep for the visiting Beavers. Last weekend against St. Thomas, the Beavers played with both will and skill. Expect more of the same in the Soo.
Northern Michigan Vs. St. Thomas
This series played in the capital of the State of Hockey will showcase both sides of the hockey's dual personality: finesse and force.
The visitors from Marquette have the league's most versatile chess piece in fluid-skating defenseman Josh Zinger, a heads-up puck mover who can beat you with a shot or a pass.
If either game enters overtime, turn all your attention to No. 9 in green.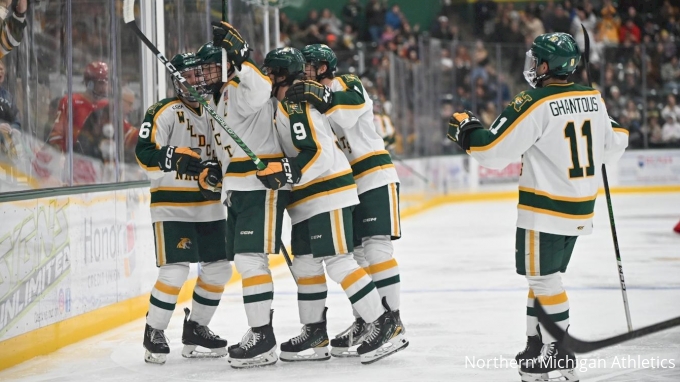 With only six skaters on the ice, Zinger will remind you of the kid on the pond who owns the puck.
St. Thomas does not have the skill to win a ballet contest with the Wildcats, something UST coach Rico Blasi commented on this week, addressing his Tommies' lackluster performance in last Friday's loss to Bemidji.
"Nobody touched anybody," said Blasi, who then quoted his dad to drive home his point. "You could skate around with a dozen eggs in your pocket and wouldn't break one of them."
St. Thomas needs to break a lot of eggs if the Tommies are going to neutralize talent such as Zinger (1-7-8), Andre Ghantous (3-6-9) and Tanner Latsch (7-1-8).
Prediction: Score a victory for both sides of the hockey coin, Tommies and Wildcats split.
Mercyhurst Vs. Bowling Green
The hockey gods blessed Bowling Green with a bye last week, giving coach Ty Eigner two weeks to reacquaint and assess his squad after the Austen Swankler hazing controversy.
Look for the Falcons to play, and win, in front of a charged-up crowd at the Madhouse on Mercer.
Prediction: A much-needed sweep for Bowling Green.
OT MADNESS! Caleb Ergang gives @FerrisHockey the extra-session victory!

📺: https://t.co/yRw1IaFf0i#CCHAHockey pic.twitter.com/K3orKp9NSP

— CCHA (@CCHAHockey) October 28, 2023
St. Lawrence Vs. Ferris State
Ferris saw starting goalie Noah Giesbrecht "steal" a win from Northern Michigan last week, and he should grab another against the Skating Saints on Friday.
Bulldog junior Kaleb Ergang has scored in each of Ferris' last two series. He represents the secondary scoring Bob Daniels needs, if his Dogs hope to threaten for CCHA home ice.
Prediction: Ferris in a lopsided split, sending at least one game to overtime.