NCAA DI Men's Hockey
CCHA RinkRap: A Tale of Two Marksmen - Lleyton Roed And Kyle Kukkonen
CCHA RinkRap: A Tale of Two Marksmen - Lleyton Roed And Kyle Kukkonen
Entering their sophomore campaigns, both Bemidji's Lleyton Roed and Michigan Tech's Kyle Kukkonen had high expectations to carry their respective clubs.
Oct 31, 2023
by Tim Rappleye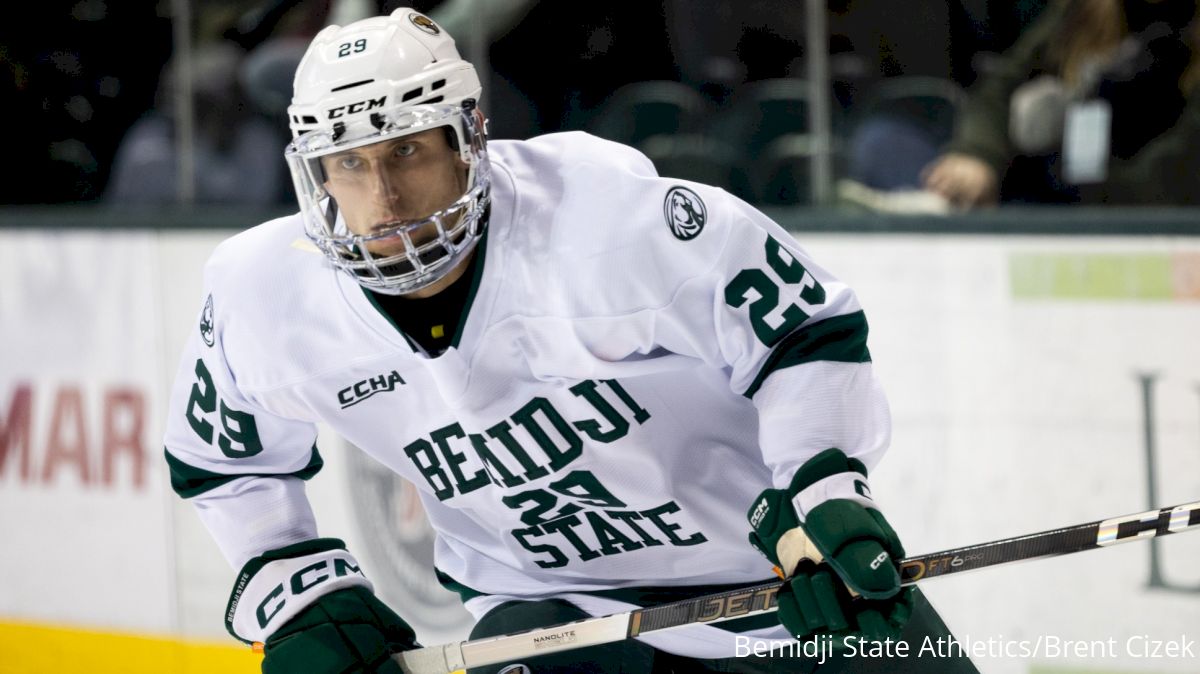 They are childhood friends from the elite ranks of hockey-mad Minneapolis.
Lleyton Roed (13 goals) and Kyle Kukkonen (18 goals) were the CCHA's two best freshmen last year.
Entering their sophomore campaigns, both Roed of Bemidji State and Kukkonen of Michigan Tech had the highest expectations to carry their respective clubs due to a shared knack for the net.
The prognosticators were only half right, as Roed has accelerated his production with six goals in as many games, while Kukkonen has hit a wall, unable to find the back of the net once this campaign.
A Tale of Two Marksmen. Kukkonen slumps; Roed carries Beavers pic.twitter.com/KFszQ9lEk1

— Tim Rappleye (@teeraps) October 29, 2023
The success of their teams this season is directly correlated to their output.
Roed found twine three times this weekend as the Beavers swept St. Thomas, allowing Bemidji to plant a green and white flag atop the CCHA standings.
Meanwhile, league favorite Michigan Tech has yet to win a game in seven tries, unable to score more than two goals in a single contest. Their star's slumping fate is intertwined with their own.
Case in point: Friday night with the Huskies desperately seeking a tying goal against Saint Lawrence, Kukkonen was awarded a penalty shot with 85 seconds left in regulation. It didn't take a psychologist to read the negative body language throughout his unimpeded skate on goal.
Last year's scoring dynamo dumped a wrist shot off the left pad of SLU goalie Ben Kraus, then glided back to the bench, head down.
Kukkonen wasn't even assigned a spot in the Tech's shootout rotation after the Huskies forced a tie.
Tech's Marcus Pedersen – the Swede who scored the buzzer-beater in regulation – took Kukkonen's spot in the breakaway competition, an omission unthinkable a year ago.
After Saturday's 3-1 loss to Clarkson, radio man Dirk Hembroff and Tech coach Joe Shawhan tried to make sense of the Huskies' scoring slump.
"The big guns are gripping the stick right now," said Hembroff, who mentioned Kukkonen by name.
"They had good looks at the net," said Shawhan, "You don't like it . . . [but] I'm optimistic."
Five hundred miles west, Roed was in full flight.
BEAVERS POWER PLAY GOAL!!!!!
Lleyton Roed assisted by Liam Engstrom and Eric Martin at 8:23 in the second period. #BeaverTerritory #GoBeavers pic.twitter.com/9oSXlQTqV4

— Bemidji State Men's Hockey (@BSUBeaversMHKY) October 28, 2023
The left-handed shooter has found his happy space coming off the right-hand boards. With each power glide toward the middle, Roed's educated blade sees more net.
Twice last weekend he scored from the off-wing, beating two different goalies, reminiscent of his pee-wee days in the Twin Cities, when he played alongside his pal Kyle for Erik Kukkonen's Euro Americans.
Hockey, like life, is a game of cycles, streaks that arrive and depart without rhyme or reason.
Seven months ago, Kukkonen carried the Huskies into the NCAA Division I Men's Ice Hockey Championship with a six-game scoring torrent.
It would be folly to presume the Tech sophomore won't rediscover his gift for goals, but today, the balance of power between the two snipers has swung back to Roed. His NCAA career goal total has climbed to 19, while Kukkonen treads water at 18. How their personal scoring race plays out directly affects the fates of both teams.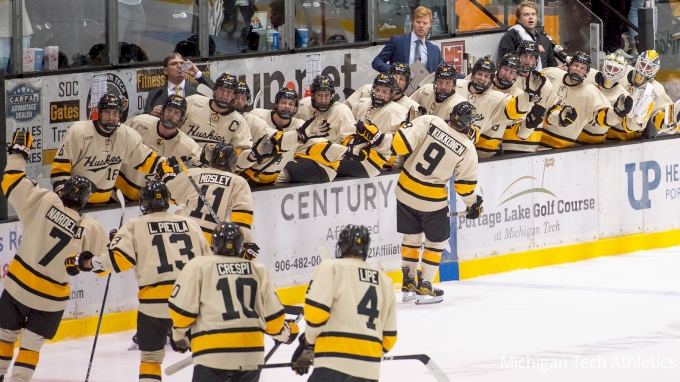 Loose Biscuits
Buzzer beaters are not the exclusive domain of basketball, and last Friday, three CCHA teams (or a future CCHA team in the case of Augustana) scored in the final minute of regulation to tie three games, gaining precious Pairwise points in the process.
Michigan Tech's Marcus Pedersen scored with eight seconds left in St. Lawrence, Lake State freshman John Herrington scored with 40 ticks remaining 11 miles north at Clarkson and two time zones away, Augustana's Chase Brand scored with 21 seconds remaining, giving fledgling Augustana a shocking tie with then-No. 2 Denver.
Friday's last-minute heroics turned three potential losses into a win (Lake State) and two ties (MTU, Augustana), vital results for the CCHA's nonconference record.
Augustana does not become an official CCHA team for two years, but the Vikings play a dozen games against CCHA clubs this season. Their eye-popping weekend in the Rocky Mountains is a Pairwise gift that will keep on giving.
The remarkable streak of Northern Michigan's Tanner Latsch was halted Friday night, as the red-shirt freshman was sidelined with a lower-body injury against Ferris State, having not recorded a goal. Thus stands the unofficial record of opening an NCAA career by scoring in four straight games (seven goals).
Lake State's Jared Wescott joined Latsch in the CCHA hat-trick club for this season, firing three goals into the St. Lawrence net Saturday in Canton. It was Wescott's first collegiate hat trick.
𝑨𝒍𝒍 𝒕𝒓𝒆𝒂𝒕𝒔, 𝒏𝒐 𝒕𝒓𝒊𝒄𝒌𝒔. Jared has been named the CCHA Forward of the Week after a 4G, 1A weekend in New York! Congrats, Westy!

📝: https://t.co/SzodZg2ajv pic.twitter.com/qWH9EPAepr

— Lake State Hockey (@HockeyLSSU) October 30, 2023
Goaltender is the one position where an individual can most affect the standings, swiping points from one side and adding to the other.
Friday night at Northern Michigan, Ferris State's Noah Giesbrecht did exactly that, three times stealing sure goals from the jaws of the crease in a 1-1 game.
Wildcat shooters Michael Mesic, Artem Shlaine and finally Josh Zinger in overtime, all were stoned on the doorstep by the sensational Giesbrecht. Finally, FSU's Kaleb Erbang ended the drama in the game's 65th minute. It became four-point swing in the CCHA standings in favor of Ferris because of one man's ability to drive his body from post to post.
Saturday's CCHA games saw several "No. 2" goalies get quality starts in net: Max Varynen of Tech, St. Thomas' Jake Sibell and Gavin Enright of Bemidji all came off the bench and distinguished themselves, but the backup with the most impressive performance was Augustana freshman Josh Kotai.
On Saturday night, Kotai he entered a hostile NCHC building and outdueled former World Junior star Kaidan Mbereko.
The Vikings beat Colorado College 4-3 behind Kotai's clutch play, as the British Columbia native made 32 saves for his first collegiate victory. That performance that should earn him a regular weekend pairing with veteran Zack Rose.
The goaltending highlight of this season, however, belongs to Minnesota State's Alex Tracy with this save Saturday against North Dakota.
We'll title this gem "In the Looking Glass."
Ok. Not sure I've seen one quite like this before. @Musketeerhockey @collegehockey @patmick2626 https://t.co/vPCpZ7BAYR

— Paul Allan (@PaulAllan5) October 29, 2023