ECHL
Hunter Shepard Latest Example Of ECHL's Proven Goalie Pipeline
Hunter Shepard Latest Example Of ECHL's Proven Goalie Pipeline
Hunter Shepard, who played parts of two seasons with the South Carolina Stingrays, is just the latest example of how the ECHL is developing NHL goalies.
Oct 30, 2023
by Justin Cohn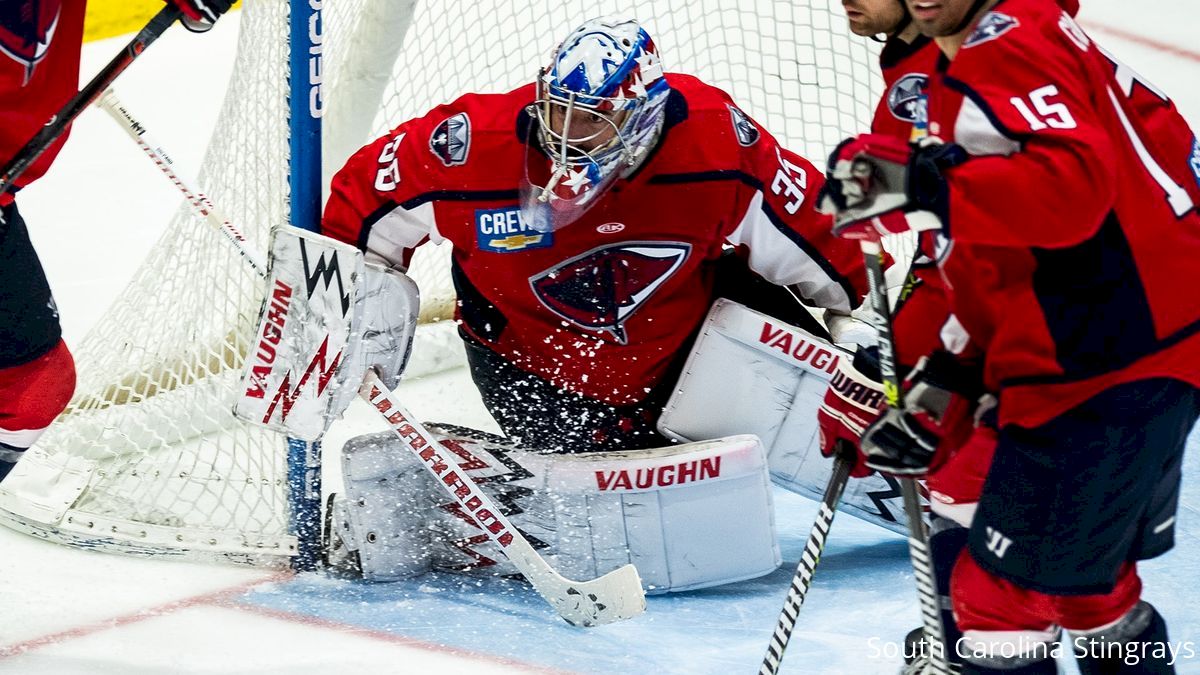 I can't say I was all that surprised to turn on the TV and see Hunter Shepard manning an NHL net Oct. 25. He was a fine goalie in the ECHL for the South Carolina Stingrays, helping them to the 2021 Kelly Cup finals.
And his resiliency for the Washington Capitals in an 18-save, 6-4 victory over the New Jersey Devils wasn't a shock, either. Being a goalie in the ECHL, where teams regularly play three games in four nights, requires some fortitude. Heck, in the finals of the first season played amid the ongoing pandemic, the Stingrays were forced to play in a practice facility because HBO's "Righteous Gemstones" was being filmed at the North Charleston Coliseum.
HUNTER SHEPARD FIRST CAREER WIN APPRECIATION POST pic.twitter.com/Qqi5DMALWe

— Washington Capitals (@Capitals) October 26, 2023
It's worth mentioning that the ECHL is filled with great offensive players – few would claim that the Toledo Walleye's Brandon Hawkins doesn't have an NHL-caliber shot – but it can be challenging putting together competent defensive corps. All of that puts even more pressure on the goalies, who have to prove themselves nightly.
So far this season, there have been two former ECHL goalies to make their NHL debuts: Shepard, 27, and Matt Tomkins, a 29-year-old former Indy Fuel goalie, who stopped 33 of 37 shots for the Tampa Bay Lightning in a 5-2 loss to the Ottawa Senators on Oct. 15.
From a developmental standpoint, the ECHL has always been able to puff its chest about the goaltenders it's helped produce. And that's a matter of math: There are fewer spots in the NHL and American Hockey League for goalies than there are for other positions, so the trickle down has always left the ECHL with studs between the pipes. Goalies also tend to develop slower than skaters, so more time in the ECHL for them makes sense. And ECHL life – rigorous travel, bad food, the occasional line brawl – seems to toughen up a lot of them.
"If I wasn't going to be ready at this point in my life, I probably wasn't going to be ready," Shepard said after defeating the Devils.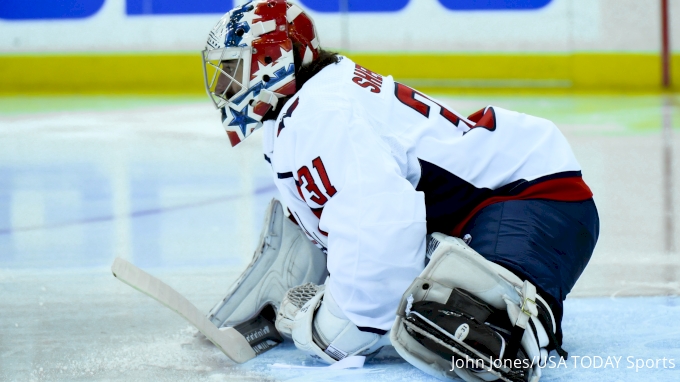 Last season, Shepard helped the AHL's Hersey Bears to the Calder Cup. He shared games with Zach Fucale, another former ECHL goalie, who ascended to the NHL for four games with the Capitals in 2021-22. Tomkins, meanwhile, was playing in Sweden after four years with the Fuel and AHL's Rockford IceHogs.
The ECHL is, this season, again stocked with plenty of goalies I could see ascending to the NHL, from Vyacheslav Peska with the Newfoundland Growlers to – 3,268 miles away – Leevi Meriläinen with the Allen Americans.
Some of the bigger prospects are rookies fresh out of college or juniors, such as Talyn Boyko, 21, who was a fourth-round New York Rangers draft pick in 2021. He spent the last five seasons in the junior-level Western Hockey League and is now with the ECHL's Cincinnati Cyclones.
Others have been around for seemingly forever, such as 29-year-old Cam Johnson, who is in the Florida Panthers' system – he's on an AHL contract with the Charlotte Checkers – and was the ECHL's Playoff MVP the last two seasons as he led the Florida Everblades to back-to-back Kelly Cup championships.
Pick an ECHL team, almost any team, and you're bound to find a goalie with a shot of making it to the NHL, such as the Norfolk Admirals' Thomas Milic, the Wheeling Nailers' Taylor Gauthier or the Fuel's Mitchell Weeks. Even goalies without either an NHL or AHL contract, such as the Fort Wayne Komets' François Brassard, who was the league's Goaltender of the Year in 2021-22 with the Jacksonville Icemen, could make it with continued good play, the right scout noticing and a little luck.
The @ECHL is loaded with intriguing prospects currently on NHL contract this season. Prospect analyst @chrismpeters details many of the notables here: https://t.co/gY6bK8KzAh pic.twitter.com/wkcERQc4py

— FloHockey (@FloHockey) October 25, 2023
Hockey wants to establish a true three-tiered system, something more akin to baseball's minor leagues. It seems we're getting closer to that; only one NHL team (Carolina) is without an AHL affiliate and only four (St. Louis, Columbus, Arizona and Carolina) lack ECHL affiliates, and NHL teams are making more use than ever before of the ECHL as a developmental league.
Last season, the Detroit Red Wings' supposed goaltender of the future, Sebastian Cossa, was on the Toledo Walleye's opening night roster. A decade before, he either would have been sent back to juniors, where he probably had little left to learn, or rushed to the AHL. There's no doubt, Cossa improved through his time with the Walleye, finishing with a 26-16-4 record, a 2.56 goals-against average, a .913 save percentage and four shutouts – enough to propel him to the AHL's Grand Rapids Griffins.
This season, the Atlanta Gladiators have defenseman Luke Prokop, a third-round draft pick of the Nashville Predators. Playing in the ECHL should ease his transition from the Western Hockey League to the pros. He had eight games last season with the ECHL's Norfolk Admirals, but a minus-12 rating over eight games showed he needed more grooming.
While it's refreshing to see NHL teams taking more advantage of the ECHL in developing skaters like Prokop, the ECHL has long been a capable proving ground for netminders. The past few years have just taught us that some of those goalies – such as Michael Houser – need more time and the right situations to present themselves before they can crack an NHL lineup.
"This doesn't feel really real, I guess," Shepard said of his rise to the NHL. "You can't make it up. The fact that I've been playing this long and it's just now happening. You reach a certain point where – it's always the goal – but the chances of it happening, the older you get, it's not that great."
His coach with the Capitals, by the way, is Spencer Carbery. He coached the Stingrays from 2011 to 2016. ECHL alums are penetrating the NHL everywhere.
---
Justin A. Cohn is FloHockey's ECHL columnist. He has covered professional hockey for the Fort Wayne Journal Gazette since 1997. He's on all social media platforms @sportsicohn and his daily work is at www.journalgazette.net.