United States Hockey League (USHL)
2024 NHL Draft: USHL Well Represented On Central Scouting Watch List
2024 NHL Draft: USHL Well Represented On Central Scouting Watch List
USHL alumni Macklin Celebrini and Artyom Levshunov, as well as current USHLers Sacha Boisvert, Trevor Connelly and Cole Eiserman among those with A grades.
Oct 26, 2023
by Ryan Sikes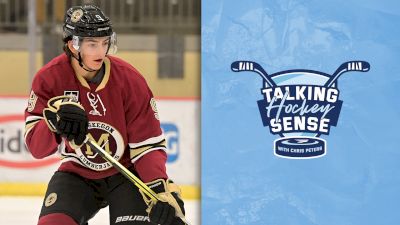 The NHL Central Scouting bureau's preliminary players to watch list was released on Wednesday. The list provides an early snapshot of 2024 draft-eligible prospects in a tiered inventory of grades from all major development leagues.
As the season progresses, a set of mid-term rankings will be released shortly after the 2024 World Juniors in January, with the final rankings out in April prior to the NHL Draft.
Last year, the USHL saw 51 players with USHL ties get drafted by NHL franchises. It marked the sixth consecutive year in which 50-plus players with league ties were selected.
At first glance, the initial installment on NHL Central Scouting's list includes 65 current USHL players, including 19 players from the National Team Development Program, sorted into ranking groups.
Those numbers do not include collegiate players who are draft-eligible with USHL ties. For example, Macklin Celebrini is considered the top prospect for the 2024 NHL Draft by most media outlets. He is currently a freshman at Boston University but played one season for the Chicago Steel.
Players have been identified using the following criteria:
A Rating - 1st round candidate
B Rating - 2nd/3rd round candidate
C Rating - 4th/5th round candidate
W Rating - 6th/7th round candidate
A Rating Players
Sacha Boisvert, F, Muskegon Lumberjacks
Boisvert is on pace to finish as a point-per-game player in his second USHL season. The Muskegon forward currently has six goals and nine points in nine games this year. At 6-foot-2, 178 pounds, he has good size and quick hands and does a lot of his damage around the net.
We are back with the @USHL goals of the week!
Sacha Boisvert of the @MuskegonJacks scores highlight-reel goal, @ChicagoSteel forward Michael Hage gets his first goal of the year off a nifty move to the net, Trevor Connelly of the @TriCityStorm rips a shot and more🔥 pic.twitter.com/XIGPkKnjQ5

— FloHockey (@FloHockey) October 2, 2023
Zeev Buium, D, University of Denver (USA NTDP)
Buium finished up his two-year residency at the NTDP and is currently a freshman for the No. 2-ranked Denver Pioneers. Joining his older brother, Shai Buium, Zeev has been a fixture on David Carle's second pairing. Buium has four points (one goal, three assists) through the first four games.
Macklin Celebrini, F, Boston University (Chicago Steel)
Celebrini has put any concerns about his offseason shoulder surgery to bed with a quick start for the Terriers. The 17-year-old already has the third-most goals (5) in the country, which includes two multi-goal efforts in four games thus far.
HIGH 5! Top 2024 NHL Draft prospect Macklin Celebrini becomes the first @ChicagoSteel player to score five goals in a single game and is now the highest-scoring U17 player in @USHL history with 35 goals this season. Here's all 🖐️ from last night. pic.twitter.com/Vei2kH5Ghj

— FloHockey (@FloHockey) February 19, 2023
Trevor Connelly, F, Tri-City Storm
Connelly has built off his impressive second half of last season and his 14 points are third-most in the USHL after ten games. The Providence commit has picked up most of his points using his creativity and shiftiness to set up his teammates. He's a proven goal-scorer in this league, so I would expect his numbers to start jumping here soon.
Cole Eiserman, F, NTDP U-18 Team
Eiserman could ultimately challenge Celebrini for the No. 1 overall pick. The Boston University commit has an NHL-ready shot, one that's already produced 18 goals in 11 games. Eiserman already has four games of scoring three or more goals, including one four-goal outing.
Artyom Levshunov, D, Michigan State (Green Bay Gamblers)
Levshunov made the jump to the NCAA perhaps a year earlier than expected after putting up 42 points in 62 games for Green Bay last year. He's off to a fast start with the Spartans, recording three goals and six points in his first six games. Levshunov has good size at 6-foot-2 and 198 pounds. He's mobile and creates plays all on his own.
COMEBACK KIDS! @GamblersHockey erased a 2-0 deficit to earn a 3-2 victory in overtime thanks to this rush by top 2024 #NHLDraft eligible defenseman Artyom Levshunov and the emphatic finish from Mikey DeAngelo. pic.twitter.com/6rxV2TFiw2

— FloHockey (@FloHockey) February 12, 2023
B Rating Players
The NTDP is heavily represented in this tier, with seven players projected to be second or third-round picks in the 2024 NHL Draft. We only have a few weeks of season under us, so players like Cole Hutson, E.J. Emery, Will Skahan, and Kamil Bednarik could certainly work their way into first-round conversation.
Matvei Gridin is having a breakout season for Muskegon. The second-year forward leads the league in points (16) and has shown to be equally as dangerous shooting the puck as he has been distributing it. He's a good skater with size, and the Russian forward could ultimately go in the first round if he continues to produce.
Chicago's Michael Hage finds himself on the outside looking in after being a preseason first-round pick by most outlets. The Michigan commit leads the Steel in points (7), but he doesn't have anywhere near the experience around him that he did in the second half of last season.
Oh my, Michael Hage (2024) @ChicagoSteel pic.twitter.com/WUJG8BCiV6

— Ryan Sikes (@ryan_sikes10) September 30, 2023
Will Zellers is currently playing for Shattuck-St. Mary's, but his USHL rights are held by Green Bay. The North Dakota commit excelled on the international stage, potting five goals and seven points at the Hlinka-Gretzky Cup en route to helping Team USA win a bronze medal.
Full list of B-rated players in the USHL
Kamil Bednarik, C, NTDP U-18 Team
EJ Emery, D, NTDP U-18 Team
Kristian Epperson, LW, NTPD U-18 Team
Matvei Gridin, RW, Muskegon
Michael Hage, C, Chicago
Christian Humphreys, C, NTDP U-18 Team
Cole Hutson, D, NTDP U-18 Team
Max Plante, LW, NTDP U-18 Team
Will Skahan, D, NTDP U-18 Team
William Zellers, LW, Shattuck-St. Mary's (Green Bay)
Muskegon Smashes Franchise Record in Record Fashion! 12 Players Listed by NHL Central Scouting! pic.twitter.com/r0nyKlufdK

— Muskegon Lumberjacks (@MuskegonJacks) October 25, 2023
C Rating
Tanner Adams, F, Providence College (Tri-City)
Austin Baker, F, NTDP U-18 Team
Thatcher Bernstein, G, Dubuque
Hagen Burrows, F, Sioux City
Eero Butella, F, Waterloo
Louka Clouthier, G, Chicago
Matthew Frost, F, Waterloo
Luke Goukler, F, NTDP U-18 Team
Elliott Groenewold, D, Cedar Rapids
Caleb Heil, G, Sioux Falls
Tanner Henricks, D, Lincoln
Owen Keefe, D, Muskegon
Adam Kleber, D, Lincoln
Sam Laurila, D, NTDP U-18 Team
Finn McLaughlin, D, Youngstown
Brendan McMorrow, F, NTDP U-18 Team
Eric Olsson, G, Omaha
Luke Osburn, D, Youngstown
Aidan Park, F, Shattuck-St. Mary's (Green Bay)
John Parson, G, NTDP U-18 Team
Landon Resendes, F, Cedar Rapids
Lucas Van Vliet, F, NTDP U-18 Team
Xavier Veilleux, D, Muskegon
Brodie Ziemer, F, NTDP U-18 Team
80 Current or Former USHL Players Appear on NHL Central Scouting Players to Watch List #StarsRise https://t.co/tC1yiRVKhK

— USHL (@USHL) October 25, 2023
W Rating
Hunter Anderson, F, Muskegon
Alex Bales, D, Tri-City
Egor Barbabanov, F, Sioux Falls
Bauer Berry, D, Muskegon
Philippe Blais-Savoie, D, Tri-City
Austin Burnevik, F, Madison
Anthony Cardilli, F, Chicago
Joe Connor, F, Muskegon
Andrew Dellasalla, F, Omaha
Will Felicio, D, Madison
Jake Fisher, F, Fargo
Jack Galanek, F, Muskegon
Price Grimes, D, Chicago
Michael Hagens, D, Chicago
Easton Jacobs, F, Sioux City
Nick Kempf, G, NTCP U-18 Team
Cameron Korpi, G, Tri-City
Noah Lapointe, D, NTDP U-18 Team
Keith McInnis, D, Waterloo
John Mustard, F, Waterloo
Charlie Pardue, F, NTDP U-18 Team
Tory Pitner, D, Youngstown
Ben Poitras, F, Green Bay
James Reeder, F, Dubuque
Nolan Roed, F, Tri-City
Eli Sebastian, F, Northeastern (Green Bay)
Teddy Stiga, F, NTDP U-18 Team
Mac Swanson, F, Fargo
Niko Tournas, F, Cedar Rapids
Samuel Urban, G, Sioux City
Kuzma Voronin, F, Youngstown
John Whipple, D, NTDP U-18 Team
Mikhail Yegorov, G, Omaha