United States Hockey League (USHL)
2024 NHL Draft: Lincoln's Adam Kleber Looks To Boost Offense As Stock Rises
2024 NHL Draft: Lincoln's Adam Kleber Looks To Boost Offense As Stock Rises
Adam Kleber is a 6-foot-5, 215-pound right shot defenseman who has seen his NHL Draft stock on the rise after a strong start to his season with Lincoln.
Oct 18, 2023
by Ryan Sikes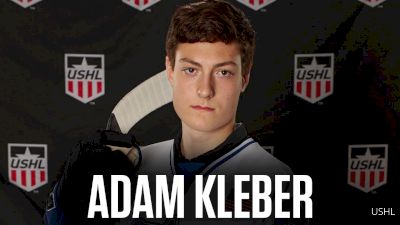 Adam Kleber knew he had more to offer. Entering his second USHL season, he wrote down a list of milestones to aim for.
Among them: six goals.
That was the number the Lincoln Stars' defenseman felt he could comfortably achieve. After all, it would be a significant improvement over his 2022-23 season. Kleber registered eight points in 56 games as a rookie, but all his points came via assists.
It was a significant shock for the young blueliner after finishing with the second-most points (17) by a defenseman in his final season at Chaska High School the year prior. There, the University of Minnesota-Duluth commit found the back of the net four times.
At 6-foot-5, 215 pounds, Kleber's towering frame and mobility draw similarities to Detroit Red Wings' defenseman Moritz Seider, a player whom the Lincoln blueliner models his game after.
Kleber's size translated well to the USHL game in his first season, especially in the defensive zone. As a bigger body, he could physically impose his will on the opposition's zone entries or simply outmuscle them in the corners.
Having that skillset with his size and range is already attractive to NHL scouts. However, he wanted to offer a skillset as a two-way defenseman in his 2024 NHL draft-eligible season.
"It just adds another element to my game that I think people look at, and it's something to be excited about," Adam Kleber told FloHockey on how incorporating more offense helps his draft stock. "When teams look at me, they can say 'He's not just a defensive guy. He can do more with the puck.'"
Adam Kleber and Matthew Maltais both scored their first @USHL goals at the Fall Classic. Who will be the next Star to get his first career 🚨? #AllAboard🚂 pic.twitter.com/LYK48OzxVg

— Lincoln Stars (@LincolnStars) October 3, 2023
In between his first and second seasons, Kleber enlisted the help of former NHLer Scott Bjugstad.
The 10-year NHL veteran has spent the last 29 years running his own business out of his home: Scott Bjugstad Shooting School. He has assisted more than 500 NHL and Division I players, and being from Minnesota, it was a proven avenue nearby for Kleber to improve his shot.
The defenseman developed a nice routine over the summer. First, he'd do a workout on his own, either at the rink or in the weight room. Then, he would shoot pucks at Bjugstad's house.
"It was more on the mechanical side of shooting where my focus was the summer," Kleber said of the instructional shooting program. "So, that helped a lot."
The hard work over the summer immediately paid off. Kleber has looked noticeably more comfortable in the offensive zone, holding onto pucks longer than he did last season.
Already with 14 shots on goals through his first six games, the young defenseman's shot volume is projected to smash last year's total as well. Kleber had 48 shots on net in 56 games as a rookie. At his current rate, he would eclipse 100 shots this season.
The increased shot volume has resulted in immediate success.
Kleber scored his first career USHL goal at the Fall Classic on a one-time blast from the point through traffic in Lincoln's 3-1 win over the Steel. He added his second on a power-play one-timer for the overtime winner against the Madison Capitols.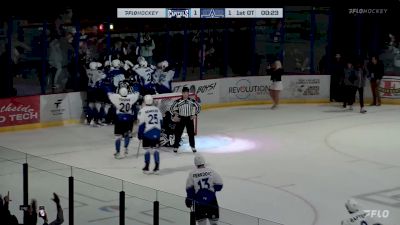 Kleber joined an exclusive list, becoming just the fifth player in Lincoln Stars history since 2002 to record the game-winning goal for each of his first two USHL goals.
The 17-year-old likely would have taken any which way for the goals to find the back of the net. But, for his first two goals to be game-winners, the process of cutting his teeth as a rookie and developing his shot was a gratifying moment for him.
"You look at last year, sometimes you get frustrated with how things were going, and you just have to realize that it's all part of the process," said Kleber.
It's now a 2-0 @LincolnStars lead as Tyler Wood deflects a shot from Adam Kleber into the back of the net. #StarsRise #2023USHLFallClassic pic.twitter.com/4woBgGHp0j

— USHL (@USHL) September 22, 2023
A process that required some self-evaluation, developing a list of goals for his second USHL season allowed the defenseman to see it in writing and gave him something to work toward.
Come next June, Kleber is anticipated to be one of the most sought-after USHL defensemen.
He's already one-third of the way toward his preferred goal total for the year. Sticking with the process that has gotten him off to a good start could see the blueliner reach double-digit goals while flying up NHL Draft boards.
But Kleber knows the work is far from over.
"I only have two goals, so it's not like I'm there yet for sure. I'll keep working towards that. There's a lot of season left, so you have to stay present and stay consistent," he said.