United States Hockey League (USHL)
Adam Fantilli, Matthew Knies Among USHL Alumni To Watch In NHL Rookie Class
Adam Fantilli, Matthew Knies Among USHL Alumni To Watch In NHL Rookie Class
More than a dozen former USHL stars are on the NHL's opening-night rosters as rookies including Adam Fantilli, Logan Cooley, Matthew Knies and many more.
Oct 10, 2023
by Chris Peters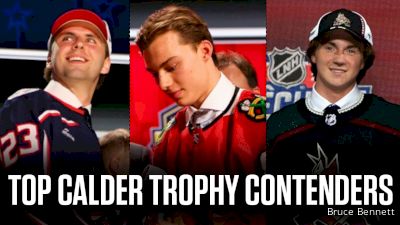 The 2023-24 NHL season is about to begin and with the new season brings all sorts of excitement. Everyone can feel the optimism of a new season, especially those teams that are about to bring in fresh faces to the NHL.
This year's rookie class is robust. Led by last year's No. 1 pick Connor Bedard of the Chicago Blackhawks, the group of new players about to take the NHL by storm is especially exciting. Of particular note, however, is the sheer number of top rookies getting set for their inaugural campaign that saw their NHL path charted through the USHL.
ALSO READ: 2023-24 USHL Power Rankings By Ryan Sikes
There are more than a dozen young players with USHL ties that are on NHL rosters ahead of the puck dropping Tuesday night. Among them, some of the biggest superstars the USHL has put forth in recent memory.
To get you ready for the NHL season tonight, I wanted to spotlight the 15 rookies with USHL ties.
1. Logan Cooley, C, Arizona Coyotes (USA NTDP)
After making the decision later in the summer to sign with Arizona, Cooley has already wowed the masses with the most spectacular goal of the preseason, scored in Australia of all places. Cooley is coming off of an incredible freshman season at Minnesota that saw him finish in the top three of Hobey Baker voting. With the level of opportunity he is going to receive with the Coyotes, there's a good chance he will threaten for the Clader Memorial Trophy as rookie of the year as he has the speed and dynamic skill to challenge even NHL defenders.
As a junior player, Cooley spent two years at the NTDP, where they played the split schedule in the USHL. Over 51 USHL contests, Cooley collected 64 points. He was selected third overall straight out of the NTDP. He enters the NHL less than two years after playing in the USHL.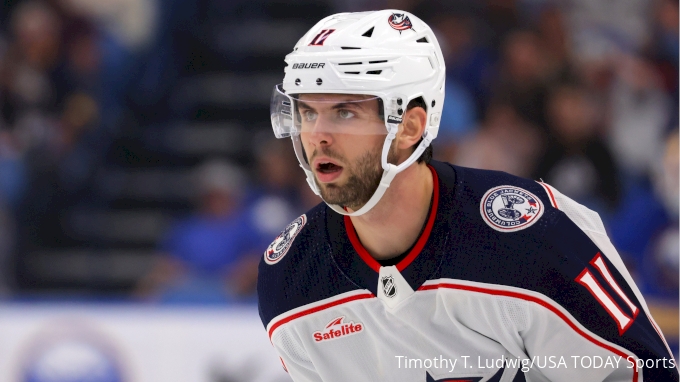 2. Adam Fantilli, C, Columbus Blue Jackets (Chicago Steel)
Last year, Fantilli became just the third freshman to win the Hobey Baker after leading college hockey with 65 points including a staggering 30 goals in 36 games for Michigan. He ended up being selected third overall and landed in perhaps the perfect spot for his talents as Columbus has been desperate for a top center. Fantilli plays the game with brute force, speed and plenty of skill that should allow him to make a quick impact in the bigs.
Over two seasons with the Steel in the USHL, Fantilli was a clear standout. He helped Chicago win the Clark Cup as a rookie and was named the postseason MVP after scoring eight goals over eight playoff games. The following year, he was a first-team all-league selection and finished with 74 points before joining Canadad at the 2022 U18 Men's World Championship.
2023 top prospect Adam Fantilli pulls off the Michigan 🤯

(via @ChicagoSteel) pic.twitter.com/ALB7DeFKR0

— B/R Open Ice (@BR_OpenIce) January 2, 2022
3. Luke Hughes, D, New Jersey Devils (USA NTDP)
After putting together a brilliant two-year career at Michigan, Hughes made the jump to join brother Jack in New Jersey. He already appeared in two games with New Jersey last year and had his first NHL goal. He also got into three Stanley Cup Playoff games. A dynamic offensive defenseman, Hughes is among the most exciting rookies with his ability to produce from the back end and play with high-end skill.
Over two seasons at the NTDP, Hughes appeared in 46 games in the USHL, registering 28 points over that span.
4. Matt Coronato, C/W, Calgary Flames (Chicago Steel)
Following two highly-productive seasons at Harvard, Coronato opted to turn pro last summer and got into his first NHL game with Calgary. This year, he was a preseason dynamo, scoring seven points to lead all players for the Flames. Coronato is a gifted goal scorer who can make plays and really knows how to find the back of the net.
That was no different in the USHL as he was one of the league's best forwards in recent memory. Over his decorated junior career, Coronato scored 66 goals and had 125 points in 96 career games with the Steel. He helped them win a Clark Cup and that same year was named the league's Forward of the Year, having put up 48 goals in just 51 games.
Here's hoping your weekend is as enjoyable as a Matt Coronato highlight! pic.twitter.com/n5BqZ5piXb

— Chicago Steel (@ChicagoSteel) July 2, 2021
5. Matthew Knies, LW, Toronto Maple Leafs (Tri-City Storm)
One of the better power forward prospects to come along, Knies already got a taste of the NHL last season following a brilliant two-year run at Minnesota that saw him finish as a Hobey Hat Trick finalist last season. Knies appeared in seven playoff games for Toronto and put up four points including one goal. Now he'll be a complementary piece on a loaded Toronto roster where he can learn from some of the best forwards in the game.
As a USHLer Knies was a dominant force over two seasons. He put up 87 points in 90 career games for Tri-City. He was selected 57th overall by Toronto, but that pick is now being viewed as an absolute steal for the Leafs.
Storm forward @Matthew_Knies describes being drafted by the @MapleLeafs and reflects on his time in Kearney! #StormAhead | #NHLDraft | #LeafsForever pic.twitter.com/XepNKajxTW

— Tri-City Storm (@TriCityStorm) July 25, 2021
6. Brock Faber, D, Minnesota Wild (USA NTDP)
A talented two-way defenseman who excels in the defensive aspects of the game, Faber is living a dream come true playing for his hometown Wild. The former Minnesota Golden Gopher appeared in six playoff games with the Wild last season and shone brightly in those contests.
Prior to his three year run at the University of Minnesota, Faber manned the blue line at the NTDP. In 54 USHL games over two seasons, he had 19 points while honing his craft as a talented defender.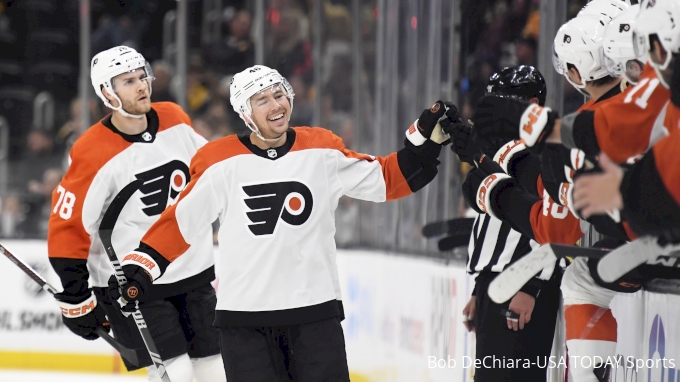 7. Bobby Brink, RW, Philadelphia Flyers (Sioux City Musketeers)
It looks like Bobby Brink is going to get a big opportunity to play a key role with the Flyers this season. The former Denver Pioneer and NCAA national champion missed a chunk of last season due to injury, but came back ready to play and was described as Philly's best forward in training camp this year. Brink appeared in 10 games with the Flyers in 2021-22 after completing an outstanding collegiate career.
The former Minnesota high school standout played parts of two seasons with the Sioux City Musketeers in the USHL and grew into one of the league's most formidable offensive performers. In 56 USHL games with the Muskies, Brink put up 72 points. He was named the league's Forward of the Year for the 2018-19 season. Brink also won a World Junior gold medal with Team USA, a World Junior A Challenge title and was a Hobey Baker finalist in 2021-22.
The best forward in the USHL has been in Sioux City all season long. We knew it the whole time and now we have the proof!

Bobby Brink has been named the USHL Forward of the Year!

📰:https://t.co/4vWX5hjtjv pic.twitter.com/YAQzgbp4q3

— Sioux City Musketeers (@Musketeerhockey) April 25, 2019
8. Scott Perunovich, D, St. Louis Blues (Cedar Rapids RoughRiders)
Injuries had derailed Perunovich early in his pro career, but the former Hobey Baker winner is ready to go and play a more substantial role for the Blues as a 25-year-old rookie. He has appeared in 19 NHL games in his career, which is why he is still technically a rookie.
With Cedar Rapids, Perunovich had 21 points in 56 games in his lone USHL season. He ended up being drafted as a re-entry in 2018 following a strong showing as a freshman at Minnesota Duluth.
9. Thomas Bordeleau, C/W, San Jose Sharks (USA NTDP)
With 16 NHL games to his name, Thomas Bordeleau is ready for a bigger opportunity with the Sharks in the 2022-23 season. He's still looking for his first NHL goal, but has seven assists so far. Bordeleau is a highly intelligent and skilled player who can handle himself on both sides of the puck.
With Team USA, Bordeleau became an expert faceoff man and was especially productive in his USHL games. In 53 USHL contests, Bordeleau picked up 40 points before going on to a successful two-year stint at the University of Michigan.
10. Mackie Samoskevich, RW, Florida Panthers (Chicago Steel)
The speedy, skilled Samoskevich was not projected by many to make the Panthers roster this season, but a number of injuries kept some spots open and the rookie seized his opportunity. Samoskevich spent two impressive seasons with the University of Michigan, scoring some big goals for the school last season including the OT winner that sent them to the Men's Frozen Four.
Prior to heading to Michigan, Samoskevich was a high-end offensive performer for the Chicago Steel. He helped the club win the Clark Cup in 2020-21 and ended up getting picked 24th overall by Florida in the ensuing draft. Over his USHL career, Samoskevich had 73 points in 85 games.
11. Henry Thrun, D, San Jose Sharks (USA NTDP/Dubuque Fighting Saints)
Thrun's journey to the NHL has been a winding one, but one that got him where he wanted to go nonetheless. After his sophomore season at Harvard was wiped out by the pandemic, the NTDP alum returned to the USHL to play out his last season of eligibility. Over 24 games with Dubuque, he had 22 points and made the league's third all-star team despite the abridges season.
Thrun returned to Harvard where he became a dependably productive defenseman and finished his Crimson career as the team's captain. Thrun was initially drafted by the Anaheim Ducks in 2019, but had his rights traded to San Jose and signed with the club last spring. He appeared in eight games with the Sharks, collecting two assists.
Henry Thrun (@AnaheimDucks) with the wrist shot goal from the point for the @fightingsaints yesterday in @USHL action.#FlyTogether @HarvardMHockey https://t.co/uLa6FbpyOR pic.twitter.com/6hyaBS3gRa

— EP Rinkside (@EPRinkside) March 14, 2021
12. Wyatt Kaiser, D, Chicago Blackhawks (Dubuque Fighting Saints)
A strong collegiate career with Minnesota Duluuth allowed Kaiser to go from high school superstar to NHL rookie in just three seasons. Kaiser appeared in 11 games with Dubuque after his successful high school season at Andover in 2019-20. Kaiser appeared in nine NHL games last season and appears poised for good minutes to start the season with Chicago.
13. John Beecher, C/W, Boston Bruins (USA NTDP)
It's been a journey for Beecher, who is set to make his NHL debut with the Bruins on opening night after three seasons at the University of Michigan and one full campaign with the Providence Bruins. The speedy power winger was the 30th overall selection in the 2019 NHL Draft.
While at the NTDP, Beecher played on the vaunted team that included seven first-round draft picks including himself. That team rolled in USHL competition and Beecher was a part of it with 45 points in 61 USHL games.
14. Ty Emberson, D, San Jose Sharks (USA NTDP)
After bouncing around a couple of organizations in his young pro career, Emberson is on San Jose's opening-night roster after they picked him up earlier this fall. The former Wisconsin Badger has some two-way skills but is more poised on the defensive side of the puck.
Emberson appeared in 59 USHL games with Team USA, recording 23 points over two seasons.
15. Alex Laferriere, RW, Los Angeles Kings (Des Moines Buccaneers)
A standout at Harvard, Laferriere saw his time in school delayed when the Ivy League didn't play hockey in 2020-21. Laferriere instead stayed with the Des Moines Buccaneers and put together another strong showing in the USHL before moving to Cambridge for the 2021-22 campaign. Now he's part of the opening-night roster for the Kings.
Having played parts of three seasons with the Bucs, Laferriere put up 95 points over 103 games in the USHL.
Of note: Jackson Lacombe, D, Anaheim Ducks (Chicago Steel)
OK, so LaCombe only played three games in the USHL, so maybe he only kind of counts. LaCombe was a standout at Shattuck-St. Mary's and played a little with the Chicago Steel at the end of his draft season. He got three regular-season games and two postseason contests, but did not hit the score sheet. Either way, LaCombe is poised for a strong opportunity with Anaheim and could see his role increase over the season.