United States Hockey League (USHL)
Top Prospect Cole Eiserman Flips Commitment From Minnesota To BU
Top Prospect Cole Eiserman Flips Commitment From Minnesota To BU
Cole Eiserman, one of the top prospects for the 2024 NHL Draft, has decommitted from Minnesota and will instead go to Boston University.
Sep 27, 2023
by Chris Peters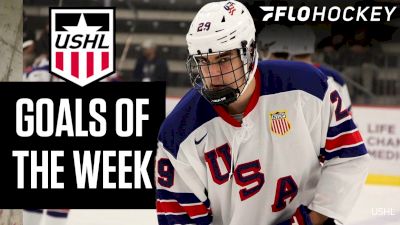 In a major piece of recruiting news in the world of men's college hockey, Cole Eiserman announced that he has decommitted from the University of Minnesota and instead will attend Boston University next season.
Eiserman is currently at the National Team Development Program playing for the U.S. National Under-18 Team. He is widely regarded as a projected top-three pick for the 2024 NHL Draft after scoring 69 goals with the U.S. Under-17 Team last season, setting a record for NTDP players in his age group and falling just three goals shy of the NTDP's single-season goal scoring record held by Cole Caufield.
At the USHL Fall Classic, Eiserman led all players with five points including four goals. He currently has eight points in all competitions so far this season with the NTDP.
A tremendously skilled player with high-end puck handling ability and a world-class shot, Eiserman is expected to be a significant impact player at the collegiate level.
When the player initially committed to the University of Minnesota, it sent shockwaves through the hockey world as it is exceptionally rare for an elite player from Massachusetts to choose to leave the east coast, much less sign with Minnesota.
It appears, however, the allure of staying closer to home won out as Eiserman reassessed his college plans.
BU is also the program where Eiserman's close friend and former Shattuck-St. Mary's teammate Macklin Celebrini who is Eiserman's biggest competition for the No. 1 overall pick in 2024. Celebrini enrolled at BU a year early and is expected to make his collegiate debut in October.
Last season, the dynamic duo still had historic seasons despite playing apart. Celebrini set a new scoring record for U17 players in the USHL with the Chicago Steel and Eiserman had his 69-goal season while also scoring 12 goals at the World U17 Hockey Challenge, tying a record previously held exclusively by Alex Ovechkin.
With the addition of Eiserman, BU has a substantial boost for its incoming class after Celebrini was the centerpiece of one of the program's best recruiting classes in recent memory. The balance of power in the recruiting game has seemingly shifted east as both Boston College and Boston University are putting together top-tier classes.