Western Hockey League (WHL)
WATCH: Connor Bedard Scores Hat Trick For Blackhawks In Prospects Game
WATCH: Connor Bedard Scores Hat Trick For Blackhawks In Prospects Game
No. 1 pick Connor Bedard once again exceeded the hype in his debut in a Chicago Blackhawks jersey at the Tom Kurvers Prospect Showcase.
Sep 17, 2023
by Chris Peters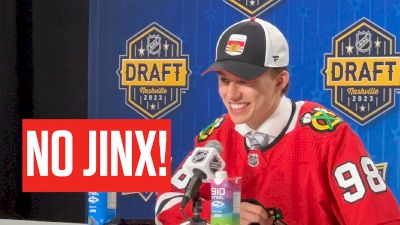 Chicago Blackhawks fans were already fully bought in on the Connor Bedard hype, but the recent No. 1 pick likely sent his new fanbase into frenzy with his performance in a preseason prospects game in Minnesota Saturday night.
Bedard scored a hat trick, with each goal displaying the teenage superstar's elite release, as the Blackhawks prospects rolled past the St. Louis Blues, 5-0, in their opening game at the 2023 Tom Kurvers Prospect Showcase hosted by the Minnesota Wild.
How To Watch NHL Prospect Tournaments
Bedard's first goal came in the second period with his patented drag and shoot with an absolutely epic release. The puck seemed to hit the back of the net almost as soon as it was off his stick. Bedard has scored dozens of goals with that very move throughout his junior hockey career and likely expects to use it quite often as a pro.
This Connor Bedard highlight should go over well pic.twitter.com/JdSVx5ZurY

— Chicago Blackhawks (@NHLBlackhawks) September 17, 2023
Then the 18-year-old rolled the highlight reel for his second goal. With the Blackhawks ahead 3-0, Bedard kept the puck to the outside, sold the pass to back the defenders off and took the space that was given to him. When Bedard saw the goaltender deep in his crease, he showed off that wicked release once again and drilled a shot into the top corner to make it 4-0 Chicago.
As the third period moved on, Bedard figured he already had two so he might as well pick up the hat trick. Bedard cut to the middle, took a pass and despite having a defender right in front of him unleashed another spectacular shot that the goaltender didn't even have a chance to react to.
🚨HAT TRICK CONNOR BEDARD🚨 pic.twitter.com/ltdmshwdPp

— Chicago Blackhawks (@NHLBlackhawks) September 17, 2023
Bedard had 81 goals between the regular season and playoffs with Regina last year, marking one of the most spectacular goal-scoring seasons we've seen in junior hockey. The expectations for the phenom from North Vancouver, B.C., could not be higher, but few young players seem as well-equipped to meet and probably exceed them. It just seems that No. 98 always delivers and in his very first competitive game in a Blackhawks jersey, he did just that.