NCAA DI Men's Hockey
John Farinacci, Jay O'Brien Among NCAA Players Becoming Free Agents Aug. 15
John Farinacci, Jay O'Brien Among NCAA Players Becoming Free Agents Aug. 15
Unsigned college players are about to have their NHL Draft rights expire, opening them up to unrestricted free agency.
Aug 15, 2023
by Chris Peters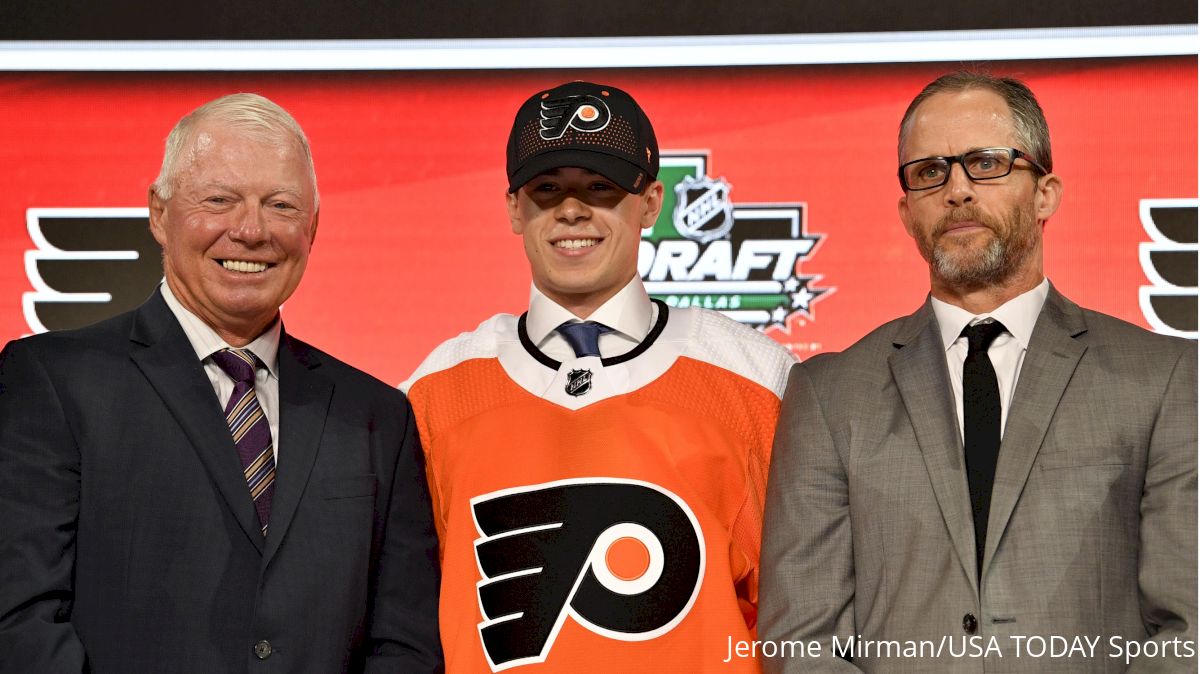 It is Aug. 15, which is a significant day on the hockey calendar for one reason. That is the day that drafted NCAA players who are beyond four years from their NHL Draft date can become free agents.
Their respective teams had until June 1 to secure a contract before the clock started to the player's free agency. The team retains exclusive rights until 5 p.m. ET on Aug. 15.
In most cases, the team elects not to sign the player but in some instances the player takes control of his future by choosing not to sign with the team that drafted him. After 5 p.m., he is free to sign with anyone.
This year's class has a few interesting options for NHL teams to consider, but first here is the list of players eligible to sign elsewhere after 5 p.m. Tuesday via CapFriendly.
Players That Will Become Free Agents On Aug. 15
Jay O'Brien, 19th overall, PHI
Jonny Tychonik, 48th, OTT
Robert Mastrosimone, 54th, DET
Jake Wise, 69th, CHI
John Farinacci, 76th, ARI
Jacob Pivonka, 103rd, NYI
Demetrios Koumontzis, 108th, CGY
Skylar Brind'Amour, 177th, EDM
Kevin Wall, 181st, CAR
Jared Moe, 184th, WPG
Arvid Henrikson, 187th, SJS
Jakov Novak, 188th, OTT
Christian Krygier, 196th, NYI
Ryan O'Connell, 203rd, TOR
Robbie Stucker, 210th, CBJ
Of the players on that list, Krygier, Pivonka, Novak, Tychonik, Henrikson and Stucker have all signed professional contracts in other leagues as they were not expected to be extended NHL contracts. Skylar Brind'Amour opted for an AHL contract despite the opportunity to sign with Edmonton.
Meanwhile, the Philadelphia Flyers opted not to sign Jay O'Brien, who played last season at Boston University. As he was a first-round selection, the Flyers are getting a compensatory second-round pick in 2024 for not signing him.
Who are the top NCAA free agents available on Aug. 15?
John Farinacci, C, Harvard (ARI)
Farinacci will not be signing with the Coyotes following the conclusion of his collegiate career. Farinacci's ride was a wild one that saw it interrupted by the pandemic and some injuries as well.
Of the players available, Farinacci has the brightest NHL outlook. He is a 6-foot, 190-pound right-shot center who plays a strong two-way game. Though he missed the first half of the season due to injury, Farinacci averaged better than a point per game while captaining Harvard.
He won a gold medal with Team USA at the 2021 World Junior Championship in the bubble in Edmonton. Farinacci finished tied with Tim Stutzle for fourth in tournament goal scoring with five while essentially playing a third-line role for the team. So even in high-level international competition, Farinacci stood out.
John Farinacci works out of the office in Edmonton to put @usahockey up 4-2 and in the driver's seat for a berth in the #WorldJuniors semi-finals! pic.twitter.com/T5uzSL7xrH

— IIHF (@IIHFHockey) January 3, 2021
He is a mature player, who has a good work ethic on the ice, plays a gritty style down low and knows how to get to the net. He could easily slot into an organization in a depth role, potentially playing in the NHL immediately in the right situation. It's more likely, however, that he starts in the AHL.
I believe there will be several teams inquiring about his services as soon as he becomes available and would expect an NHL deal to be completed in short order.
Jay O'Brien, C, Boston University (PHI)
The Flyers spent a 19th overall selection on O'Brien who was playing in prep school at the time. He went straight to Providence College where he struggled to adapt to the college game. He still managed to make the U.S. National Junior Team as a 13th forward and had no points in seven games while USA went on to earn the silver medal in that tournament.
O'Brien then left Providence to spend an extra season of junior hockey with the Penticton Vees in the BCHL. He rediscovered his offensive touch with 66 points in 46 games and 10 more in five playoff contests.
From there, O'Brien transferred to Boston University where he spent three seasons. He had a career year as a senior with 32 points in 39 games last season, helping BU reach the Men's Frozen Four.
Safe to say Jay O'Brien will remember his 100th career game! Congrats on reaching 💯, OB!

📸 @RichardTGagnon pic.twitter.com/t2PJTDXldl

— BU Men's Hockey (@TerrierHockey) March 19, 2023
O'Brien has some good tools including high-end skating ability, but never really clicked as well offensively as it was expected he could. His struggles to find the net consistently are likely tied to concerns about his overall hockey sense and ability to process the game at speed.
He looks like a good-enough option for a team to attempt to lure him with an AHL contract and see where things go. There may be a few teams out there that want to give him a more serious look with an NHL deal, but he's got a lot left to prove and will have to do it first at the AHL level.
Robert Mastrosimone, C/W, Arizona State (DET)
It's been a bit of a weird journey for Mastrosimone since he was drafted in the second round by Detroit after two standout USHL seasons with the Chicago Steel. He actually got injured in a Red Wings development camp which knocked him out of a World Junior camp and he never ended up playing in that particular tournament.
Despite that, Mastrosimone had three years at BU before transferring to Arizona State for his fourth and likely final collegiate campaign. He put up 42 points in 38 games to lead the Sun Devils in what was his best collegiate campaign.
Mastromsimone is a skilled, competitive forward who can get in on the forecheck and be a dangerous player. He doesn't boast tremendous size, but has gotten stronger. I don't know if there are going to be a ton of NHL offers out there for him, but I do think he'll be a player a number of teams want to get in their system one way or another.
He does have the option to return to school for a fifth year granted by the lost pandemic season, but all signs point to Mastrosimone turning pro.
Kevin Wall, RW, Penn State (CAR)
Wall is coming off of a career year with Penn State during which he posted 31 points in 39 games. He also scored 17 goals and was a key player for the Nittany Lions throughout the season.
2⃣0⃣2⃣2⃣-2⃣3⃣ 𝗣𝗲𝗻𝗻 𝗦𝘁𝗮𝘁𝗲 𝗛𝗼𝗰𝗸𝗲𝘆 𝗧𝗼𝗽 𝗣𝗹𝗮𝘆𝘀

No. 4⃣

"Kevin Wall, Slick Mitts, Top-Shelf!"#WeAre #HockeyValley pic.twitter.com/8IyZeUpSXx

— Penn State Men's Hockey (@PennStateMHKY) May 30, 2023
It was probably the most Wall looked like a potential pro in his collegiate career. Teams may be interested in him as a potential depth winger, though I think it's more likely he's a quality AHL player for the team that signs him.
Jake Wise, C/W, Ohio State (CHI)
After playing five years of college hockey, Jake Wise ended his career on a high note. As a younger player, Wise was viewed as one of the best players in his age group. Though that is no longer the case, he finished his two years at Ohio State quite strongly after transferring from Boston University where he failed to meet his potential.
Wise played 40 games for the Buckeyes last season, registering 39 points which was good for second on the team. He is a skilled, shifty player who seemed to get his groove back more over the last two seasons after lackluster years at BU.
It is unlikely Wise will secure an NHL deal, but he did play two AHL games last season on a PTO and had three points over the two contests. He should garner interest from NHL teams that are looking to fill out their AHL rosters with some skill.