2023 NHL Draft
Anaheim Ducks Pick Leo Carlsson No.2: 2023 NHL Draft Reactions
Anaheim Ducks Pick Leo Carlsson No.2: 2023 NHL Draft Reactions
The Anaheim Ducks selected Leo Carlsson with the second pick of the NHL Draft 2023 at Bridgeport Arena, in Nashville, Tennessee.
Jun 28, 2023
by Martina Gil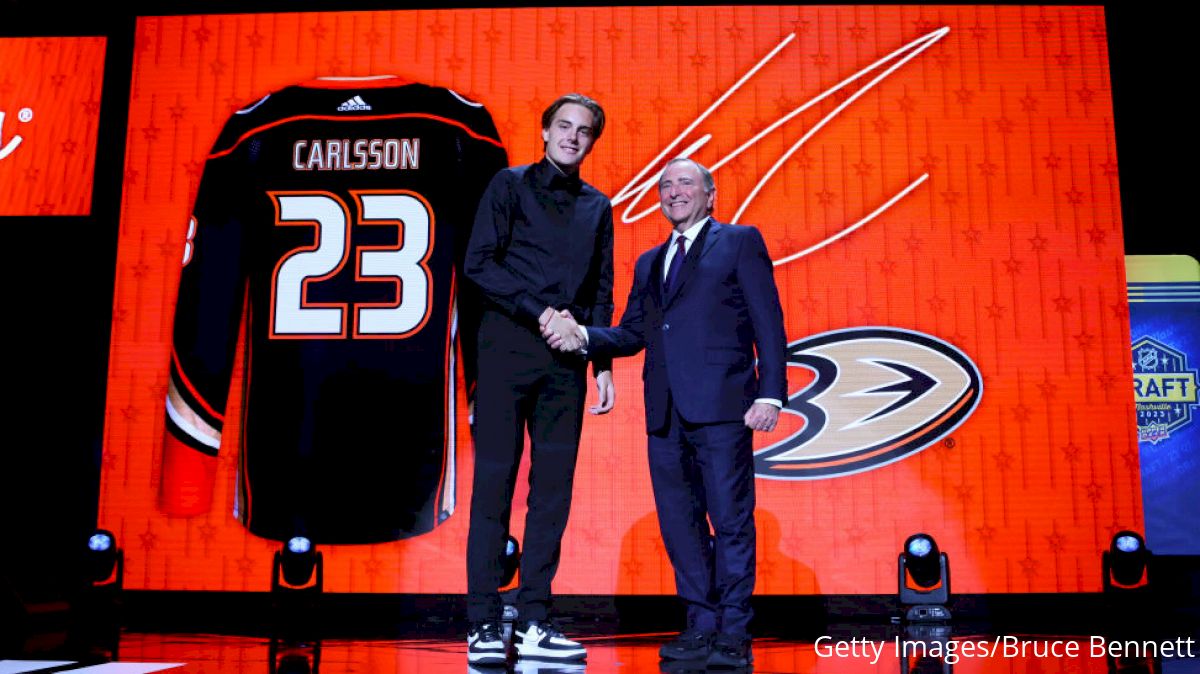 The Anaheim Ducks welcome Leo Carlsson to the family as the second pick of the NHL Draft 2023 at Bridgeport Arena.
Leading up to the NHL Draft 2023, the Ducks were rumored to choose Adam Fantilli or Will Smith, but had the first surprise of the draft.
Carlsson currently plays center for Orebo. His experience in this position will make him a valuable addition to the Anaheim Ducks.
Subscribe to FloHockey to Stay Up to Date with the Latest News!
Connor Bedard Is The Chicago Blackhawks' No.1 Pick: NHL Draft Reactions
FloHockey's Mock draft projected him to be the fourth pick for the San Jose Sharks.
Leo Carlsson Is The Second Overall Pick For The Anaheim Ducks!
Here's the moment Leo Carlsson became the newest Duck. #FlyTogether | @Honda pic.twitter.com/6rvf3hMkx2

— Anaheim Ducks (@AnaheimDucks) June 28, 2023
Leo Carlsson Is Anaheim's New Star Player
Leo Carlsson is gonna be an absolute star. Arguably the best hockey sense in the draft and probably the best defensive instincts. Not to mention his playmaking is off the charts. Also, he's big. 6'3" and 194 lbs. and will continue to grow

— CJ Woodling (@CJWoodling) June 28, 2023
Scouting Report: No. 2 Anaheim Ducks Select: Leo Carlsson, C
Leo Carlsson, FloHockey's No. 3 prospect, is a big center with extreme intelligence and high-end skills. He plays the game cerebrally and puts himself in the right positions a lot. His foot speed isn't as strong as some of the other players, but he makes up for it with good anticipation and positioning. He played mostly on the wing this year, but should be a good two-way center. His size gives him a lot of advantage, but Carlsson has great touch. He projects as a No. 1 center if he hits all benchmarks.
-Chris Peters
2023 NHL Draft Order
Chicago Blackhawks - Connor Bedard
Anaheim Ducks - Leo Carlsson
Columbus Blue Jackets
San Jose Sharks
Montreal Canadiens
Arizona Coyotes
Philadelphia Flyers
Washington Capitals
Detroit Red Wings
St. Louis Blues
Vancouver Canucks
Arizona Coyotes (from Ottowa)
Buffalo Sabres
Pittsburgh Penguins
Nashville Predators
Calgary Flames
Detroit Red Wings (from New York)
Winnipeg Jets
Chicago Blackhawks (from Tampa Bay)
Seattle Kraken
Minnesota Wild
Philadelphia Flyers(from Los Angeles)
NY Rangers
Nashville Predators (from Edmonton)
St. Louis Blues (from Toronto)
San Jose Sharks(From New Jersey)
Colorado Avalanche
Toronto Maple Leafs (From Boston)
St. Louis Blues (From Dallas)
Carolina Hurricanes
Montreal Canadiens (from Florida)
Vegas Golden Knights
How to Watch the NHL Draft 2023
The NHL draft first round will air on ESPN, ESPN+ and the rest on the NHL Network.
FloHockey's podcast, Talking Hockey Sense, is providing breakdowns before and during the draft.