2023 NHL Draft
2023 NHL Draft Profile: Maxim Strbak A Warrior Defenseman
2023 NHL Draft Profile: Maxim Strbak A Warrior Defenseman
Maxim Strbak has the size and frame NHL scouts drool over. At 6-foot-2, 198 pounds, it's easy to see why he could be a hot commodity in the 2023 NHL Draft.
Jun 23, 2023
by Ryan Sikes
Maxim Strbak has the size and frame NHL scouts drool over.
At 6-foot-2, 198 pounds, and plenty of room to grow, it's easy to understand why the Slovakian defenseman could be a hot commodity in the 2023 NHL Draft.
Growing up playing in the Slovakian League, Strbak made the jump to North America this past season in the United States Hockey League.
With the Sioux Falls Stampede, the 18-year-old exhibited a tremendous skillset at both ends of the ice.
Overall, he scored 18 points (five goals, 13 assists) in 46 games this season. He also excelled defensively: boxing out opponents, winning puck battles, utilizing his physicality and skating the puck out of the defensive zone.
Strbak is expected to play for Michigan State during the 2023-2024 season, but his lone season in Sioux Falls was a terrific place for the young defenseman to round out his skillset.
"Physically, he's ahead of kids two years older than him," Stampede head coach Eric Rud told FloHockey. "He's a big, strong kid that is put together very well. So, right off the hop, he was able to translate (to the UHSL) physically, and then when you see his skating stride, it's so powerful that it allowed him to have success this year and close things down defensively."
Maxim Strbak Player Profile
Date of Birth: April 13, 2005
Age: 18
Height: 6-foot-2
Weight: 198 pounds
Shot: R
Ranking: No. 48 by NHL Central Scouting (NA Skaters)
Production: 46 games, 5 goals, 13 assists, 18 points
College: Michigan State University
Adjustments To The League, Style of Play
Like most European skaters coming to North America, regardless of the position, the USHL offers a much faster style of play.
Therefore, Maxim Strbak's primary adjustment to the league was reacting to things happening a little quicker. In the early stages of the season, he had the tendency to hold onto the puck a second or two too long.
Once he figured out the pace of play, he was able to settle in and play his game.
Primarily a pass-first defenseman, Strbak was able to contribute offensively for Sioux Falls this past season, but his main objective was to shut down opponents in the defensive zone.
"He knows he's a strong defenseman that's a pass-first guy, gets the puck out and is efficient defending, and then his offense is secondary," Rud said. "Not that he's not concerned about (offense), but I think he takes care of everything in his own zone first, and then if he can join the offense and lead in any way, he certainly likes to do that."
Draft Profile: Maxim Strbak‼️
USHL: @sfstampede 🐂🐂
NCAA: @MSU_Hockey 🛡
Hometown: Kosice, SVK 🇸🇰
Position: D
Shoots: R
Central Scouting Final Rank: 4️⃣8️⃣ (North American Skaters) ⛸ pic.twitter.com/oPJ69sg7M8

— USHL (@USHL) June 17, 2023
Despite that, Strbak opened the season with a two-point effort against Muskegon, scoring his first career USHL goal and first assist. However, the points were few and far between during the first month of the season.
He started to find his offensive game in mid-November, recording goals in back-to-back games and points in 4-of-5 games.
Strbak features a quick and deceptive release that confuses opposing goaltenders, and his shots from the blueline find their way into the back of the net.
He utilized his skating ability and athleticism to create more time and space for himself in the offensive zone, allowing him to get better shot selections.
"He shoots the puck very hard and shoots it off the pass very well," Rud said of Strbak's offensive abilities. "But the biggest thing is his agility and being able to move laterally along the line. He could fake a shot, freeze a guy and take two steps to get around them for an even better chance."
With Sioux Falls, he primarily played on the team's second power-play unit and had few opportunities to quarterback the man advantage.
But as a right-shot defenseman, Strbak can play both on his strong and off sides, offering plenty of versatility to the Stampede lineup.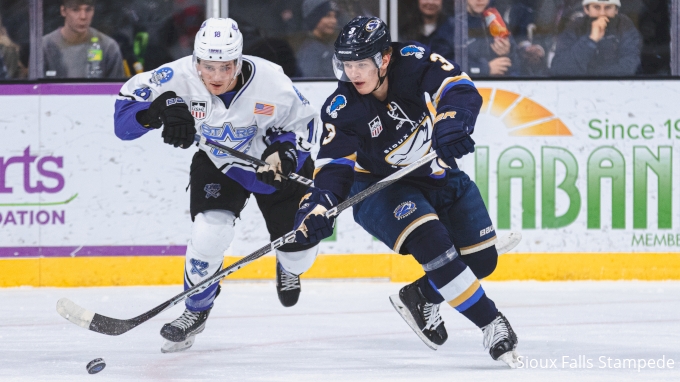 A Warrior Defensively, Improvements Ahead
There's no question that Strbak shines brightest in the defensive zone. He wears opponents down with his size and physicality, winning grueling puck battles in the corners or delivering big hits to break up offensive chances.
Strbak was a key cog in Team Slovakia's run at the 2023 World Juniors, where he showed that despite being just 17 years of age at the time, he could hang with the older players.
He did a tremendous job of boxing out opponents, giving up his body to prevent pucks from going through and doing whatever was necessary in the defensive zone.
"He's a warrior in terms of – he likes physicality, so he likes to engage," Rud said. "In terms of blocking shots and things like that, he's not afraid to put his body in front of everything – penalty kill, last minute of the game, whatever. It's natural for him. You don't have to convince him to (block shots).
As Strbak prepares for the collegiate level next season, he'll need to continue to play a simple game.
Like most young defensemen, he had the propensity to try to do too much with the puck at times, putting himself in scramble mode, but it's an area of his game that significantly improved as the season progressed.
And, for NHL clubs with Strbak on their draft board and are considering taking him in the 2023 NHL Draft, Rud wants those clubs to understand they'd be getting a player who doesn't take any plays off or anything for granted.
"First and foremost, he's an excellent young man and a winner of a kid, Rud said. "He is respectful and a tremendous teammate. If he came back next year, he'd be one of our captains, no doubt about it. He shows alpha leadership qualities; his work ethic and day-to-day are elite. He shows up every day. He's always doing a little extra."