United States Hockey League (USHL)
Muskegon Lumberjacks Defenseman Gavin McCarthy Flying Under The NHL Radar
Muskegon Lumberjacks Defenseman Gavin McCarthy Flying Under The NHL Radar
NHL Draft-eligible prospect Gavid McCarthy is a two-way blueliner who made strides in his defensive game this past season with the Muskegon Lumberjacks.
May 31, 2023
by Ryan Sikes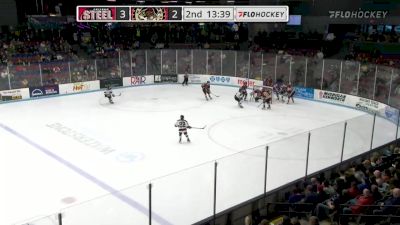 Unlock this video, live events, and more with a subscription!
Get Started
Already a subscriber? Log In
In the market for a 6-foot-2 right-shot defenseman? Gavin McCarthy might be your guy.
A 2023 NHL Draft-eligible prospect, the Clarence Center, New York native is a two-way blueliner who made tremendous strides in his defensive game with the Muskegon Lumberjacks this past season.
McCarthy suffered a significant knee injury at the World Junior A Challenge in mid-December that prevented the young defenseman from playing in the international tournament and kept him off his feet for eight weeks.
As head coach for the Muskegon Lumberjacks, Parker Burgess has seen McCarthy work through injury and grow into an NHL-caliber defenseman.
"Gavin is a big D man with a really efficient, long stride. He can play both sides of the puck, and his composure and ability to make plays is definitely one of his strengths," Burgess said.
Gavin McCarthy Player Profile
Date of Birth: June 2, 2005
Age: 17
Height: 6-foot-2
Weight: 181 pounds
Shot: R
Ranking: No. 52 by NHL Central Scouting (NA Skaters)
Production: 42 games, 8 goals, 19 assists, 27 points
College: Committed to Boston University
Offensive Potential & Power Play Ability
With the ability to quarterback the power play, McCarthy puts himself in a position to rack up points on the man advantage.
He possesses a quick release from the point that makes him deadly anywhere in the attacking zone, but he will frequently change up the speed of his shot to throw off the goaltender's timing.
McCarthy's vision is one of his best traits, and being a big, mobile defenseman in the offensive zone, he attracts a lot of attention when driving toward the net, which leaves his teammates open.
The Boston University commit can effortlessly fit seam passes through small windows on plays in tight or on the breakout for players alone up-ice.
"He's a great facilitator," said Burgess.
"He can get shots through from the point and knows his options if he has a lane to the net to shoot, and that's where he's most effective (on the power play)."
McCarthy picked up 11 points (four goals, seven assists) on a Muskegon power play with the second-worst conversion rate (19.7 percent) in the Eastern Conference.
Two-Way Defenseman
Knowing he needed to improve defensively, McCarthy committed himself to becoming a two-way defenseman capable of playing big minutes and in all situations.
Bigger in stature than most of his competition, the Muskegon defenseman uses his size to his advantage. McCarthy positions himself to block shots and throws his weight around to knock the opposition off the puck.
The 17-year-old improved his positional awareness, defending rushes and boxing out to gain the advantage in front of the goal crease.
Rounding out his defensive game allowed McCarthy to remain on the ice in tight situations, at the end of the period, or at the end of the game. The young defenseman wanted to prove to the coaching staff and NHL scouts that he could do whatever was asked of him.
"In order to be on the ice as much as possible, you got to have the confidence and trust from your coaches and your teammates to do it when your number's called, whatever the situation," Burgess said of McCarthy's commitment to improving his defensive game.
"Gavin is a competitive kid, and he wanted to be on the ice. He wanted to help the team win."
McCarthy is a projected second or third-round pick in the 2023 NHL Draft. Had he played a full season, he could have been projected much higher.
Any NHL franchise willing to take a look at the young defenseman and understands his value, will be getting a naturally-gifted prospect with high character and the fortitude to reach any goal he sets out for himself.
And Muskegon's Burgess wants NHL scouts to know they haven't seen the best version of Gavin McCarthy yet.
"Coming back from injury, he was still trying to find his game and timing and all of that comes with it. He's a professional kid," Burgess said.
"He shows up, he works hard, he's on time, teammates like him, and he has leadership qualities."