2023 Florida Everblades vs Newfoundland Growlers
Irvine's Unique Year Landed Him In Florida, Could End With Kelly Cup Title
Irvine's Unique Year Landed Him In Florida, Could End With Kelly Cup Title
Tyler Irvine is starting to see the light at the end of the tunnel. The road to get there this season has been a winding one, one he calls a "unique year."
May 24, 2023
by Mike Ashmore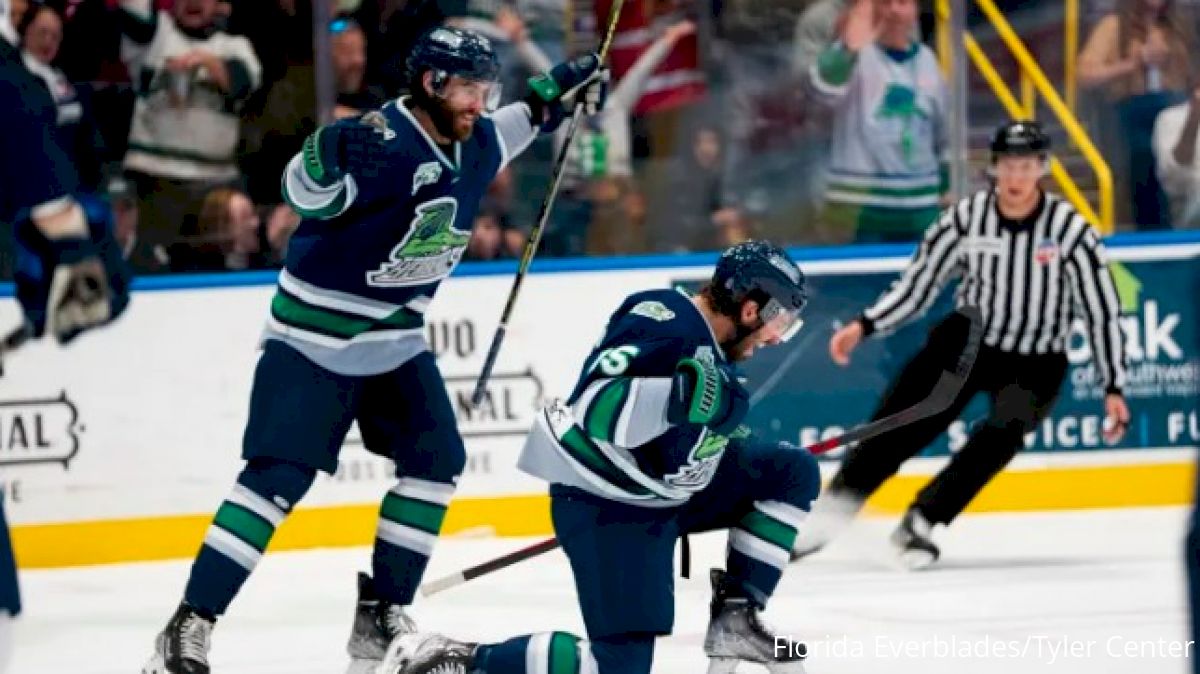 Tyler Irvine can finally start to see the light at the end of the tunnel.
The road to get there for the 27-year-old Livonia, Michigan, native this season has been a winding one, one he calls a "unique year." A year the Florida Everblades forward is hopeful will end with raising the Kelly Cup.
A former standout at Merrimack College, Irvine began his third professional season in the American Hockey League with the Cleveland Monsters, but he was sent down for a couple weeks to the ECHL's Kalamazoo Wings.
Called back up, he tore his MCL three games into his return and wasn't sure if that was going to be the end to his year.
About three months after suffering the initial injury, Irvine got word that his ECHL rights had been traded to the Everblades, and with Cleveland out of the playoff picture, he elected to head down to Florida and try to win a championship there.
He played in just three regular season games, but he has been a revelation thus far in the postseason, scoring nine goals in first 15 playoff contests.
🚨 GOOOOOAAAALLLLLL 🚨 @TylerIrvine9 ties it up in the final seconds of P1 pic.twitter.com/O7Cy5Sa7uH

— x - Florida Everblades (@FL_Everblades) May 20, 2023
Get all that?
If that seemed like a lot, it's certainly been a lot to take in for Irvine himself, but for starters, he says he's finally feeling 100% again after suffering that early-season knee injury.
"The recovery was tough, but the guys in Cleveland did a great job," Irvine told FloHockey. "Coming down here, (Dylan) Dewey, our trainer, has been monitoring it pretty well, so it feels like new. It's all good."
The personable winger says his time with the 'Blades is the most fun he's had playing pro hockey, and perhaps there's some geographical influence there.
He'd played his entire career, even in college at Merrimack, up north, with stops in Binghamton, Adirondack and Utica, during his time as a Devils farmhand.
"I love the sun, so being down here, every day is beautiful," Irvine said through a chuckle. "You think, 'Oh, maybe the fans wouldn't be as engaged,' but they're almost more engaged. Every game, we're feeding off those fans. It's crazy that South Florida loves hockey, it's great."
As fun is may be off the ice, however, it is strictly business on it.
The defending Kelly Cup champs are somewhat notorious for a win-or-bust approach as a franchise – and to be sure, it's one that's served them well – and it was a vibe Irvine picked up on right away.
"I think it was as soon as I got down here, I remember calling my dad for the first day, and I was like, 'This is the coolest team I've been on,'" he said. "It is a winning atmosphere. They accept nothing but winning. The standard they hold you to, it's been great. I think it goes all the way from the bottom all the way to the top, up to (GM Craig Brush). He's in the locker room telling us how bad he wants to win, and then from all the players."
🎩HAT TRICK MAGIC🎩

#15 @TylerIrvine9 gets the empty netter for his third of the night🎩 pic.twitter.com/PAjlA18V7C

— x - Florida Everblades (@FL_Everblades) May 16, 2023
Surrounded by many teammates and coaches who were around for last year's Kelly Cup win, Irvine is happy to soak in the advice, along with the Florida sunshine.
To an extent, Irvine has helped show that group the way during the postseason, despite it being his first playoff action in professional hockey.
Given that inexperience and the magnitude of his injury, he always was going to be something of a wild card this time of year, but he says he hasn't really surprised himself with how well he's been able to perform when it's mattered the most.
"I didn't want to think anything else," he said. "As soon as you think anything else, that's the way it'll go. So, I expected us to make a run, go to the finals and make a push. It's been a great ride, and every day you show up and go to work, you know every teammate next to you is giving 100%, and that's what makes it so special."