2023 Florida Everblades vs Newfoundland Growlers
Logan Lambdin Soaking In Sunshine And Success With Everblades
Logan Lambdin Soaking In Sunshine And Success With Everblades
Trading for Logan Lambdin was a clear sign that the defending Kelly Cup champion Florida Everblades really were going for it this year. Again.
May 24, 2023
by Mike Ashmore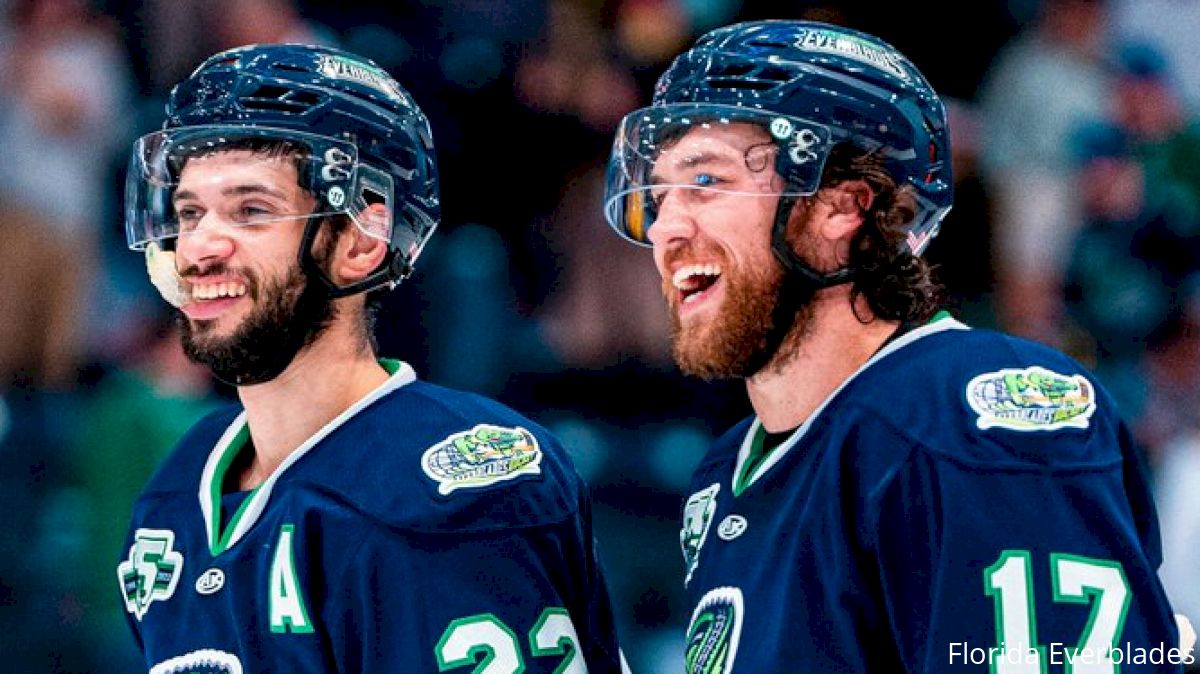 The transaction came across the wire the day prior to the ECHL's trade deadline, and it was a bit of an eye-opening one.
Yes, that was Logan Lambdin on the move to the Florida Everblades, another clear sign that the defending Kelly Cup champs were really going for it.
Again.
In his first full professional campaign with the Kalamazoo Wings (2021-2022), the former Spartans standout produced a 50-point season on 27 goals and 23 assists, which he parlayed into spending most of this season with the American Hockey League's Chicago Wolves.
A Michigan native who'd played his entire career close to home, the thought of getting traded was daunting enough, but especially with a new addition at home, he initially wasn't looking to move too far.
"I was in Chicago for a decent chunk of the year this year, and when I came back, Kalamazoo wasn't in the mix, and I wasn't really planning on going back there," Lambdin told FloHockey. "So, I asked for a trade. It was about a week after my wife and I had just had a baby, so I asked for the trade. I had a pretty good relationship with our coach in Kalamazoo, and he kind of knew I wasn't going to come back.
"I was asking if I could go to a place that's close to home and is making a run, and Toledo is 20 minutes from where I grew up and where my family lives, and my wife's family. I was expecting that, and I was talking to one of the players on that team, too, but from that point, Toledo just kind of disappeared once our coach threw the trade offer out there. Florida came up, and I really couldn't be happier with the way things have gone."
Lambdin has been "loving" the weather and the atmosphere away from the rink, and he called it a "nice little changeup" from being used to the Midwest his whole life.
But being away from his newborn at home has been difficult.
"My wife has been awesome with all of that, and it's made it easier with life away from the rink with the baby," he said. "But, just being able to walk outside the rink every day and it's 80 degrees, and it's sunny every day, it's a whole different lifestyle that I've kind of dreamed about my whole life. It's paradise."
That's likely how the Everblades feel about how the 27-year-old has fit in since the mid-March trade.
He was nearly a point-per-game player in 12 regular-season contests and has kept that going into the Kelly Cup Playoffs, potting five goals and adding seven assists in his first 15 games.
🚨 BLADES GOAALLLLLLL 🚨

A snipe by #17 @lamby_7 seals the deal! pic.twitter.com/7Kq2uMp2ih

— x - Florida Everblades (@FL_Everblades) May 20, 2023
"I hold myself to a pretty high standard, so I kind of expected (to fit in well)," he said. "But, for it to actually happen, it's worked out perfect. Me holding myself to that high standard, I always like to believe that I can do it, but when it actually happens, it makes you feel pretty good."
Since he's new to the playoff landscape, at least at the professional level, Lambdin has been receptive to the learning that comes with it, especially as it pertains to taking care of his body. Luckily, he's surrounded by many veterans he can learn from, when it comes to both handling the environment and winning big games.
Lambdin has enjoyed the physical nature of the playoffs thus far, saying he likes to be a "little prick on the ice," which is something he says got away from him a bit in his professional career.
"With the win-or-go-home (nature of the postseason), it's been good to get that back into my game," he said. "It's nice to know I can still produce and play like a prick at the same time."
That "skilled pest" type of role has fit in well in Florida, and Lambdin is hopeful he can keep playing his game all the way to winning a Kelly Cup.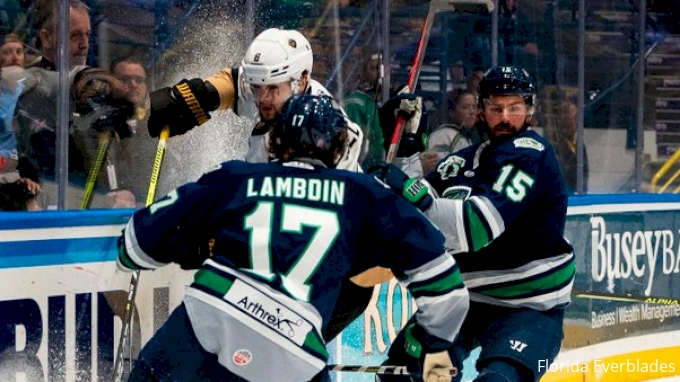 "They've made it easy to fit in there," he said. "If you're a guy who wants to win and has the drive to win, they accept you, and they want you around, it seems like…it's been a winning organization for a while, so they just expect it. That's all they want to do, is win."