2023 Toledo Walleye vs Idaho Steelheads
Time Overseas Helped Turn Idaho's Wade Murphy In Player He Wanted To Be
Time Overseas Helped Turn Idaho's Wade Murphy In Player He Wanted To Be
After a few years in the ECHL without finding the success he wanted, Wade Murphy decided to head overseas to see if he could get things turned around.
May 20, 2023
by Mike Ashmore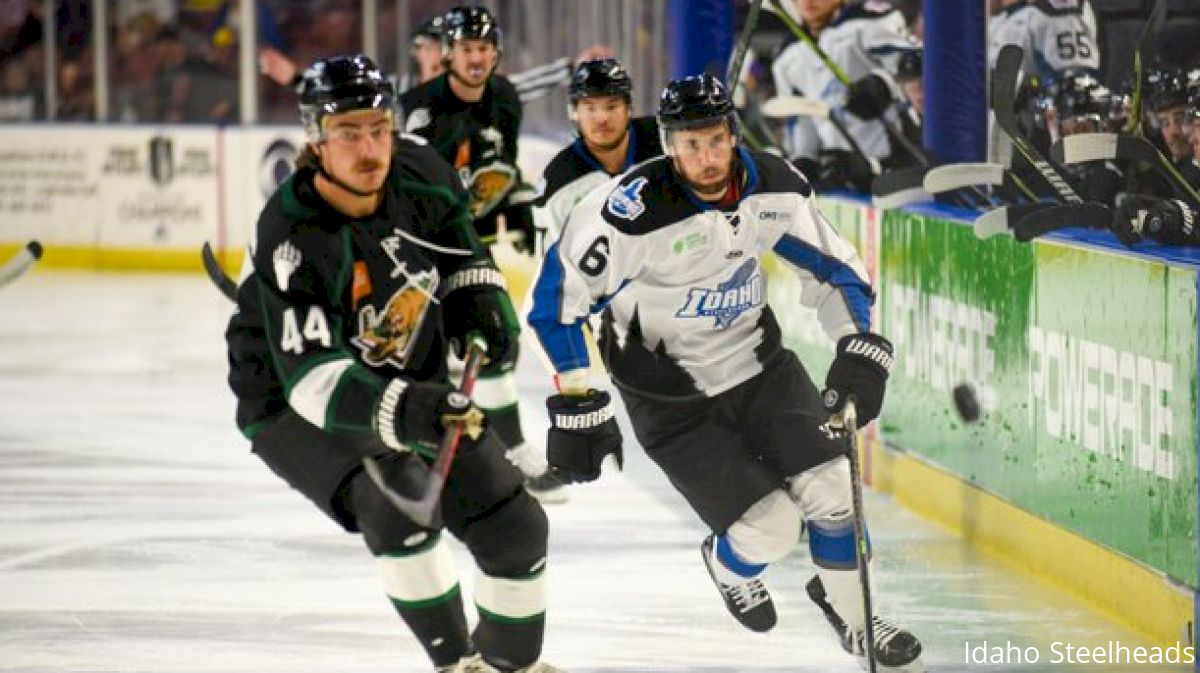 Sometimes, you just need to hit the reset button.
After a few years in the ECHL without finding the level of success he wanted, Idaho Steelheads forward Wade Murphy came to the conclusion that it was time to head overseas to see if he could get things turned around.
"It was definitely a career reset, I think," Murphy told FloHockey. "I wanted that reset, but I wanted to see other parts of the world, too. It really helped my skating and my maturity. Deep down, I always wanted to come back to North America, but I didn't know if it would be two, three, four years.
"It was just whenever an opportunity came, so when Idaho called, it as a no-brainer. I knew the organization well from guys who'd played there before. This year in particular, after COVID, it was time to come back over."
To say it has worked out well would be an understatement.
Murphy had played for five ECHL teams over the course of three seasons, which followed a collegiate career at North Dakota and Arizona State University. He played for Manchester, Worcester, Greenville, Kalamazoo and Maine but seemingly never was able to put it all together, never hitting double-digits in goals in a regular season.
🚨🚨🚨
WADE FREAKIN MURPHY!!! With the hat trick at 15:18 of the 3rd period!!
🍏: Canade, Knierim pic.twitter.com/WVN6QLuO3K

— XYZ - Idaho Steelheads (@Steelheads) May 14, 2023
Fresh off his experience in Europe, where he played in Norway and Slovenia, he seemingly is a changed player.
Murphy leads all players in this year's Kelly Cup Playoffs with nine goals, not to mention posting career highs in goals (21), assists (22) and points (43) during the regular season.
What changed?
For starters, he said going to Europe was an eye-opening experience in general, and skating on the bigger ice really helped him.
Once back in Idaho, head coach Everett Sheen, Murphy's linemates and the entire Steelheads organization have made him feel welcome and comfortable, and that has helped his confidence.
Murphy has been pivotal to Idaho's success over the first two rounds of this year's Kelly Cup Playoffs, though their series against the Allen Americans in the Mountain Division Finals came with some emotions and challenges, following the tragic shootings at Allen Premium Outlets on May 6, which led to multiple games having to be rescheduled.
"That was obviously a very unfortunate situation," Murphy said. "You kind of think in the back of your head that hockey's a game, and that's real-life stuff. It made our team come a little closer, our organization. All the boys met up and talked about it, it was an eye-opener. We're a little closer now than ever before."
That close-knit group is ready to face the Toledo Walleye in the Western Conference Finals. It's a team they somehow had never faced this year, albeit a team the Brabham Cup winners expected they might see around now.
We've reached the end of the 2nd!

Reggie ➡️ Murph for our 5th of the night! pic.twitter.com/utAfZVElLg

— XYZ - Idaho Steelheads (@Steelheads) May 15, 2023
"From the start, you kind of know what teams are going to be at the top and go further in the playoffs, so we thought Toledo or Cincinnati would be the team we'd meet in the Conference Finals," Murphy said. "We know how good Toledo is. They've got seven guys down from the American League, too, so it'll be a really tough series and a big test. In saying that, we've never played each other, so it's different. We played Allen and Utah many, many times, so you kind of know the teams. But, in a seven-game series, with both of us not playing each other, it'll be pretty interesting."
Murphy says the team has been pouring over video of the Walleye while preparing for the series, noting that Toledo likely has a bit more of a skilled group than what they've faced in the first two rounds.
He's ready to contribute once again, having finally gained valuable experience in the early rounds of the 2023 Kelly Cup Playoffs.
"It's been a great postseason for everyone," he said. "I've never been in the ECHL playoffs before, but last year, I was in the Austrian playoffs, and that was my first time in two or three years that I was in a playoff situation, so that kind of gave me a taste. This year, I was a little extra hungry. The fans and the town are all behind us. On our team, we have a lot of winners and guys who have won in the past, so it's a good combination, with everyone wanting to win."