2023 Newfoundland Growlers vs Florida Everblades
Florida's Cam Johnson Is ECHL's Iron Man And Aiming To Start Every Game
Florida's Cam Johnson Is ECHL's Iron Man And Aiming To Start Every Game
Florida Everblades goalie Cam Johnson told anyone who would listen that he wanted to play every game this year. Every single one, all 72.
May 18, 2023
by Mike Ashmore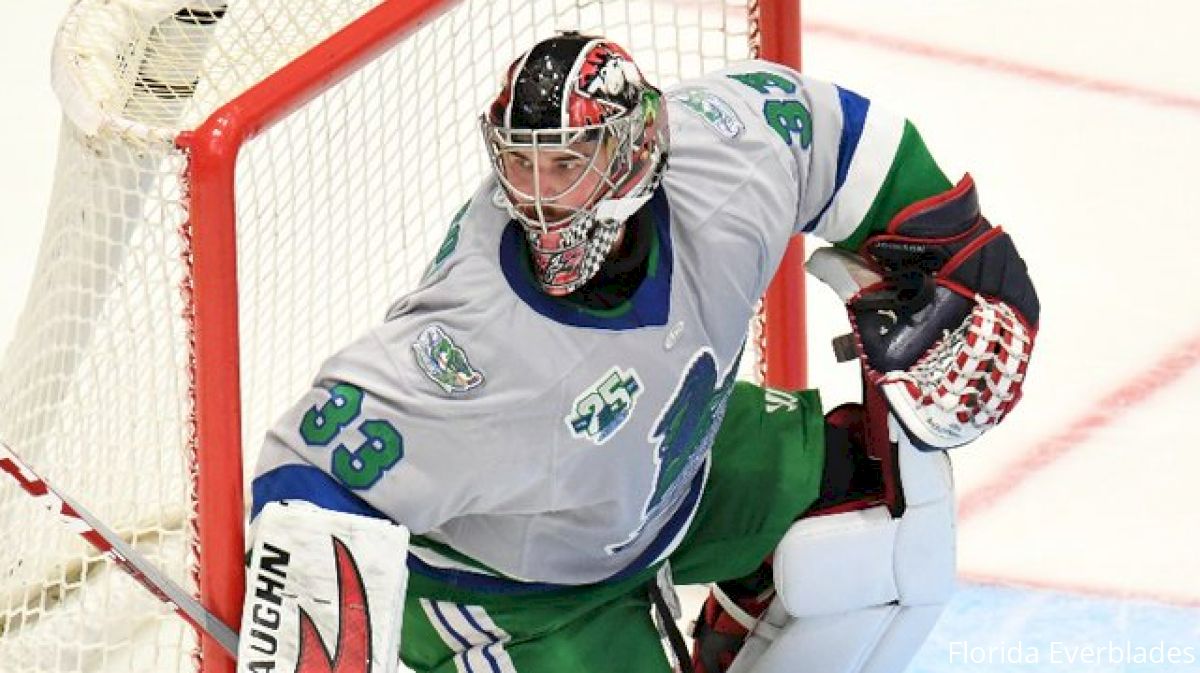 Florida Everblades goalie Cam Johnson told anyone who would listen that he wanted to play every game this year.
Every single one, all 72.
As the team's general manager, Craig Brush, eventually caught wind of his 28-year-old workhorse's plan, he reminded him of Grant Fuhr's incredible run with the 1995-1996 St. Louis Blues, where he appeared in 79 games that year in the NHL.
"Yeah," Johnson recalls quipping. "I'm trying to do that here."
Almost.
The former University of North Dakota standout ended up with an ECHL season-high 55 appearances between the pipes during the regular season, easily the most of his professional career.
Add his one start in the American Hockey League this season with the Charlotte Checkers, him playing every minute of Florida's 12-game run in the Kelly Cup Playoffs thus far and his inevitable start in Game 1 of the Eastern Conference Finals on Friday night against the Newfoundland Growlers, and he'll be at a whopping 69 games on the year.
"It's been nice," Johnson told FloHockey. "It's funny, because this whole year, (head coach Brad Ralph) was trying to give me a break, and I would literally tell him, 'No, I want to play these games, I don't want a break.' So, it's nice.
"Going back to my college years when I was the starter at North Dakota, I played every game there, basically, so I know how to manage the workload. In pro, I've had a couple instances where I've had to play the 3-in-3 or the 4-in-5s, so I've had to do it. This year, obviously I had to do it a few more times than in years prior, but we had a lot of injuries and a lot of ups and downs, where had I not been playing, we might have been in trouble and had an inexperienced goalie coming in there."
Johnson says that while he certainly has felt the physical rigors of such a stretch from time to time, such a workload actually has improved the mental aspect of his game, suggesting it's easier to get into a rhythm.
"I enjoy playing, I tell everybody I'm a gamer, I'm not a practice goalie," he said. "When push comes to shove, I love playing games. I told them I wanted to play every single game, so you can start me every single game. It was nice. I got a nice load of games this year."
The Troy, Michigan, native has brought a long track record of success to Estero.
He helped North Dakota win a national title in 2016 and has experience at the upper levels of the game – but arguably has found his best extended run of success in Florida, where he played in all but two of last year's postseason games en route to the Kelly Cup coming back to Hertz Arena for the first time in 10 years, starting the last 18 in a row.
If anything, taking on the workhorse role is slightly more difficult this time of year, he says, given both the intensity of the games and how condensed the schedule becomes, albeit nothing he can't handle.
"At times, because with these series, they kind of pack the games in there," Johnson said. "Once our series gets going with (Newfoundland), we play, if it is seven games, it's seven games in a week and a half. It's a big load, but obviously, it's the playoffs. It's an exciting time of the year. You really don't think about it, you're kind of caught up in the moment."
The @fl_everblades are making a push to the playoffs and goalie Cam Johnson is leading the way. Check out this save in today's #ECHLWeek #AMIce highlight. Johnson's 32-save performance on Wednesday night helped Florida into a tie for second place in the South Division. pic.twitter.com/OUOviIJvvv

— ECHL Week (@ECHLWeek) April 6, 2023
Johnson ended up sharing the net with four goaltenders during the regular season, with the backup role for the playoffs ultimately falling on the shoulders of Jaxon Caster, a 26-year-old with just two games of professional experience – both with Florida at the end of this year – after a long collegiate career at St. Cloud State.
That doesn't necessarily put any extra pressure on Johnson, who posted a 2.85 goals-against average and .907 save percentage during the regular season, to maintain that type of workload.
Not that pressure is a problem for the cool-headed 6-foot-1, 205-pounder, it's just something he has become accustomed to in Florida.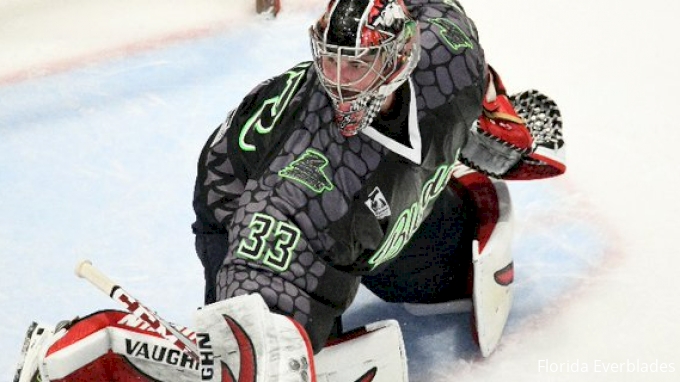 "That's the cool thing about being here, is there's a high standard," he said. "You're expected to win here. That's kind of been the motto here since the start of the year, Kelly Cup or bust. We don't really gun for anything else…once the playoffs rolled around, everybody picks their game up, and we've been playing good hockey so far. Playoffs is the best time of the year, and we've had a good little run so far."
The run will continue with an Eastern Conference Finals rematch with Newfoundland, which Florida topped 4-1, before defeating the Toledo Walleye by the same margin in the Kelly Cup Finals.
Johnson and his teammates are excited about the upcoming series, but they're also aware that while the memories might be great for them, the Growlers have their sights set on redemption.
Regardless, the Everblades are ready for a hard-fought series.
The familiarity doesn't end there for Florida.
Along with this year's Eastern Conference Finals being a rematch, so too was the South Division Finals, where the Jacksonville Icemen also felt like they had a score to settle after getting swept in 2022.
"You could just kind of feel it in the series, that extra little oomph, especially from Jacksonville, we felt it," Johnson said. "We went up 3-0, and they didn't quit. It literally took us until the last minute of Game 6 to put them out. They kept fighting. We knew they were gunning for us, and it's the same thing with Newfie."
That the 'Blades themselves were going to bring it consistently this season wasn't always a given, with an inconsistent regular season placing them as something of a shocking No. 4 seed in the South entering the playoffs.
But, beating the top seeded Stingrays without having home-ice advantage provided the group with some confidence, and they mostly haven't looked back since in their quest to defend the championship.
"We'd play so good one night, and we'd be a completely different team the next night, so in the room, guys would look around and be like, 'What the hell? We know we have a good team.' We just had to find a way to connect the dots, so we could do it on a consistent basis," Johnson said. "Coming out and beating South Carolina in that first series was huge. We came out and won that first game, and I think that's when the belief was starting to set in…everybody was looking around like, 'All right, we can do this.'"
The belief and confidence grew for the Everblades in the South Carolina series, and it helped lead to the hot start against the Icemen.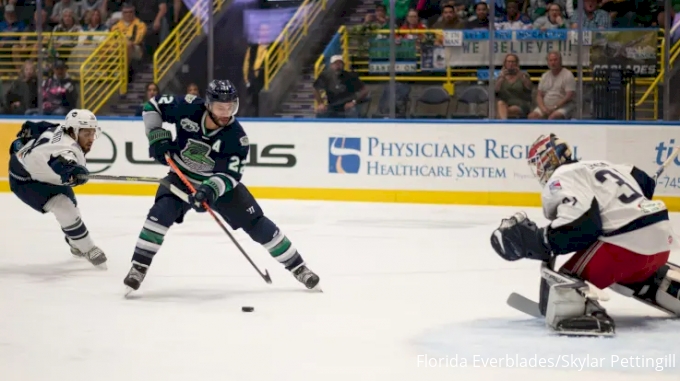 When Jacksonville pushed back, the Everblades responded, pushing aside any potential looming complacency.
Johnson noted that the finale against the Icemen was a great team effort, and they're now re-centered and ready for the Growlers.
"These guys are all excited, as a lot of them haven't have had a crack at Newfie," Johnson said. "And they hear it. We talk about last year's run all the time and how special it was and how much fun it was, and you can see all those guys are excited to be a part of it and have an opportunity do something special here."