2023 Newfoundland Growlers vs Florida Everblades
Florida, Newfoundland Set For Eastern Conference Finals Rematch
Florida, Newfoundland Set For Eastern Conference Finals Rematch
The Florida Everblades again find themselves on a collision course with the Newfoundland Growlers, a rematch of last year's Eastern Conference Finals.
May 18, 2023
by Mike Ashmore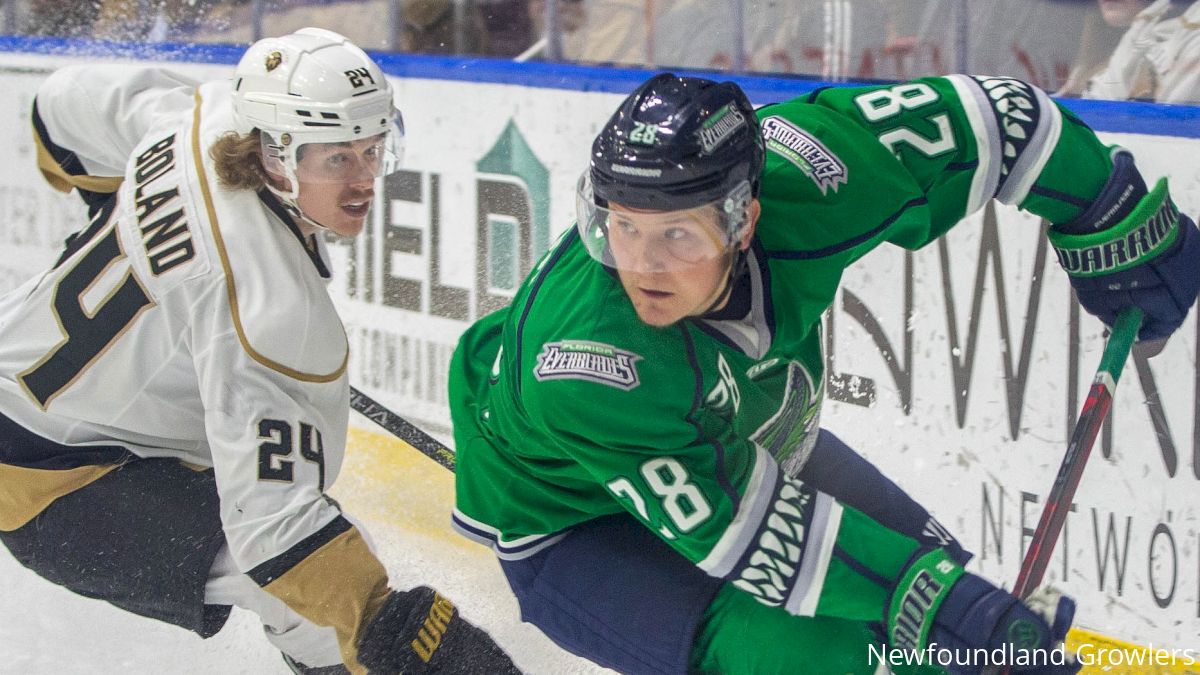 Only four teams remain in the ECHL Playoffs, as each fights for their chance to hoist the 2023 Kelly Cup.
ECHL writer Mike Ashmore previews the Eastern Conference finals between the Newfoundland Growlers and the Florida Everblades.
2023 ECHL Kelly Cup Playoffs Eastern Conference Finals
Newfoundland Growlers Vs. Florida Everblades
Game 1 - Friday, May 19 at 7:30 p.m. ET at Florida
Game 2 - Saturday, May 20 at 7 p.m. ET at Florida
Game 3 - Monday, May 22 at 7:30 p.m. ET at Florida
Game 4 - Thursday, May 25 at 7 p.m. NT at Newfoundland
Game 5 - Sunday, May 28 at 4 p.m. NT at Newfoundland (If Necessary)
Game 6 - Tuesday, May 30 at 7 p.m. NT at Newfoundland (If Necessary)
Game 7 - Wednesday, May 31 at 7 p.m. NT at Newfoundland (If Necessary)
Quick Look
So, we meet again.
This year's postseason has looked remarkably familiar for the Florida Everblades, who again conquered the Jacksonville Icemen in the South Division Finals like they did last year, and are now set for a rematch of the 2022 Eastern Conference Finals with the Newfoundland Growlers.
Florida, of course, won that series, and went on to bring the Kelly Cup back to Estero for the first time in a decade. Newfoundland, however, would like to flip the script this time, and now have Naples native Zach Solow, who helped the 'Blades win the title last year, on their side.
Florida and Newfoundland met just three times in the regular season this year, but the games were in late March, with rosters similar to what you'll see now. With all three contests held at Hertz Arena, the Growlers took two out of three on the road, and also have home ice advantage for this series, having finished with the best record in the Eastern Conference this season. With something of a unique 3-4 format for this series, the Everblades, who have not had home ice in either of the first two rounds, will need to make the most of their early advantage.
Player To Watch, Newfoundland: Jonny Tychonick
This time of year, there always seems to be at least one player who comes out of "nowhere" to make a massive, unexpected impact for his team in the Kelly Cup Playoffs. This year, it's Tychonick who fits the bill for the Growlers; he signed an American Hockey League deal with the Toronto Marlies after his fifth collegiate season came to an end at The University of Nebraska-Omaha, and has slid right in on the Newfoundland blue line to lead all ECHL defensemen with 12 points this postseason, all on assists.
He made his pro debut during those games against the Everblades, and while he joked that he'll enjoy getting to go back down to Florida, given the weather, he also said the benefits of having already seen them as he continues to make his adjustment to the pro game aren't as great as you may think.
"Even if I don't know the team, I still play the same way," Tychonick told FloHockey.
"I don't change my game for anyone. But, knowing them and knowing what type of team they have, it's obviously beneficial as well. I think it just depends on how you look at it and your mindset with it mostly, but for me, I play every team the same. I get up and get ready the exact same way."
Player To Watch, Florida: Tyler Irvine
It's been something of a circuitous year for Irvine, who started his year in the American Hockey League with the Cleveland Monsters, went down to the ECHL's Kalamazoo Wings, was recalled to Cleveland and tore his MCL on his second trip to the AHL. While he was still recovering, his ECHL rights had been traded to Florida, but he was only able to play in three regular season games before the postseason was set to start.
He's been anything but eased into the first playoff action of his pro career, however, as he's tied for the team lead with seven goals through the first two rounds, including a hat trick on his birthday in Game 6 against Jacksonville to eliminate the Icemen. Even coming off a tough injury, he says he didn't have expectations for anything less from himself.
"I didn't want to expect anything else, because as soon as you think anything else, that's the way it'll go," Irvine told FloHockey.
"I expected us to make a run, and go to the Finals and make a push. It's been a great ride, and every day you just show up and go to work, and you just know every teammate next to you is giving 100 percent, and that's what's made it so special."