2023 NHL Draft
2023 NHL Mock Draft Post-Lottery Edition: Chicago Lands Connor Bedard
2023 NHL Mock Draft Post-Lottery Edition: Chicago Lands Connor Bedard
NHL Draft analyst Chris Peters offers his first Mock Draft featuring the 16 picks that were decided at the 2023 NHL Draft Lottery.
May 9, 2023
by Chris Peters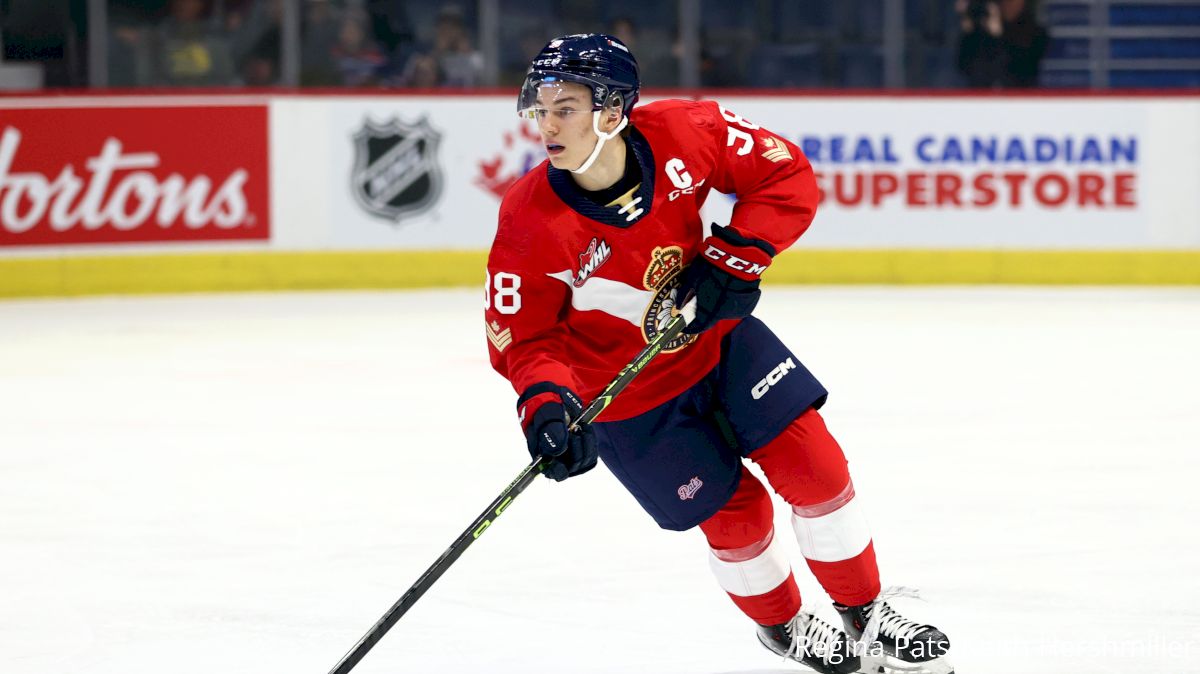 The NHL Draft Lottery saw a stunning result in the Chicago Blackhawks winning the 2023 NHL Draft Lottery. The same year they moved on from their last No. 1 pick in Patrick Kane, they'll have a chance to reset their rebuild rather quickly by adding consensus top prospect Connor Bedard to the fold.
After the Blackhawks make their pick, things will remain interesting as the 2023 NHL Draft class is one that has many strengths to it. There's some good depth, especially for the teams picking in the top 16 this year.
With that in mind, I wanted to give you an early look at what the top of the draft could look like now that we know the order of the first 16 picks. So here it is, our first NHL Mock Draft, lottery edition.
1. Chicago Blackhawks – Connor Bedard, C, Regina Pats
The Blackhawks have their new centerpiece to build around after moving on from franchise legends Jonathan Toews and Patrick Kane. The crazy thing is, Bedard might end up being better than both of those players. Chicago still has a boatload of work to do on its roster and will not be able to expect immediate contention, but they do get a big burst of momentum into their rebuilding years.
Connor Bedard doing Connor Bedard things for his first WHL Playoffs goal!

🎥: @TheWHL

pic.twitter.com/4uB6YzIGU0

— TSN (@TSN_Sports) April 1, 2023
2. Anaheim Ducks – Adam Fantilli, C, Michigan
The Ducks have plenty of offensive weapons already and while they could potentially take a big swing on Matvei Michkov and wait a few years for him, Fantilli could bring a significant value in a more immediate way. Between Fantilli and Mason McTavish, the Ducks could have their long-term one-two punch down the middle with Troy Terry and Trevor Zegras having some significant pivots to help open space for their skill. Fantilli checks a lot of boxes, giving the Ducks size and speed down the middle.
FloHockey NHL Draft Profile: Adam Fantilli
3. Columbus Blue Jackets – Matvei Michkov, RW, HK Sochi
GM Jarmo Kekalainen is never afraid of the swing. With a roster that doesn't need a ton of immediate work despite brutal results this season, Columbus has reason to feel it can get back to contending soon. Maybe that gives them more urgency than patience, but the risk-reward analysis is fascinating. Michkov is under contract through the 2025-26 season with the KHL's richest club, SKA St. Petersburg. The wait will be difficult, but there's a chance Michkov could be of similar offensive value to Connor Bedard. If there is a team in the top four that can afford to do this, it could be the Blue Jackets, as hard as that may be for fans to swallow. Michkov is a truly special player.
4. San Jose Sharks – Leo Carlsson, C/W, Orebro
The Sharks have a number of good options and some teams are starting to move Will Smith ahead of Leo Carlsson, if you believe the scout rumor mill. The thing about Carlsson, however, is that he's got size, he has the potential to play down the middle despite a lot of time at wing this year and he is exceptionally skilled. That rare combination of size and skill is so hard to pass up, especially as a team that's looking to get themselves back on track.
5. Montreal Canadiens – Will Smith, C, U.S. Under-18 Team
Montreal took a swing on a wing at No. 1 overall last year with Juraj Slafkovsky. At No. 5, they can land one of the draft's most dynamic centers not named Bedard. Smith is a highly-skilled player who had 127 points at the NTDP, 10 points more than Auston Matthews had in his U18 season. Smith was a driver of USA's dominant top line and would make for a very skilled No. 2 behind Nick Suzuki.
FloHockey NHL Draft Profile: Will Smith
6. Arizona Coyotes – David Reinbacher, D, Kloten
The big question in this draft is when the fist defenseman goes. I'm going out on a pretty big limb here with this one becauee I think the forwards in this class are very enticing. That said, the Coyotes are in desperate need of overhauling their blue line. They shipped out Jakob Chychrun and are thin at the position. Reinbacher is a right-shot defenseman with size and offensive capabilities. They could look to go defense with that later pick, but I think it might be worth ensuring you get the top defenseman in the draft here instead.
7. Philadelphia Flyers – Ryan Leonard, RW, U.S.Under-18 Team
Leonard has been around the top 10 of this draft for much of the season. Scoring 51 goals including the game-winner at the World Men's Under-18 Championship last week only solidified his place. A hard-nosed, powerful winger with a devastating shot, Leonard looks like a Flyer. With Cutter Gauthier already in the system, Leonard gives you a wing with similar traits. The two will be teammates next year at Boston College.
FloHockey NHL Draft Profile: Ryan Leonard
🇺🇸🇸🇪 RYAN LEONARD SCORES THE GOLD WINNING GOAL FOR THE USA! 🥇 #u18mensworlds #USASWE @usahockey pic.twitter.com/hOP27JydWZ

— IIHF (@IIHFHockey) April 30, 2023
8. Washington Capitals – Dalibor Dvorsky, C, AIK
The Caps are going to have a number of needs as they continue to try to compete with an aging core. Dvorsky is a versatile center who has a goal-scorer's mentality. He's had an up-and-down season, which has made his draft stock fluctuate quite a bit. Still, at the U18 Men's World Championship, he showed glimpses of why he was believed to be a top-tier prospect coming into this season.
9. Detroit Red Wings – Zach Benson, LW, Winnipeg ICE
The Red Wings will have plenty of good options with this pick. They could probably use some long-term help down the middle, but it would be awfully difficult to pass up Benson if he's still on the board. Though undersized, Benson has skill and a tenacity off the puck that should translate well to pro hockey. His ability to make those around him better and play with a high motor, if not spectacular speed gives him some upper-lineup potential.
10. St. Louis Blues – Nate Danielson, C, Brandon Wheat Kings
A talented two-way center with good scoring ability, Danielson is one of the better centers still on the board. The Blues have needs throughout their lineup as they start restructuring, but especially up front. Danielson seems like not only a good option, but a solid stylistic fit for the type of players the Blues typically draft.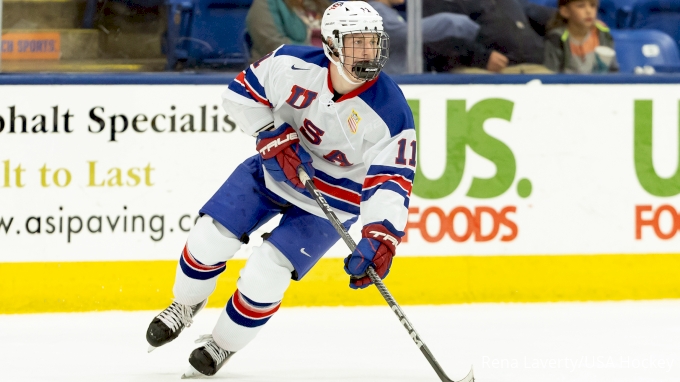 11. Vancouver Canucks – Oliver Moore, C, U.S. Under-18 Team
The Canucks can afford to strengthen themselves down the middle. Moore is the best center left on the board and on top of that is the fastest skater in the draft. He looks like he could be a long-term No. 2 center in the NHL, which is what he was with the U.S. U18 Team. He plays well off the puck, is good in transition and when his hands catch up to his feet -- and I think they will in due time -- he has a chance to be an even more dangerous offensive performer.
FloHockey NHL Draft Profile: Oliver Moore
12. Arizona Coyotes (via Ottawa) – Matthew Wood, LW, UConn
After taking a swing on a defenseman earlier in the draft, the Coyotes can collect one of the draft's more gifted finishers. On top of that, Wood brings size. He was the youngest player in the NCAA this year, but was nearly a point per game and was an offensive leader for UConn. He still has some rawness to his game, but he can score with the best of them and his down-low play will come in handy as the Coyotes keep building up their forward group.
🇨🇦 HAVE YOURSELF A GAME, WOOD.

Matthew Wood completes the hat trick against Czechia! pic.twitter.com/W03U2DpSq8

— TSN (@TSN_Sports) April 25, 2023
13. Buffalo Sabres – Eduard Sale, LW, Kometa Brno
Sale has been at times a maddening prospect to watch this year, but at his best he is a high-end playmaker who has a good understanding of the offensive zone. On top of that, he's got a ton of chemistry built in with Sabres prospect Jiri Kulich, who just tore up the AHL this season. The Sabres are at the tail end of their rebuilding phase and while there are plenty of good options for them here at a number of positions, it never hurts to grab more offense.
14. Pittsburgh Penguins – Gabe Perreault, LW, U.S. Under-18 Team
The Penguins have needs all over their prospect system and if this goes down this way, they'd land one of the draft's most productive forwards not named Bedard. Gabe Perreault had 132 points this season, 15 more than the previous single-season high at the NTDP. He doesn't have great speed or size, but Perreault has elite hockey IQ and vision. His ability to make plays in all situations and make those around him better should help when he's a little more fully developed physically.
FloHockey NHL Draft Profile: Gabe Perreault
15. Nashville Predators – Axel Sandin Pellikka, D, Skelleftea
I don't know if there will be this much of a gap between defensemen taken, but it's possible. Sandin Pellikka probably would go higher if he were a bit bigger, but I like this player an awful lot. The Preds have often been experts at drafting defensemen and getting a mobile puck-mover who has such poise with the puck should be in line with what they like on the back end. I have a feeling ASP could go higher than this, but I doubt he'd slip past the Preds if he's still on the board.
Axel Sandin Pellikka with another PPG.🎯2:0 for @Trekronorse. #SVKSWE #U18MensWorlds pic.twitter.com/ilpksQstzW

— IIHF (@IIHFHockey) April 21, 2023
16. Calgary Flames – Brayden Yager, C, Moose Jaw Warriors
At one point unthinkable to see Yager this low on a mock draft, it's not out of the question now. His draft season was only OK, but his vast body of work suggests a high-end offensive talent with good vision and dual shot-pass threat ability. There are some valid concerns, but the upside remains quite high with Yager and to get him in this range would be fairly fortunate.