2023 Youngstown Phantoms vs Chicago Steel
2023 USHL Clark Cup Playoffs: Conference Finals Preview
2023 USHL Clark Cup Playoffs: Conference Finals Preview
Only four teams remain in the 2023 Clark Cup Playoffs, and it's time for the USHL's best to face off for the Conference Finals.
May 2, 2023
by Ryan Sikes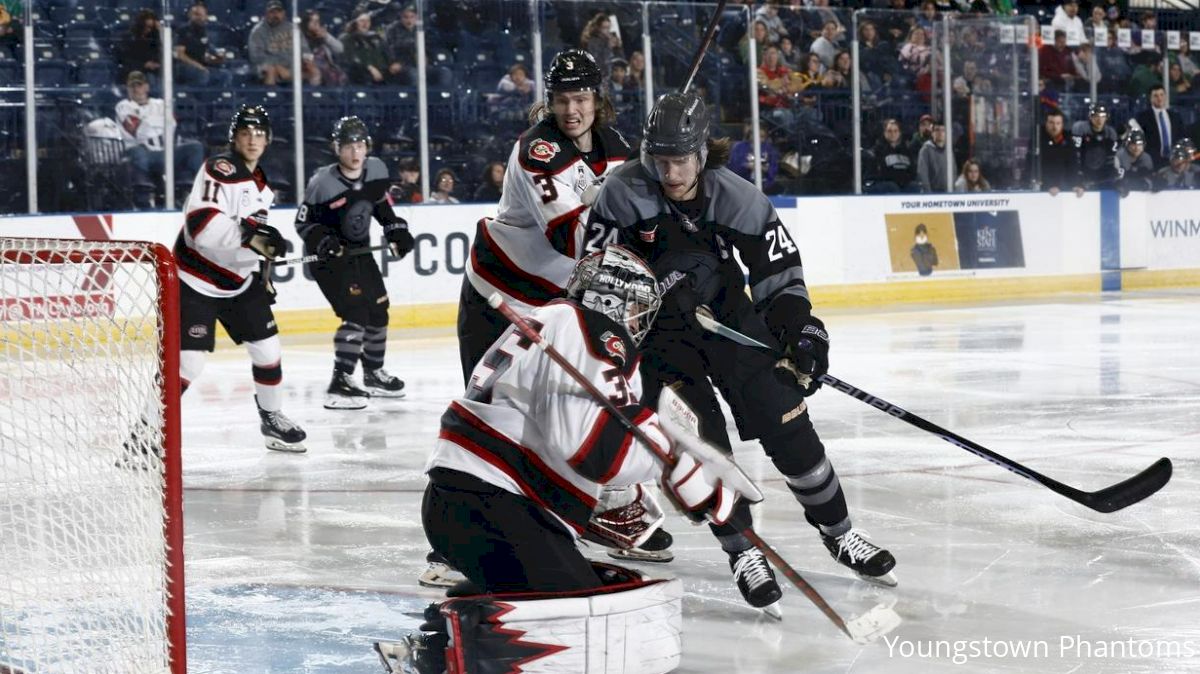 And then there were four.
The second round of the Clark Cup Playoffs featured just one decisive Game 3.
In the West, Fargo swept Tri-City, and Lincoln won on the road in Waterloo. Both Chicago and Youngstown swept their opponents in the East, setting up a clash of giants.
As a reminder – and unlike the first two rounds – the Conference Finals will be a best-of-five series, with the higher seed hosting Games 1, 2 and 5.
Let's take a look at the matchups for the Conference Finals.
Eastern Conference
No. 2 Youngstown (38-19-4-1) Vs. No. 1 Chicago (39-18-4-1)
Game 1: Youngstown at Chicago (Friday, May 5 at 7:05 p.m. CDT)
Game 2: Youngstown at Chicago (Saturday, May 6 at 7:05 p.m. CDT)
Game 3: Chicago at Youngstown (Monday, May 8 at 7:05 p.m. CDT)
Game 4: Chicago at Youngstown (Tuesday, May 9 at 7:05 p.m. CDT) (if necessary)
Game 5: Youngstown at Chicago (Thursday, May 11 at 7:05 p.m. CDT) (if necessary)
How They Got Here
Both Youngstown and Chicago made quick work of their opponents in the second round.
The Phantoms topped Cedar Rapids in a double-overtime thriller in Game 1, followed by a 3-1 effort in the clincher.
Despite going a combined 0-for-9 on the power play between the two games, Youngstown received timely scoring, starting with Andrew Strathmann's shot from the blueline and through traffic to open the scoring in the series.
Matthew Perkins followed with his first score of the playoffs in the second period, and Cedar Rapids answered with two goals, including Jacob Kraft's game-tying tally with 1:11 left in regulation.
Youngstown netminder and 2023 NHL Draft-eligible prospect Jacob Fowler was terrific in the first overtime period, one that saw the RoughRiders finish with a 16-4 shots-on-goal advantage.
Fowler went unblemished, paving the way for Andon Cerbone's heroics 39 seconds into the second overtime period.
Andon Cerbone's game winning goal. #IgniteTheValley pic.twitter.com/ixpRINP84u

— Youngstown Phantoms (@YtownPhantoms) April 29, 2023
In Game 2, Youngstown and Cedar Rapids traded goals in the second period, with William Whitelaw grabbing his first postseason goal near the midway mark.
"He's the definition of a big-time player and big-time moment, and there's not a kid I would rather have on the ice," head coach Ryan Ward said after the game. "If there's any question of (him) as an NHL hockey player or his character or his give a (expletive), as far as wanting to win for the team and the organization, I think he answered those questions tonight."
The Phantoms pulled away in the third period, scoring two goals, including Cerbone's second of the series, an empty-netter to punch Youngstown's ticket to the Eastern Conference Finals.
Between the two games, Fowler turned aside a combined 64-of-67 shots sent his way, and he'll look to do the same against Chicago in the best-of-five series.
"He's the best goalie in the world, and he's done an unbelievable job leading this team from the net, and we're going to need him in the next series, big time," Ward said of his goaltender.
The Steel, their opponent, skated past Dubuque in two closely contested games at Fox Valley Ice Arena.
Without the probable USHL MVP, Macklin Celebrini, Chicago needed others to step up.
Just the beginning…

Read: https://t.co/9330V9GDP7#FeelSteel pic.twitter.com/qABdzw2tNt

— Chicago Steel (@ChicagoSteel) May 2, 2023
In Game 1, Jayden Perron provided all the scoring. He recorded a natural hat trick, the second of his USHL career, while Christian Manz stood on his head between the pipes.
The Augustana commit stopped 30-of-31 shots on net, with his only blemish coming on Owen Michaels' third goal of the postseason.
"Christian Manz was a rock for us tonight," head coach Mike Garman said after Game 1. "For such a young team to come out that hard, compete that well and play a full 60 minutes was really impressive."
Perron's hat trick came on a long empty-net goal to put the Steel up by a pair of goals, allowing everyone on the Chicago bench to take a collective sigh of relief.
Game 2 was a wild, back-and-forth contest that saw the two teams trade goals through the first 40 minutes.
Manz wasn't as sharp as in Game 1, allowing four goals on 15 shots through the second period, with Dubuque captain Riley Stuart opening the scoring 1:21 into the game.
Nolan Joyce and Charlie Major scored 30 seconds apart to give Chicago a 2-1 lead less than five minutes into the first period, before Max Montes scored on a beautiful tic-tac-toe play on the man advantage late in the period.
Cam Johnson broke a 2-2 tie with his first goal of the playoffs at the 6:29 mark of the second period, setting up a hectic finish to the middle frame.
The Steel needed someone other than Perron to step up in Game 2, and that's exactly what happened.
"I think that's really important to us throughout the year to make sure everyone is developing, everyone is getting an opportunity, so that when you get in games like this, you have first-year players significantly contributing," Garman said.
Dubuque and Chicago teamed up for three goals in a 1:47 span, including Max Burkholder's first of the playoffs to make it a 4-4 game after 40 minutes.
Not all heroes wear capes #FeelSteel https://t.co/CL8GYtfR7y pic.twitter.com/7QAQE5KicB

— Chicago Steel (@ChicagoSteel) May 1, 2023
With little action through the first 15 minutes of the final period, New York Islanders prospect Quinn Finley broke through after Perron seemingly dumped the puck up ice.
The former, who came up empty on two other breakaway attempts earlier in the game, sprinted to retrieve the puck and beat Saints' netminder Marcus Brannman.
"I was just trying to do something different," Finley said in his postgame media availability. "I went to my backhand the last two times. (Perron) made an unbelievable foot play in the middle of the ice, and I just kind of caught it in stride."
Dubuque had an empty net for the final 2:12 in regulation, and Finley made an incredible play to break up what would have been a wide-open net for Dubuque to preserve the Steel's lead and clinch the series.
Head-To-Head Record
4-3-1-0 Chicago
Players To Watch
Macklin Celebrini, F, Chicago (2024)
Jayden Perron and the young guns stepped up in Celebrini's absence. Now, the Steel get their best player back for the biggest series of the season thus far.
The Boston University commit tallied nine points (four goals, five assists) in eight previous matchups this year.
Jacob Fowler has been named to the All-USHL First Team. Congratulations Fowler! pic.twitter.com/hsnZwlBGt5

— Youngstown Phantoms (@YtownPhantoms) May 1, 2023
Jacob Fowler, G, Youngstown (2023)
Fowler was outstanding all year long for the Phantoms and carried that into Youngstown's first series in the playoffs.
Now, he goes up against the No. 1 seed, the Chicago Steel, a team he posted a .928 save percentage and a shutout in seven regular-season meetings.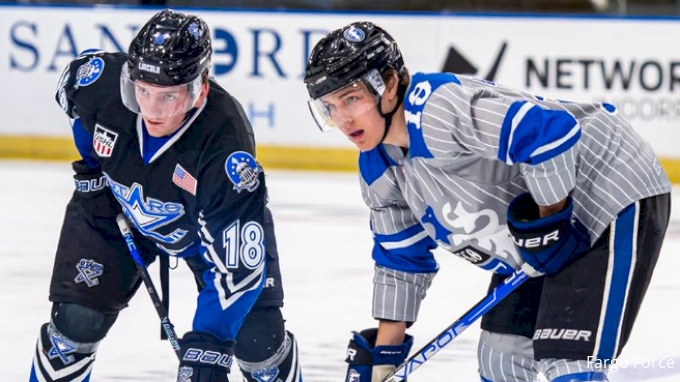 Western Conference
No. 3 Lincoln (37-21-3-1) Vs. No. 1 Fargo (40-14-4-4)
Game 1: Lincoln at Fargo (Thursday, May 4 at 7:05 p.m. CDT)
Game 2: Lincoln at Fargo (Friday, May 5 at 7:05 p.m. CDT)
Game 3: Fargo at Lincoln (Sunday, May 7 at 5:05 p.m. CDT)
Game 4: Fargo at Lincoln (Monday, May 8 at 7:05 p.m. CDT) (if necessary)
Game 5: Lincoln at Fargo (Thursday, May 11 at 7:05 p.m. CDT) (if necessary)
How They Got Here
Lincoln was the only road team to advance out of the second round.
Rocky Russo's squad made a bold statement in Game 1, topping Waterloo 7-2 in a contest that saw a combined 20 penalties between the two clubs.
Regarding the offense, the Stars opened the scoring with first-round overtime hero and Detroit Red Wings prospect Brennan Ali cleaning up a pinball shot in front of the Black Hawks net.
Chicago Blackhawks prospect Sam Rinzel responded with a goal for Waterloo early in the second period, his first of the postseason. But Lincoln ripped off the next five goals, including Tanner Ludtke's third of the playoffs and Ali's second of the night.
"This group believes in each other," Russo said in the postgame show. "They believe in our identity. They believe in our culture, and they fight for it. We knew this would be a tough weekend, and nothing is accomplished yet."
In Game 2, Waterloo returned the favor, throttling the visiting Stars 6-1 in another physical and penalty-filled game. For his role in a second-period scrum, Doug Grimes was suspended, if the series went to three games.
The Black Hawks jumped out to a 2-0 lead late in the second period, before Lincoln's captain, Mason Marcellus, responded less than two minutes later with his second of the playoffs.
However, the third period was all Waterloo, with two of the four goals scored in the frame on the power play.
Heading into a decisive Game 3, the two teams traded a goal through two periods, but Marcellus' third postseason goal at the 2:34 mark of the final frame proved the game-winner.
"My linemates made it so easy," Marcellus said after the game. "(Larrigan) had a great shot on the first one. (Tyler Dunbar) forced the guy in and drove the defense back, which created a seam for us. (Larrigan) was working his (butt) off on the second one and kept the puck in. I was able to roll around, (Klavs Veinbergs) had a screen and we scored."
Daniel Sambuco put the finishing touches on the game and the series with an empty-netter.
.@JackLarrigan91 and Mason Marcellus both recorded a goal and an assist in tonight's win. Hear what they had to say after the game. #FullSteamAhead🚂 https://t.co/62W8YydROG

— x - Lincoln Stars (@LincolnStars) May 1, 2023
The Stars will go up against the Anderson Cup-winning Fargo Force in the Western Conference. The Force handily swept the Tri-City Storm in the second round.
The Force showed no sign of rust from their bye week, jumping out to a 2-0 lead in Game 1, with Owen Mehlenbacher and Verner Miettinen potting goals. The former's goal came right in front of the net after a great feed from Mac Swanson.
Tri-City made a strong push in the third period, with Tanner Adams cutting the deficit to one just over five minutes into the frame. However, Boris Skalos put the Force back up by two past the halfway point, before the Storm made it a one-goal game again.
Fargo made quick work of Tri-City, finishing the series on Charlie Russell's short-handed overtime goal at the 1:38 mark of the extra session. Russell scored twice in this clincher after not recording a goal since March 10.
PUT IT ON REPEAT🔁@crussell_19 with the OT Shorthanded Game Winner and the Force are headed to the Western Conference Championship!#OneForce | #ClarkCupPlayoffs2023 pic.twitter.com/KtLuJW6BU7

— Fargo Force (@FargoForce) April 30, 2023
"He's the type of player that doesn't always get rewarded for how well he plays and the little things he does in games," Force head coach Nick Oliver said of Russell. "I felt (on Saturday) he got those moments, and he's a really, really good player for our team."
Despite both ending in a 3-2 score, Games 1 and 2 couldn't have had more of a different feel to them.
In the first game, Fargo had the better start and held off a surging Tri-City at the end.
In Game 2, the Storm flipped the script and had all the momentum heading into overtime after Alex Bump's third goal of the playoffs was banked off Force netminder Matej Marinov, tying the game with 2:21 left in regulation.
Still, Fargo found a way to win.
Now, the Force will look to secure their spot in the Clark Cup Finals in a series that will feature terrific goaltending.
Head-To-Head Record
5-3-0-0 Lincoln
Players To Watch
Cameron Whitehead, G, Lincoln
The Vegas Golden Knights prospect quickly put a five-goal game against Waterloo in the rearview.
Whitehead has gone 4-1-0-0 in the postseason and has seemingly played well with higher shot volumes.
In Game 1 against the Black Hawks, he was peppered all night but allowed just two goals on 46 shots.
Goalie: Cameron Whitehead 🇨🇦
Orleans, Ont.
NCAA Commitment: @GoNUmhockey pic.twitter.com/Kga9Yu0K4r

— USHL (@USHL) May 1, 2023
Matej Marinov, G, Fargo
Marinov didn't suffer a regulation loss during the regular season until March 18.
The Quinnipiac commit pieced together one of the best bodies of work any USHL goaltender has ever seen.
He went 21-4-2-3 in 30 games and finished with the second-best save percentage (.917) and goals-against average (2.36) during the regular season.