2023 NHL Draft
World U18 Championship: Will Smith's Hat Trick Leads USA To Gold Medal Game
World U18 Championship: Will Smith's Hat Trick Leads USA To Gold Medal Game
The U.S. National Under-18 Team is headed back to the gold-medal game, seeking their first U18 World Championship since 2017.
Apr 29, 2023
by Chris Peters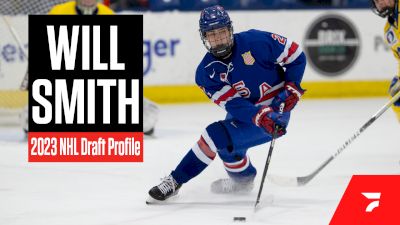 Team USA advanced to the gold-medal game at the 2023 IIHF World Under-18 Championship thanks to a 7-1 win over Slovakia in the tournament's semifinal Saturday. The Americans will play in the championship game for the second straight year while seeking its first gold medal since 2017.
The U.S. dominated the game, led by No. 1 center Will Smith who put up a hat trick within the first 20:50 of clock time as his historic tournament rolled on.
Tic-tac-toe with @_willsmith2 to hammer it home! 🔥#U18MensWorlds pic.twitter.com/o92eEULQG8

— USA Hockey (@usahockey) April 29, 2023
Smith opened the scoring with a quick shot 4:16 into the game after Gabe Perreault sprung him for a short breakaway with a perfect pass. After Cole Hutson scored to give the U.S. a 2-0 advantage, Smith closed out the first period with a shot that deflected off of a Slovak defender and past goaltender Samuel Urban to make it 3-0 before the first intermission.
Just 50 seconds into the second period, Smith struck again off the rush when he one-timed a pass from Hutson past Urban to make it 4-0 early.
💥 @_willsmith2 rips a one timer for the hatty!#U18MensWorlds pic.twitter.com/yJF8MZCgeq

— USA Hockey (@usahockey) April 29, 2023
USA had run its lead to 5-0 off of a Salvatore Guzzo goal before Slovakia was finally able to answer when Dalibor Dvorsky scored. Dvorsky had been part of each of Slovakia's last eight goals in the tournament, scoring in five of them, bolstering his already strong candidacy to be a top-10 pick in the 2023 NHL Draft.
Smith's three goals in the game ran his tournament total to 19 points, which is tied for the third most in a single tournament in U18 Worlds history. He now trails only Jack Hughes (20) and Nikita Kucherov (21) for most points in a single tournament with the most important game of the event all that's left to chase some history.
With Team USA primarily comprised of players from USA Hockey's National Team Development Program, their stats at this tournament are included in the NTDP season records. As a result, Smith ran his career point total to 190 points, surpassing Arizona Coyotes star Clayton Keller for second all-time in career points. Jack Hughes is the record holder with a likely untouchable 228 points.
Additionally, Smith's linemate Gabe Perreault posted two points in the game. He is now tied for fifth in single-tournament scoring with 18 points, while also extending his NTDP single-season points record to 132.
Cole Eiserman scored Team USA's final goal against Slovakia and is now tied with Smith for the tournament goal-scoring lead with nine. Eiserman is now tied for the third most goals in a single tournament by a player in his U17 season. Only Matvei Michkov (12) and Alex Ovechkin (14) have scored more goals as underagers in this tournament than Eiserman. USA's young snipre also ran his NTDP season total to 69 goals -- three shy of the single-season record of 17 set by Cole Caufield in the 2018-19 season.
Lastly, on the history-making front, with his first-period goal, Cole Hutson set a new NTDP single-season record for points by a defenseman, passing Cam York. Hutson had two points and now has a single-season total of 67. As a side note, Cole's older brother Lane Hutson ranks third on the list now with 63 points scored last season.
Despite all of the history-making individual performances, they won't matter as much without some end-of-season hardware. The U.S. awaits the winner of Sweden vs. Canada in the gold-medal game. The Slovaks, meanwhile will play the loser of that contest in the bronze medal game, their first chance at a medal in over 20 years.