2023 NHL Draft
NHL Draft Prospect Gabe Perreault Breaks Auston Matthews' Points Record
NHL Draft Prospect Gabe Perreault Breaks Auston Matthews' Points Record
Perreault exploded for three goals and two assists against Norway at U18 World Championship to shatter Matthews' record for single-season points at NTDP.
Apr 22, 2023
by Chris Peters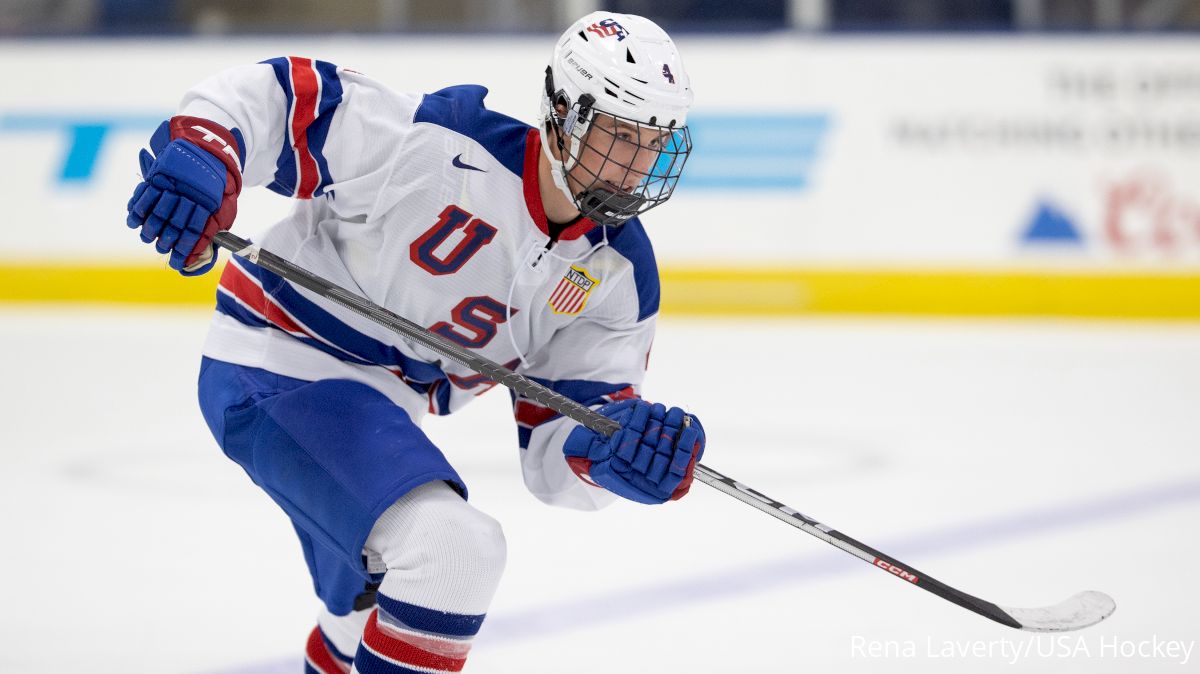 Gabe Perreault, a Boston College commit and projected first-round pick for the 2023 NHL Draft, made USA Hockey history Saturday after a five-point effort against Norway at the IIHF World Men's Under-18 Championship. The five points added to his season total give Perreault 121 this season for the U.S. National Under-18 Team, which is part of USA Hockey's National Team Development Program.
Perreault surpassed Auston Matthews for the NTDP's single-season scoring record, which previously stood at 117. The winger needed just one point to move past Matthews coming into today's game. He'll have as many as five games remaining this season to continue building on his remarkable scoring pace.
One to remember 👌🏻 pic.twitter.com/NdD9L2eavR

— USA Hockey's NTDP (@USAHockeyNTDP) April 22, 2023
The NTDP plays a mixed schedule of USHL, NCAA and international opponents. Because of that, all games -- including those at the IIHF Men's World U18 Championship -- are part of the point total for historical records.
In addition to setting the single-season points record, Perreault also became one of just seven players in the NTDP's history to score 50 or more goals in a single season. He joins Cole Caufield, current teammate Cole Eiserman, Patrick Kane, Phil Kessel and Kieffer Bellows as those in the exclusive 50-goal club. Kessel and Caufield each accomplished the feat in both of their years at the NTDP. Perreault's 51 goals currently rank eighth all-time for a single-season total.
Have yourself a night, Gabe! 🇺🇸#U18MensWorlds pic.twitter.com/JOnp4nKyKy

— USA Hockey (@usahockey) April 22, 2023
With his two assists Saturday, Perreault also became one of just three players to put up 70 or more assists in a single season. Jack Hughes did it twice, while Clayton Keller hit 70 in his U18 year. Perreault and Keller are now tied for third-most assists in NTDP history behind Hughes.
Perreault has spent the entire season playing alongside Will Smith and Ryan Leonard, both of whom are slated to be high first-round picks and both are also joining Perreault at Boston College next season.
Smith is currently seven points behind Perreault in the scoring race after putting up four points Saturday. With 113 points this season, Smith is currently fourth on the single-season scoring list after passing Jack Hughes's 2018-19 output.
The trio is largely considered one of the best lines in junior hockey this season.
On NHL Central Scouting's final draft rankings for 2023, Perreault was ranked 10th among North American skaters, while Smith was third and Leonard ranked fifth.
Hockey runs deep in Perreault's family as father Yanic is a veteran of 859 NHL games. The elder Perreault finished his playing career with the Chicago Blackhawks in 2007-08 and currently works for the club as a player development coach. Older brother Jacob is a first-round draft pick of the Anaheim Ducks in the 2020 NHL Draft. He currently plays for the San Diego Gulls in the AHL. Older sister Liliane just completed her collegiate career with Mercyhurst University's women's hockey team.
Gabe Perreault at the U.S. Men's National Under-18 Team will continue their quest to win gold at the World U18s with a big game against Finland Sunday in Switzerland. The Americans are currently 2-0-0-0 in tournament play and a win over Finland puts them in the driver's seat to finish first in Group B.