2023 NHL Draft
NHL Central Scouting Final Rankings: Connor Bedard, Adam Fantilli Top List
NHL Central Scouting Final Rankings: Connor Bedard, Adam Fantilli Top List
Connor Bedard and Adam Fantilli are ranked No. 1 and 2, respectively, among North American skaters, while Swedish forward Leo Carlsson tops European list.
Apr 18, 2023
by Chris Peters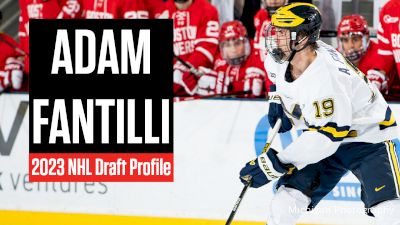 To the surprise of absolutely no one, Connor Bedard ended the season as NHL Central Scouting's No. 1 North American skater for the 2023 NHL Draft.
The league's Central Scouting Bureau, which creates independent lists ranking the top North American and Euopean skaters and goaltenders, released its final rankings Tuesday ahead of the World Under-18 Championship and the conclusion of the playoffs across junior hockey.
Bedard topped the North American list, while Swedish forward Leo Carlsson was the No. 1 skater among European players, edging out Russian phenom Matvei Michkov, who was ranked No. 2 on the Euro list. Hobey Baker winner Adam Fantilli finished as the No. 2 ranked skater in North America.
Carson Bjarnason of the WHL's Brandon Wheat Kings was the top-ranked North American goalie on Central Scouting's goaltender list, while Omaha Lancers netminder Michael Hrabal slotted in at No. 2.
The USHL was well-represented on Central's list with 54 skaters listed including 17 from the National Team Development Program and 37 from other USHL clubs. Six USHL goalies also were listed with Hrabal, the NTDP's Trey Augustine and Jacob Fowler of the Youngstown Phantoms each slotted in the top five.
North American Skaters Top 10
1. Connor Bedard, C, Regina Pats (WHL)
2. Adam Fantilli, C, Michigan (NCAA)
3. Will Smith, C, U.S. National Under-18 Team (NTDP)
4. Matthew Wood, RW, UConn (NCAA)
5. Ryan Leonard, RW, U.S. National Under-18 Team (NTDP)
6. Zach Benson, LW, Winnipeg ICE (WHL)
7. Nate Danielson, C, Brandon Wheat Kings (WHL)
8. Oliver Moore, C, U.S. National Under-18 Team (NTDP)
9. Samuel Honzek, LW, Vancouver Giants (WHL)
10. Gabriel Perreault, LW, U.S. National Under-18 Team (NTDP)
European Skaters Top 10
1. Leo Carlsson, C/W, Orebro (Sweden)
2. Matvei Michkov, RW, HK Sochi (Russia)
3. Dalibor Dvorsky, C, AIK (Sweden)
4. Eduard Sale, LW, Brno (Czechia)
5. David Reinbacher, D, Kloten (Switzerland)
6. Otto Stenberg, C, Frolunda U20 (Sweden)
7. Axel Sandin Pellikka, D, Skelleftea (Sweden)
8. Lenni Hameenaho, RW, Assat (Finland)
9. Daniil But, LW, Yaroslavl U20 (Russia)
10. Mikhail Gulyayev, D, Omsk U20 (Russia)
The CSB operates as if it is the NHL's 33rd team, utilizing a team of amateur scouts spread out across the globe to create the lists.
FloHockey will have its own final NHL Draft list from prospects analyst Chris Peters in May, upon the conclusion of the season.