NCAA DI Men's Hockey
All-CCHA Forward Austen Swankler Stays In Bowling Green
All-CCHA Forward Austen Swankler Stays In Bowling Green
Ty Eigner works his magic as CCHA All-Conference first-team forward Austen Swankler will spend at least one more year leading the Bowling Green Falcons.
Apr 11, 2023
by Tim Rappleye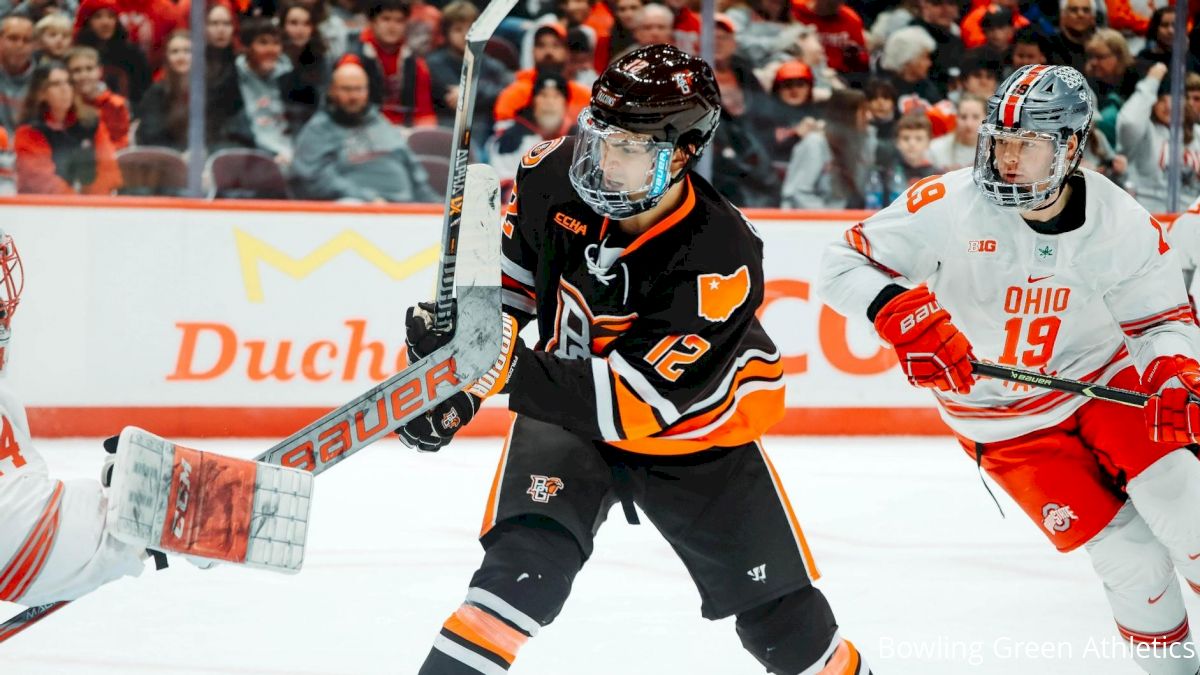 Mid-March is mud season in Northern Ohio, a transition time for Bowling Green hockey. Fourth-year coach Ty Eigner's club was wedged between the netherworld of a lost season and the transition to fresh optimism. As winter and spring converged, Eigner took on the role of General Manager, a critical one in college hockey's new era of unfettered free agency. If his club was going to contend for a CCHA crown next year, he couldn't waste a moment securing his core players.
Student-athletes now flood the transfer portal each spring, gravitating toward larger, richer programs to improve their stock for the pro scouts. This trend has caused much hand-wringing by college hockey's establishment. Eigner, however, is not surprised that today's players are nomads.
"All they've done in their youth career is jump around," said Eigner.
"We see it in recruiting: Timmy plays for Little Caesars, then he goes to HoneyBaked and it didn't go his way, so the next year he's on Belle Tire. I've said to a bunch of college coaches who were frustrated, 'We can't assume these kids are going to change in college.'"
Eigner needed to buck the trend in order to keep his impact players on campus, starting with the CCHA's leading scorer Austen Swankler. His high-scoring linemate Chase Gresock had already turned pro this spring, and Swankler was considering inking his own deal.
"It's been a dream his whole life," said Eigner.
"He [Swankler] and I sat down and talked through his wants and wish list, the reasons he was thinking about potentially signing. It was an honest, adult conversation."
Swankler did not go into this meeting unprepared.
"When it came to the decision, it was a lot of talking with my family, my advisor and my coaches about whether to stay or not," said Swankler, impatient to get on to the next level, though inwardly sensing he needed more development. Eigner calmly made his case, and Swankler—who remains grateful to Bowling Green for helping facilitate his jump to the NCAA from major junior two years ago—willingly listened.
"The coaching staff, [they] do a great job trying to fill more tools in my tool box, getting better at defense, getting better at situational plays,' said the offensive-minded Swankler. Calm communication won the day.
"We all agreed that it was in Austen's best interest to come back and play another year of college hockey," said Eigner, who sensed that another domino would soon fall. Swankler's linemate Ryan O'Hara was eager to get back on the star's wing. As a trio, Swankler, O'Hara and Gresock amassed 104 points, the only line in the CCHA to reach the century mark.
"About a month in, we really started to click," O'Hara said.
"When you have chemistry for a full year, you want to do it again. Our expectation is to be the most dangerous line in the CCHA."
With 74 points between the two of them, O'Hara was not boasting.
Eigner had a much more challenging negotiation when it came to his two number one goalies: Zack Rose, who lost his starting job to injury in 2021-22, and Christian Stoever, the raw rookie who took on an immense workload—59 GP in his first two seasons—while developing into one of the CCHA's elite. The 22-year-old New Yorker had no intention of returning to the bench after his steep climb as a Division-I goalie. He tried to force the issue with Eigner and his staff, orchestrating a meeting before the traditional exit interviews.
Falcon Hockey players to finish a season in the NCAA top 5⃣ for points per game:

Bob Dobek (5th, 1973-74 & 1974-75)
George McPhee (4th, 1981-82)
Brian Hills (2nd, 1982-83)
Brian Holzinger (5th, 1994-95)
𝗔𝘂𝘀𝘁𝗲𝗻 𝗦𝘄𝗮𝗻𝗸𝗹𝗲𝗿 (𝟱𝘁𝗵, 𝟮𝟬𝟮𝟮-𝟮𝟯) pic.twitter.com/qIXhBgxhR4

— Bowling Green Hockey (@BGFalconHockey) April 11, 2023
"I wanted to sit down in person with all of them," said Stoever, who met the coaches a week before the exit interviews.
"There was a question of whether I was going to stay. I didn't want them talking to my agent, I wanted them to hear it from me."
Eigner was forced to dance around the issue of who would be his starter next season.
"Christian wanted to know where we were with Zack," said Eigner.
"If Rosey was coming back it wasn't to sit and watch. He's a senior who's had two surgeries, and he wants to play."
So Eigner played his trump card, one that has served him well his entire career: Honesty.
"I said, 'We haven't had a conversation with Rosey yet, but I've promised him nothing. I don't promise anybody anything.' So Christian and I talked about his [own] situation, where he felt he needed to grow moving forward, a really positive thing."
Five days later—with Stoever temporarily appeased—Eigner had his conversation with the injury-plagued senior. The coach made it clear he would support Rose whether he stayed or chose to get a fresh start via the portal. Rose chose the latter, ultimately transferring to Augustana. When the exit interviews concluded, Eigner had his healthy, happy, number one goalie ready to start the new season.
"Getting Christian squared away was a big deal for us," Eigner said in a major understatement.
Now BGSU has three studs in place for 2022-23, and a prize spot to lure a potential scoring star to BG.
"Whether it's an incoming freshman, a kid from the portal or someone currently on our roster, he's going to play with Ryan and Austen, that's a pretty good spot to jump into, ya know?"
"O'Hara and me conspired to be the best college hockey line next year," said Swankler, unsure about the new third wheel. O'Hara instantly weighed in.
"You put a guy in there that's smart, that understands the game, we'll have no issues," said O'Hara, champing at the bit.
There are a lot of gloom-and-doom reports about the growing inequalities between smaller schools and Power-5 universities from the Big 10. Notre Dame coach Jeff Jackson mentioned Bowling Green by name as a school he's worried about in a recent podcast with College Hockey News. Yet Eigner has found a way to keep three gems, bucking a system that appears weighted against him.
The school and its program is Eigner's strongest selling point. Each of his three foundational players adore BG, from the collective off-campus housing to the staff's dedication to player development to the townspeople who know them by name. Swankler, O'Hara and Stoever all call the BG community their "family."
"It's run as well as I can imagine a hockey program being run," said O'Hara.
"I don't see why you'd want to leave."
Eigner wants to get the message out.
"Everyone wants to hear this story, because it's a good thing. Good players can stay in a school, stay in a program and push and dig and fight through a little adversity, where everything isn't going to be sunshine and roses. But if you stay with things, you get an opportunity to do things that are pretty special."