ECHL
Chayse Primeau Making The Quick Transition To Professional Hockey
Chayse Primeau Making The Quick Transition To Professional Hockey
As Chayse Primeau makes the quick transition to professional hockey, he's already been able to identify one area he wants to improve.
Mar 31, 2023
by Mike Ashmore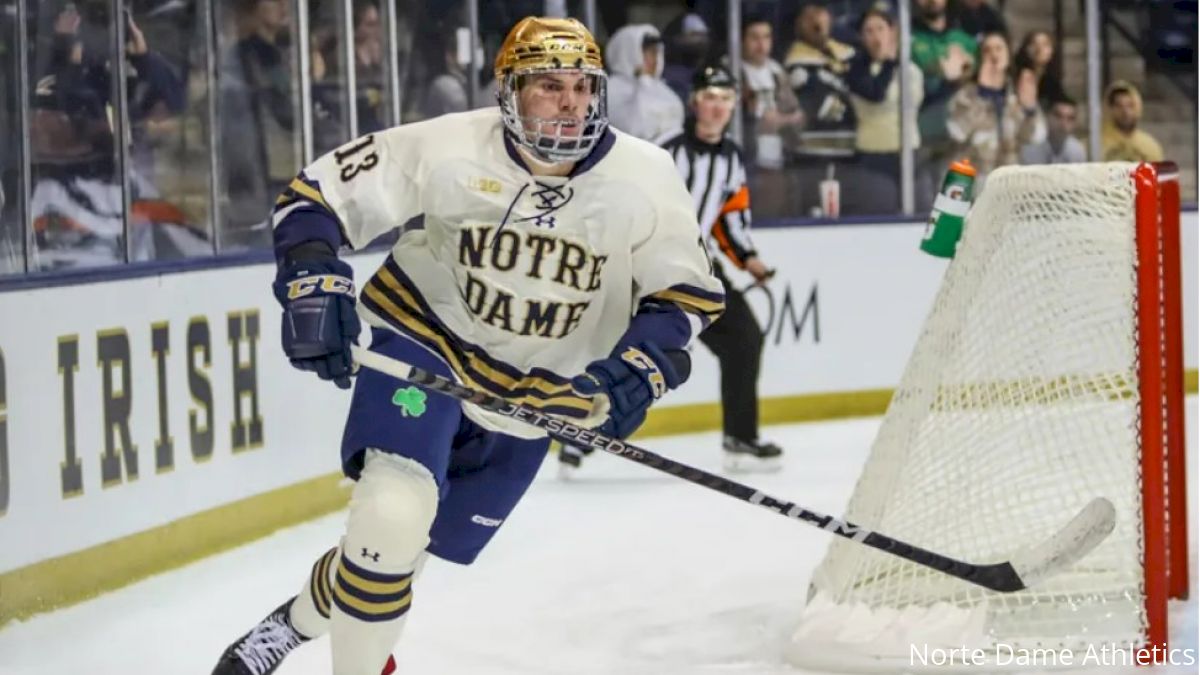 As Chayse Primeau makes the quick transition to professional hockey, he's already been able to identify one area he wants to improve.
Listed at just 177 pounds, on his 6-foot-3 frame, the 25-year-old Florida Everblades forward, who was recalled to the American Hockey League's Charlotte Checkers on Thursday, knows he wants to continue to get stronger.
While he believes in the skillset that has helped him to three straight 23-point seasons at the NCAA level, he knows he can stand to bulk up a bit as he adjusts to playing against grown men every night.
It just so happens he knows a guy who might be able to help with that.
"I have a couple people I train with back home, but I lean on my dad heavy for that too," Primeau told FloHockey. "Obviously, he's been around it for a couple years, so he's a good mentor to have in the summer, for sure."
His father, of course, is former longtime prototypical power forward Keith Primeau, who used his imposing 6-foot-5, 220-pound body to carve out a 15-season NHL career with the Detroit Red Wings, Hartford Whalers, Carolina Hurricanes and Philadelphia Flyers, earning multiple trips to the All-Star Game.
For Chayse, whose brother Cayden is a goaltender for the Montreal Canadiens, being able to pick his father's brain has proven to be an invaluable resource throughout his career, but especially since signing his first professional contract with Florida late last week.
"I definitely have these last few years," Primeau said. "I just ask him how to get on the forecheck, certain things like that."
Player signing by @FL_Everblades: F Chayse Primeau (8G & 15A in 37 GP during his final year of college eligibility w/ @NDHockey this season). pic.twitter.com/Zm0sEpQBr2

— ECHL Week (@ECHLWeek) March 20, 2023
One thing his famous father can't help with as much? Schoolwork.
After four seasons at the University of Nebraska-Omaha, Primeau transferred to Notre Dame for his final year of eligibility, and he says that making the transition to pro hockey is a bit more difficult while also finishing up getting his degree.
"It's been a little tough, because I still have to do some schoolwork, but it's been a blast so far," he said. "It's not too bad, but it's tough being away and watching the lectures over. We practice pretty early in the morning, so we have a lot of free time in the afternoons. That's when I can get my stuff done."
As an undrafted free agent, Primeau had been on the Everblades radar for some time. He was contacted by head coach Brad Ralph once his college season had come to an end. Originally, Primeau said he was planning on waiting until the summer to see what would shake out, but the opportunity in Florida was just too good to pass up.
Somewhat of a blank slate when it comes to the pro game – he'd previously attended a Flyers development camp – Primeau was kept off the scoresheet in his first four games with Florida prior to his AHL recall, but he says he knew what he was getting into in finally making the jump.
"I knew the next level guys would be bigger, stronger," he said. "So, the first (few) games, I'm still trying to get a little bit adjusted to that, but I think I've been doing a pretty good job so far. I want to show people what I can do and hopefully open some eyes now that I'm in the system. We'll see if I can keep going up the ranks in the coming years."
☘️𝐀𝐟𝐭𝐞𝐫 𝐭𝐡𝐞 𝐅𝐢𝐧𝐚𝐥 𝐇𝐨𝐫𝐧☘️@chayseprimeau joined the Irish ahead of his final collegiate season, earning Offensive Player of the Year honors from the team while being the leading scorer (8-15-23)!#GoIrish pic.twitter.com/G4bXbRJ54J

— Notre Dame Hockey (@NDHockey) March 30, 2023
Primeau also will gain invaluable experience having been thrust right into a playoff race.
The defending Kelly Cup Champions are three points up on the Atlanta Gladiators for the fourth, and final, playoff spot in the South Division, and they're hopeful that should he return to the ECHL, he'll be able to be a key contributor down the stretch and in the postseason.
"I think it's been great," he said. "The guys have been great and made me feel welcome right away, so in that aspect, it hasn't been too crazy. But I've played in intense games all year playing in the Big 10. This is no different. It's just a different team and different league."