NCAA DI Men's Hockey
2023 Men's Frozen Four Field Set: Minnesota, Boston U, Quinnipiac, Michigan
2023 Men's Frozen Four Field Set: Minnesota, Boston U, Quinnipiac, Michigan
The 2023 Men's Frozen Four is locked in with Minnesota, Boston University, Quinnipiac and Michigan all vying for the national championship.
Mar 27, 2023
by Chris Peters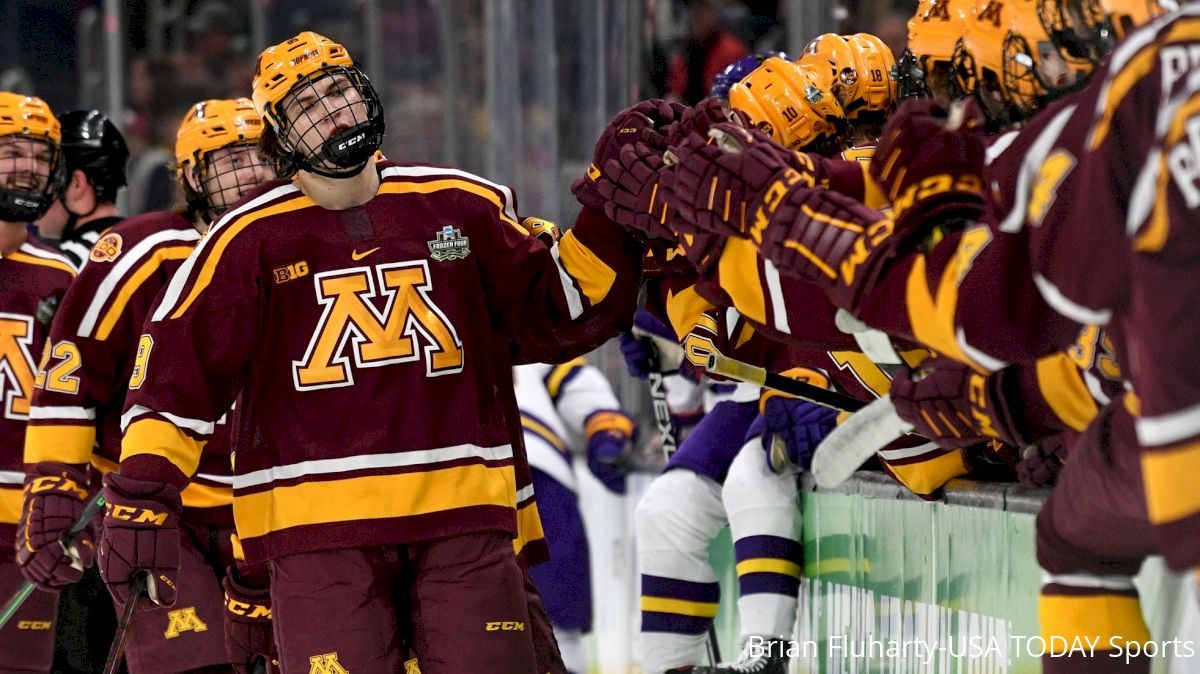 A long dormant rivalry and teams with vastly competing styles of play will highlight the 2023 Men's Frozen Four in Tampa, Fla., April 6-8. After an often bizarre regional portion of the NCAA men's hockey tournament, only four teams remain in contention for the national championship.
Minnesota, Boston University, Quinnipiac and Michigan have each had remarkable, decorated seasons and each will look to add the biggest prize of them all to their trophy case.
No. 1 overall Minnesota will take on Boston University in a matchup that had been among the most intense rivalries in college hockey in the 1970s, which even included a famous brawl in the 1976 NCAA tournament. The two teams have not met in the NCAA tournament since 2012. Despite the many decades between the peak of that rivalry, it should be an incredible matchup between two of the nation's most entertaining teams each of which will be making their 23rd Frozen Four appearances.
On the other side of the Frozen Four, Quinnipiac will take on Michigan in a battle of one of the nation's best defensive teams and one of it's best offensive teams. Each program uses a vastly different philosophy in team-building and playing style, which should make for a great one-game case study in trying to construct a championship-caliber team.
Here's a little more on each of the last four teams standing.
Minnesota
The Gophers advanced out of the Fargo Region with a rousing 9-2 win over Atlantic Hockey champion Canisius and then dispatched in-state rival St. Cloud State 4-1 in the regional final. Minnesota's ability to score is well known and was on full display throughout the regional.
With a star-studded roster, featuring many players that experienced the heartbreak of losing in the Frozen Four semis last season, Minnesota has the right mix of skill and experience that can come in handy this time of year. Goaltender Justen Close has been brilliant down the stretch for this team and he's aided by one of the country's very best D corps led by seniors Jackson LaCombe (ANA) and Ryan Johnson (BUF) and junior Brock Faber (MIN).
SKI-U-MAH IN THE SUNSHINE STATE! ☀️

WE'RE OFF TO TAMPA! 🌴 pic.twitter.com/USsQMfD5gL

— Minnesota Men's Hockey (@GopherHockey) March 26, 2023
But the reason Minnesota is such a fun team to watch is that they have the most potent top line in the country with Logan Cooley (ARI), Matt Knies (TOR) and Jimmy Snuggerud (STL) combining for 148 points with both Cooley and Snuggerud over 50 points this season. But even if you slow that line down, there's plenty more firepower where that came from.
This Frozen Four will be the last chance for the vast majority of players on this roster as a large number of them are expected to sign NHL deals as soon as their college season is over. Many players like LaCombe, Johnson, Faber and Knies opted to stick around as they hunted a national championship. They've had the best team on paper all year and are certainly a favorite to win it all, but it won't be as simple a task as just showing up. They better be ready for a battle or two once they land in Tampa.
Boston University
Boston University is heading back to the Frozen Four thanks to a relatively clean regional performance that saw them beat Western Michigan 5-1 before outlasting Cornell in the regional final. The Terriers won both the Hockey East regular season and tournament titles and are one of the hottest teams in the NCAA with nine consecutive wins heading into the Men's Frozen Four.
Though he had been somewhat inconsistent earlier in the season, junior netminder Drew Commesso (CHI) has been a major difference-maker for his team. He has allowed two or fewer goals in five of his last six starts.
While Commesso has been a top postseason performer, the team's biggest star over the course of the season has been freshman defenseman Lane Hutson (MTL), who is in the midst of one of the greatest freshman seasons by blueliner in the history of the NCAA. Hutson is leading the Terriers in scoring and has 48 points through 38 games. Only two defensemen aged 19 or younger have scored more points than Hutson in a single season.
Birds are flying north, Terriers are flying south!

SEE YOU IN TAMPA, TERRIER NATION! pic.twitter.com/0i0wjxXMYN

— BU Men's Hockey (@TerrierHockey) March 25, 2023
Hutson plays a ton of minutes, as does senior captain Domenick Fensore (CAR). It seems like the Terriers are never without one of those two on the ice for any extended period of time.
Up front, BU has plenty of veteran leadership with players like Matt Brown and Wilmer Skoog driving a lot of the production. Former first-round pick Jay O'Brien (PHI) is also having his best collegiate season as a senior, while freshmen like Jeremy Wilmer, Ryan Greene (CHI) and Quinn Hutson have provided critical secondary scoring for this club.
BU didn't even make the NCAA tournament last year, which led to Jay Pandolfo being elevated to head coach. After reaching the Frozen Four all four years he played at BU, now he's led the team there in his first season as the bench boss.
Quinnipiac
For the third time in program history, Quinnipiac is going to the Frozen Four thanks to a fairly typical showing from them in the Bridgeport Regional. They domi nated Merrimack 5-0 before a much tighter (than it looked) 4-1 victory over Ohio State. The last time the Frozen Four was in Tampa, the Bobcats were there, too. They'll hope for a different result this time as they lost to North Dakota in the national championship game that year.
QU has been the nation's stingiest team, allowing just 1.5 goals against per game and just 21.7 shots against per game. Goal prevention has been the name of the game for the program for as long as it's existed under the guidance of Rand Pecknold, who is in his 29th season at the helm. They do it as a team, but it also helps to have a strong goaltender.
The road to Tampa continues😼#BobcatNation x #NCAAHockey pic.twitter.com/MPsxoWgw8d

— Quinnipiac Men's Ice Hockey (@QU_MIH) March 26, 2023
Yaniv Perets is a Hobey Baker Top 10 finalist for the second straight year. He's appeared in 39 games and has won 32 of them while posting an NCAA-best 10 shutouts, 1.46 goals-against average and .932 save percentage, which ranks second in the country.
Despite being such a tremendous defensive team, the Bobcats can score with anyone. Sophomore transfer Collin Graf is third in the NCAA with 56 points and is also a Hobey Top 10 finalist. There are six players with 30 or more points on the team as well including fifth-year senior defenseman Zach Metsa who has been a staple of this program and returned to school for this very opportunity.
Quinnipiac doesn't always play the most exciting brand of hockey, but they're effective and it's gotten them far in multiple seasons. After reaching the national championship game in their two previous trips to the Men's Frozen Four, the Bobcats are looking to take that last monumental, elusive step and they just might have the team to do it this time around.
Michigan
It didn't come easy after needing overtime in the regional final against Penn State, but the University of Michigan is heading to its record 27th Frozen Four. The Wolverines throttled Colgate 11-2 in their first game at the NCAA tournament, but had a major battle with fellow Big Ten foe Penn State, scoring a late tying goal and an early overtime winner to advance to the Frozen Four.
The Wolverines are making a return trip, having played in last year's Frozen Four before ultimately losing to eventual champion Denver in the national semifinals. They're heading back with a first-year head coach in Brandon Naurato and the NCAA's youngest roster and many new faces after losing so many to graduation and NHL contracts last season.
Michigan is going to TAMPA!#GoBlue〽️ pic.twitter.com/fePei4Lpcq

— Michigan Hockey (@umichhockey) March 27, 2023
The squad is led by freshman Adam Fantilli, one of the top prospects for the 2023 NHL Draft, who is the NCAA's scoring leader with 64 points. He scored the late-tying goal against Penn State, his 29th of the season, which ranks second in the NCAA. Fantilli is one of the favorites to win the Hobey Baker, if not the odds on favorite.
Additionally, the squad has a mobile, offensive blue line that is anchored by sophomore Luke Hughes (NJD), who is second among NCAA defensemen with 47 points. He opted to return to school after an All-American season in 2021-22 and has had a monster second half for the Wolverines.
Beyond those two leading players, Michigan has a litany of weapons including first-round draft picks like Rutger McGroarty (WPG), Frank Nazar (CHI), Hughes, and OT hero Mackie Samoskevich (FLA), which makes them one of the most skilled teams in the country. They'll see if that skill can help them win out this time after falling just short last year with a number of players that are already making noise in the NHL.
It's going to be a wild finish to what has been an especially entertaining NCAA season.