NCAA DI Men's Hockey
Frozen Four: 2023 NCAA Men's Hockey Tournament Allentown Region Preview
Frozen Four: 2023 NCAA Men's Hockey Tournament Allentown Region Preview
The Allentown regional will feature Michigan, Michigan Tech, Penn State and Colgate, with each vying for a spot in the Men's Frozen Four.
Mar 23, 2023
by Chris Peters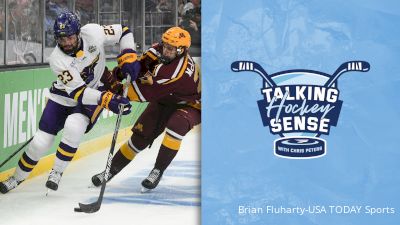 Penn State will host a trio of teams for their Allentown-based regional and while they'll have home ice advantage, it's going to be a battle.
Michigan enters Allentown as the No. 3 overall seed in the tournament. They'll take on Colgate in primetime in a battle of two teams that won their conference championships with Michigan beating Minnesota for the Big Ten crown and Colgate taking down Harvard for their first conference title in 33 years.
In the early game, Penn State will welcome Michigan Tech, which got into the tournament as an at-large after narrowly losing out on the CCHA regular-season title and getting bounced in the conference semifinals. The Nittany Lions had a hot start to the season and dominated their non-conference schedule, picking up a number of notable wins including against both Michigan and Minnesota earlier in the year.
This should be a very entertaining, competitive region with the added bonus of a host team helping provide a more raucous atmosphere for at least the games involving Penn State. It should be a good showcase for the college game.
Allentown Regional Schedule
No. 3 Michigan vs. Colgate, Friday at 8:30 p.m. ET
Penn State vs. Michigan Tech, Friday at 5 p.m. ET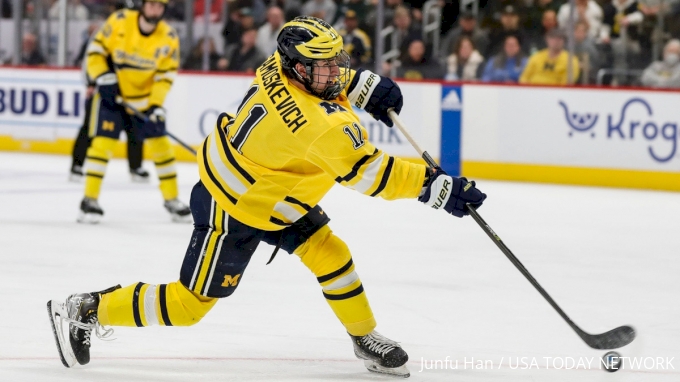 Michigan
The Wolverines have the name recognition, the NHL Draft picks and the recent success. But they don't have a national title since 1998 and they'll rely on one of the nation's youngest teams with a rookie head coach to break that streak. It's certainly not impossible because the Wolverines have played some great hockey down the stretch.
Going into Minnesota and winning the Big Ten tournament title for the second straight year in a bit of a back-and-forth game was the kind of confidence boost this team needed to try to get back to the Frozen Four for a second-straight year.
Led by the nation's leading scorer, Adam Fantilli (2023), Michigan's offense is potent. They have multiple lines that can score and they're one of the fastest teams top-to-bottom in the NCAA. In addition to Fantilli, teams have to find ways to match up against Gavin Brindley (2023), Rutger McGroarty (WPG), Mackie Samoskevich (FLA), T.J. Hughes (UFA) and, even down the lineup, guys like Dylan Duke (TBL) and Jackson Hallum (VGK) have proven dangerous.
🙌 @AdamFantilli 🙌#NCAAHockey x 🎥 BTN+ / @umichhockey pic.twitter.com/z7HSxp1N8H

— NCAA Ice Hockey (@NCAAIceHockey) March 4, 2023
Defensively, Michigan has been a little leaky. They have some tremendous players back there led by Luke Hughes (NJD) who will likely play upwards of 28-30 minutes in the game. They move pucks well and play a strong possession game that gives them success. Their best defense is having the puck, though players like Hughes can more than hold their own.
Meanwhile, their most important player at this stage of the season is likely goaltender Erik Portillo (LAK). He's battled some consistency issues this year, but when Portillo is on, he can steal a game for his team. The Wolverines just can't get themselves into situations where they've got to outscore their mistakes.
If you get into a track meet with them, you're toast. But teams that can grind them down have found success in making it harder for those skill players to shine. Michigan will have to be ready to play whatever style the game dictates and find ways to create offense to open things up.
NHL Draft Picks/Players To Watch
Adam Fantilli (2023), Gavin Brindley (2023), Luke Hughes (NJD), Rutger McGroarty (WPG), Mackie Samoskevich (FLA), Frank Nazar (CHI), Jackson Hallum (VGK), Dylan Duke (TBL), Seamus Casey (NJD), Ethan Edwards (NJD), Jacob Truscott (VAN), Kienan Draper (DET), Eric Ciccolini (NYR), Erik Portillo (LAK)
Penn State
At one point earlier this season, Penn State looked like a team that was going to be among the top contenders. They have experience, they had some pace, some heaviness and their best game was as good as anybody's in the country. That's why they won a number of big-time Big Ten contests. Lately, however, it's been tough sledding.
The Nittany Lions have won just four of their last 15 games this season. They're 4-10-1 since the calendar flipped to 2023. They don't have much momentum, but they will have home ice, essentially. Their schedule was very backloaded with road games in the last half of the season. While Allentown is not technically State College, Penn State should be well represented there and that home-cooking might be a difference maker.
Kevin Wall, the pick, the dangle, the finish!! #SCTop10 pic.twitter.com/c0EAkTqB9i

— Penn State Men's Hockey (@PennStateMHKY) October 9, 2022
This team is not a big scoring group, but they pepper the opposing net with shots and very often win the possession game. Senior Kevin Wall (CAR) has led the team with 29 points while transfer addition Ture Linden is second with 28. Goalie Liam Souliere has given his team a chance in a lot of games with a .913 save percentage.
NHL Draft Picks/Players To Watch
Kevin Wall (CAR), Chase McLane (NSH), Ture Linden, Connor MacEachern, Jimmy Dowd
Michigan Tech
The Huskies were not expected to be in this position, not after losing a number of key players from last year's tournament team. But the guy they held onto turned out to be one of the country's best goaltenders this season.
Blake Pietila is in the Hobey Top 10 after putting together an incredible senior campaign. He led the NCAA with 10 shutouts and owns a .929 save percentage, among the best in the nation as well. He gives them every opportunity to win, rarely having a bad game. Among his best wins of the year came against Boston University, when he made 31 saves in a MTU win at a tournament at Arizona State. He can steal them games and does not shy away from heavy workloads.
On top of having the last line of defense, the Huskies play with good structure. They have enough skill to keep the opposition honest, led by CCHA rookie of the year Kyle Kukkonen (ANA) who scored a team-best 18 goals so far this season.
Kyle Kukkonen has 8 goals in the last 6 games! Here's his 2nd of the night. #mtuhky #FollowTheHuskies pic.twitter.com/unZHVJBgW9

— Michigan Tech Hockey (@mtuhky) March 5, 2023
The Huskies will out-work teams and give Pietila every chance to make the saves he needs to make. They'll approach each game with a lunch pail and a hard hat, but don't sleep on their forward group as they still can score.
NHL Draft Picks/Players To Watch
Kyle Kukkonen (ANA), Ryan O'Connell (TOR), Blake Pietila, Rylan Mosley, Logan Pietila
Colgate
The Raiders had only one way to get into the tournament – win the ECAC tournament for the first time since 1990 or that's it. They had to go through the play-in round and beat Dartmouth. Then they had to battle St. Lawrence on the road and swpth them in a three-game set. After that, it was off to Lake Placid where their path to the trophy was regular-season champ Quinnipiac in the semifinals and the high-scoring Harvard outfit in the final.
Thanks to spectacular goaltending from Carter Gylander (DET) and timely scoring, Don Vaughan's Colgate Raiders are still standing. They beat Quinnipiac in double OT, 2-1, and outlasted Harvard in a 3-2 championship win. They've slayed a few giants, but the biggest one they've seen might be in front them as they meet Michigan.
Your Most Outstanding Player is Carter Gylander!

2023 All-Tournament Team

G - Carter Gylander, @ColgateMIH
D - Henry Thrun, @HarvardMHockey
D - Zach Metsa, @QU_MIH
F - Ross Mitton, @ColgateMIH
F - Alex Young, @ColgateMIH
F - Alex Laferriere, @HarvardMHockey #ECACHockey pic.twitter.com/rFpSMGUTUb

— ECAC Hockey (@ecachockey) March 19, 2023
When you have goaltending, you always have a chance and Colgate has a great one. Gylander has a .918 save percentage, while facing an average of nearly 29 shots against per game. He's got a massive frame, athleticism and over his last two games, with his team's season on the line, he made 74 stops. He's got to be near-perfect against a team like Michigan, but you could have said that about either of his last two starts and he delivered.
Offensively, the Raiders are led by Alex Young (SJS), who has 39 points in 39 games including 21 goals. They also have a high-scoring defenseman in Nick Anderson, who led the team with 26 assists this season. There's enough there to force teams to be aware of their skill.
It's going to take another major effort from Colgate to go on a run here, but they've already accomplished so much in the last few weeks, they probably feel like everything is possible for them.
NHL Draft Picks/Players To Watch
Carter Gylander (DET), Alex Young (NSH), Matt Verboon, Nick Anderson
Predictions
Michigan Tech 3, Penn State 1
Michigan 4, Colgate 3
Regional Champion: Michigan