Men's Big Ten Hockey
Frozen Four: NCAA Men's Hockey Tournament Bridgeport Region Preview
Frozen Four: NCAA Men's Hockey Tournament Bridgeport Region Preview
Quinnipiac, Harvard, Ohio State and Merrimack will compete for a spot in the 2023 Men's Frozen Four in the Bridgeport regional.
Mar 23, 2023
by Chris Peters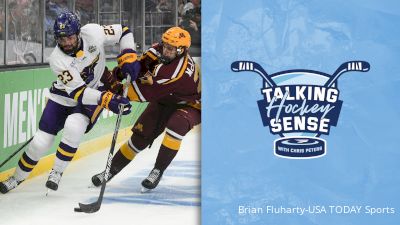 The Bridgeport Regional will feature a pair of ECAC powers and two programs that likely feel like they have something to prove.
Quinnipiac has lost only four games this year and carries the No. 2 seed into the tournament. Due to the selection committee looking to avoid inter-conference matchups in the opening road, the Bobcats have to take on No. 14 Merrimack, which overcame an early-season tragedy to put forth one of the better campaigns in program history.
Meanwhile, a high-scoring, entertaining Harvard squad will meet Ohio State, which had to battle through a very difficult Big Ten schedule and a mid-season swoon to keep themselves in position to make the tournament.
This is one of the regions that looks like it's truly up for grabs, with a case to be made for all four teams to come out of it. There, of course, can only be one.
Bridgeport Schedule
Harvard vs. Ohio State, Friday at 2 p.m. ET
No. 2 Quinnipiac vs. Merrimack, Friday at 5:30 p.m. ET
Quinnipiac
When it comes to playoff hockey, there's a significant premium on goal prevention. Goals win you games, but making it as hard as possible for the other team to do anything offensively can be more valuable.
No team in the country has been better at preventing goals than Quinnipiac, which has allowed an average of 1.6 goals against per game. They are the only team in NCAA hockey that has an average goals against below two.
The Bobcats play a full team game defensively, but that hasn't made Quinnipiac boring this year. In fact, they're scoring a bunch, too, averaging 3.9 goals for per game, which is tied for third highest in college hockey. This team has balance, they have experience, they have goaltending and they're disciplined.
𝐁𝐀𝐂𝐊 𝐓𝐎 𝐁𝐀𝐂𝐊 𝐓𝐎 𝐁𝐀𝐂𝐊

For the third season in a row and fifth time in his career, Rand Pecknold is your Tim Taylor #ECACHockey Coach of the Year!#BobcatNation x @RandPecknold pic.twitter.com/wVNV9kG7VS

— Quinnipiac Men's Ice Hockey (@QU_MIH) March 16, 2023
The Bobcats know their identity and play to it, which comes down from head coach Rand Pecknold, who has always had teams that will stymie the opposition. But it helps a lot to have a player like Collin Graf scoring at the level he has this season. He is second in the NCAA with 55 points and is part of the Hobey Baker Top 10.
Also part of the Hobey finalist group is goalie Yaniv Perets, who was in the top 10 last year as well. He is the last line of defense for this team and is the 17th goalie in college hockey history to win 30 or more games in a single season. He doesn't face a ton of shots relative to other top goalies in the country, but he always gives his team a chance and currently sports a .929 save percentage. Goals are going to be hard to come by against this team.
NHL Draft Picks/Players To Watch
Sam Lipkin (ARI), Skyler Brind'Amour (EDM), Chase Clark (WSH), Collin Graf, Yaniv Perets, Zach Metsa
Harvard
One of the more exciting teams in the country with a high-powered offense, some legitimate college hockey star players and 15 NHL draft picks on the roster, Harvard has a chance to make some real noise in this tournament.
The Crimson averaged 3.8 goals per game, tied for the sixth-best mark in the country and allowed just 2.2 goals against per game, which gave them for the fifth-least against on average. That's a pretty good combination.
What Harvard has not done yet, however, is win the big game. They lost the Beanpot final in a shootout and lost the ECAC championship game as well. The good news is that they've gotten that big-game experience that should come in handy in Bridgeport, especially against a team like Ohio State that battled through one of the nation's tougher schedules with how good the Big Ten was this year.
Harvard is led by Hobey hopeful Sean Farrell (MTL), who has 52 points this season and is second in the NCAA with an average of 1.58 points per game. He plays on a line with gifted goal-scorer Matt Coronato (CGY). But if you slow that group down, you've got Alex Laferriere (LAK) waiting for you on their second line. He has 21 goals and 42 points this season. Meanwhile, Harvard gets strong contributions from their D corps, most notably from Henry Thrun (SJS), who has 31 points in 32 games this season.
Right place, right time for Sean Farrell

His 15th of the season gives the Crimson the lead!
📺ESPN+ #GoCrimson | #OneCrimson pic.twitter.com/oVv3sAKTUg

— Harvard Men's Hockey (@HarvardMHockey) February 18, 2023
With the skill level this team possesses, and the quality goaltending they've gotten from Mitchell Gibson (WSH) all year, Harvard is as big a threat as anyone to come out of this region.
NHL Draft Picks
Sean Farrell (MTL), Matt Coronato (CGY), Alex Lafferiere (LAK), Henry Thrun (SJS), John Farinacci (ARI), Joe Miller (TOR), Ian Moore (ANA), Ryan Healey (MIN), Jack Bar (DAL), Kyle Aucoin (DET), Mason Langenbrunner (BOS), Zakary Karpa (NYR), Austin Wong (WPG), Mitchell Gibson (WSH), Aku Koskenvuo (VAN)
Ohio State
The Buckeyes have managed to put together a largely positive season that included key wins over Minnesota and Michigan earlier in the year. The last half of their season has been a grind with a lot of tough competition in the Big 10 this year. Their most recent game was a 7-3 loss in the Big Ten semifinal against Michigan so they'll be eager to show that's not their standard.
Ohio State has some good offensive talent at the top of their lineup, led by freshman Stephen Halliday (OTT) and fifth-year Jake Wise (CHI), who have done the bulk of their scoring. Mason Lohrei (BOS) has also been a major contributor on the back end with 29 points so far this season.
🚨 Freshman Stephen Halliday with his third goal and 10th point of the season put the Buckeyes up 4-2.#GoBucks @S_Halliday77 pic.twitter.com/EIMSEpdQ5j

— Ohio State Men's Hockey (@OhioStateMHKY) October 28, 2022
The team's hopes rest largely on the heavily-padded shoulders of goaltender Jakub Dobes (MTL), who has had some real highs this season but has battled consistency down the stretch. He has a .918 save percentage and absolutely has the ability to steal a game for his team.
The real question, however, is if Ohio State is going to be able to adequately defend a Harvard squad that can come at you in waves and overwhelm you with skill and speed. It's a big challenge for Ohio State, but this team has been battling pretty much all year.
NHL Draft Picks
Jakub Dobes (MTL), Stephen Halliday (OTT), Mason Lohrei (BOS), Jake Wise (CHI)
Merrimack
It's been a truly whirlwind season for Merrimack. Earlier this year, assistant coach Josh Ciocco died unexpectedly, forcing the Warriors to carry on with heavy hearts after losing the man that recruited a large chunk of the team. It was also a deep personal loss for head coach Scott Borek who had recruited Ciocco when he was a player, coached him and then had him as his right hand at Merrimack. Yet the Warriors continue to honor Ciocco's memory with gutty performance after gutty performance.
Merrimack was a goal away from winning the Hockey East tournament, but managed to get in as an at-large. They'll now have to take on one of the stingiest defensive teams in the country in the first round, but this team has found ways to win all season including a stretch toward the end where they won seven straight before falling in the Hockey East final.
Thank you @MerrimackBand, @MerrimackCheer, @MC_Athletics and Dance Team for the send off to Bridgeport!#GoMack x #MissionMerrimack pic.twitter.com/rLAqLy5fsn

— Merrimack Men's Hockey (@MerrimackMIH) March 23, 2023
This Merrimack roster has something they haven't always been able to rely on – a go-to offensive force up front and a player with the capability to take over a game. That's Alex Jefferies (NYI), who has developed into a college hockey star with a team-best 41 points. He was a finalist for Hockey East Player of the Year and is the straw that stirs the drink. The Warriors have some decent secondary scoring including Matt Copponi and Ben Brar, who each have 14 goals, but they're going to need an entire team effort to make it.
The other major factor in Merrimack's goaltending. Hugo Ollas (NYR) and Zachary Borgiel have split the net most of the way this year. Both goalies give this team a chance to win. They'll just have to be ready to play an especially tight game against Quinnipiac.
NHL Draft Picks/Players To Watch
Alex Jefferies (NYI), Hugo Ollas (NYR), Slava Demin (CHI), Matt Copponi
Predictions
Merrimack 2, Quinnipiac 1
Harvard 5, Ohio State 3
Regional champion: Harvard