NCHC
Frozen Four: NCAA Men's Hockey Tournament Manchester Region Preview
Frozen Four: NCAA Men's Hockey Tournament Manchester Region Preview
Defending champion Denver, Boston University, Western Michigan and Cornell will be vying for a trip to the Men's Frozen Four in the Manchester regional.
Mar 22, 2023
by Chris Peters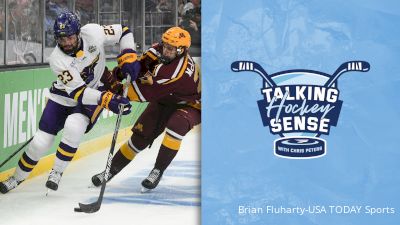 The Manchester region has the potential to be among the most entertaining of all four regionals thanks to the presence of some high-scoring teams and the defending national champion.
Denver will begin its title defense against Cornell, which is back in the tournament after having one of their best-ever seasons disrupted by the pandemic in 2020. At the time that season was canceled, Cornell was the No. 1 team in the country and looked every bit like a legit national title contender. It's been a long road back and they've got to take on a Denver squad that is experienced and skilled.
In the other game Tursday, Boston University will meet Western Michigan in a battle of two teams that know how to score. Both squads averaged 3.9 goals for per game, which is tied for the third-best rate in the nation. They also boast two of the country's top-performing freshmen, which you'll read about below.
This should be a wild three-game set in New Hampshire.
Schedule
Boston University vs. Western Michigan, Thursday at 2 p.m. ET
No. 4 Denver vs. Cornell, Thursday at 5:30 p.m. ET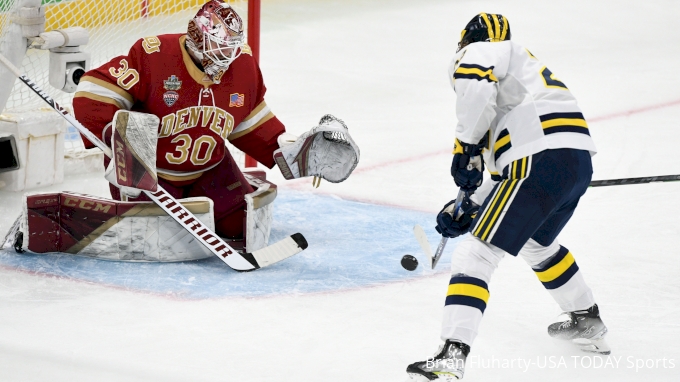 Denver
The Pios lost a number of key players from their championship team, but many more are back and playing at an even higher level this year. Featuring a very mobile D corps that likes to get in on the offense, a potent top line and solid scoring depth, they have all the pieces to contend once again.
Another key factor is goaltender Magnus Chrona (SJS), who is both battle-tested and playing some really strong hockey this season. He made 27 stops in the championship game last year and has proven to be a trusted last line of defense for this team as he's posting strong numbers for a fourth consecutive season.
The blue line is probably where this team can separate itself with mobile puck-movers like Mike Benning (FLA) and Sean Behrens (COL). Their ability to move pucks wouldn't mean as much without a solid forward group, which Denver also has.
Scoring 13 🚨 and racking up 34 points from the blue line...

Congrats to @DU_Hockey's Mike Benning on winning #NCHChockey Offensive Defenseman of the Year! 👏 pic.twitter.com/dh1Vg8b6Ar

— The NCHC (@TheNCHC) March 16, 2023
Led by Massimo Rizzo (CAR), who's been banged up lately, and Carter Mazur (DET), Denver can absolutely score with anyone. They have six players over 30 points this season and another four that are over 20. There is balance in this team's scoring attack, which makes them tougher to match up against.
NHL Draft Picks
Carter Mazur (DET), Massimo Rizzo (CAR), Mike Benning (FLA), Sean Behrens (COL), Shai Buium (DET), Tristan Broz (PIT), Jack Devine (FLA), Rieger Lorenz (MIN), Aidan Thompson (CHI), McKade Webster (TBL), Jared Wright (LAK), Magnus Chrona (SJS)
Boston University
After a drama-filled Hockey East tournament that saw the Terriers win their semifinal and final matchups in overtime, Boston University looks ready to go for this time of year. They've shown that they can hang in tight games just as easily as they can blow a team away offensively.
Led by Hobey Baker hopeful, freshman sensation Lane Hutson (MTL), BU can score from anywhere. Hutson is having one of the best freshman seasons by any defenseman in the history of college hockey, but he's not alone in the ability to fill nets. Senior Matt Brown is second on the squad with 44 points, while 10 total players are over 20 points this season.
Lane Hutson scores his second of the night to clinch the Hockey East Championship for the Terriers! @TerrierHockey | @hockey_east pic.twitter.com/RvE83PrGjH

— NESN (@NESN) March 19, 2023
In net, the Terriers have Drew Commesso (CHI) who has been battling consistency issues this season. Despite those concerns, he has shown that when he's on, he's very tough to beat.
BU is led by first-year head coach Jay Pandolfo, who earned Hockey East coach of the year honors in helping bring BU back from a disappointing season. The task ahead is a tough one, though, made only tougher by the absence of Case McCarthy (NJD), one of the team's most trusted defensemen. Despite some of the injury concerns, BU has the depth to challenge for a spot and are not to be taken lightly.
NHL Draft Picks
Lane Hutson (MTL), Drew Commesso (CHI), Ryan Greene (CHI), Jay O'Brien (PHI), Domenick Fensore (CAR), Ty Gallagher (BOS), Case McCarthy (NJD), Cade Webber (CAR), Devin Kaplan (PHI), Dylan Peterson (STL), Ethan Phillips (DET), Luke Tuch (MTL)
Western Michigan
The Broncos gave exceeded expectations this season with an impressive 23-14-1 record while playing in the especially tough NCHC. Western has a lot of veteran talent even after losing some key players off of last year's team, and have added some key freshmen that have made all the difference this year.
Despite the new faces, this team is led by senior Jason Polin, a Hobey Baker finalist and the nation's top goal scorer with 29 this season. Sophomore Max Sasson has also been a force for this team, at both ends of the ice, with 42 points. Meanwhile, freshman Ryan McAllister has been an offensive driver all season with 48 points in 38 games. Top to bottom, this team has weapons.
The top player in #NCHChockey this season and already our Forward of the Year... 🏅

Congrats to @WMUHockey captain and @HobeyBakerAward finalist @Jpolin11 on winning NCHC Player of the Year! 👏 pic.twitter.com/ytQN6Q3O0K

— The NCHC (@TheNCHC) March 16, 2023
Western's success likely rests firmly on the shoulders of their goaltender. Cam Rowe is an experience collegiate goalie and when he's been at his best, the team has a chance to win. But consistency issues have been part of the story of his season. And that's when the team can skid a bit, like they did in a pair of losses at home to Colorado College in the NCHC tournament.
Western isn't riding a ton of momentum coming into the tournament, but they're a well-coached team with a lot of players with something to prove.
NHL Draft Picks/Players To Watch
Carter Berger (FLA), Wyatt Schingoethe (TOR), Jack Perbix (ANA), Jason Polin (UFA), Max Sasson (UFA), Zak Galambos (UFA), Ryan McAllister (UFA)
Cornell
The Big Red are back and it has been a long road. After getting their potential dream season cut off by the pandemic which saw the cancellation of the 2020 men's hockey tournament, to having the entire 2020-21 season washed out as Ivy League schools did not participate in athletics that year, this berth is hard-earned.
Mike Schaefer has had to rebuild his program with players that were patient enough to wait and return when everything settled down rewarding their coach with strong performances. Cornell has never been a high-scoring team, but senior defenseman Sam Malinski has been a revelation and is garnering NHL interest as a free agent. Meanwhile, the team is getting big contributions from junior Gabriel Seger, the team's leading scorer, and Ben Berard, who is second on the squad with 27 points.
Sam Malinski earns First Team All-@ecachockey honors for the second straight season, becoming the first @CornellMHockey blueliner to accomplish the feat in 20 years❗

📰: https://t.co/3yjAOlFxlV

Congrats, Sam!#YellCornell 🐻

(📸: Alyssa Schwertfeger/Cornell Athletics) pic.twitter.com/A3MsX3MFCM

— Cornell Big Red (@CornellSports) March 17, 2023
Cornell plays a heavy, defense-first style that can be very difficult for the opposition to cut through. They're also getting strong goaltending out of Ian Shane, who has a 1.76 goals-against average to go with his .913 save percentage.
You always know what you're going to get with Cornell, but they're going to have their hands full with a potent scoring team like Denver.
NHL Draft Picks/Players To Watch
Hank Kempf (NYR), Matt Stienburg (COL), Sam Malinski (UFA)
Predictions
Denver 4, Cornell 2
Boston University 4, Western Michigan 3 (OT)
Regional Champion: Boston University