Atlantic Hockey
Frozen Four: NCAA Men's Hockey Tournament Fargo Regional Preview
Frozen Four: NCAA Men's Hockey Tournament Fargo Regional Preview
Minnesota, St. Cloud State, Minnesota State and Canisius will battle for a trip to Tampa in the Fargo regional.
Mar 22, 2023
by Chris Peters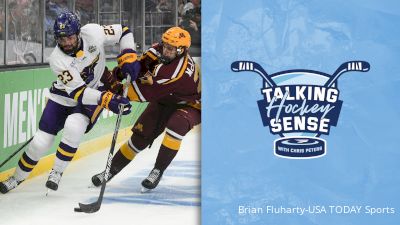 The NCAA men's hockey tournament gets started Thursday with the first set of regionals including out west with the Fargo Regional. That grouping is highlighted by No. 1 overall seed Minnesota, which won't be terribly far from home to start what they hope is a return trip to the Men's Frozen Four.
Joining the Golden Gophers in Fargo at Scheels Arena will be three teams that are all coming off of winning their conference tournament championships. St. Cloud State won the NCHC in convincing fashion over Colorado College on Saturday, while Minnesota State needed a dramatic comeback and overtime to beat Northern Michigan to win the CCHA's Mason Cup, and Canisius handled Holy Cross in a 3-0 win for the Atlantic Hockey crown.
The Gophers are among the favorites to win it all, however, and will have plenty of familiarity with the two teams on the other side of the regional assuming they're able to get past Canisius. In these single-game elimination situations, however, anything can happen, which is why we love the NCAA men's hockey tournament so much.
FloHockey is previewing each regional with notes on every team including players to watch, NHL draft picks on the roster and predictions. Stay tuned for previews from each of the other regionals.
Fargo Schedule
St. Cloud State vs. Minnesota State, Thursday at 5 p.m. ET
No. 1 Minnesota vs. Canisius, Thursday at 9 p.m. ET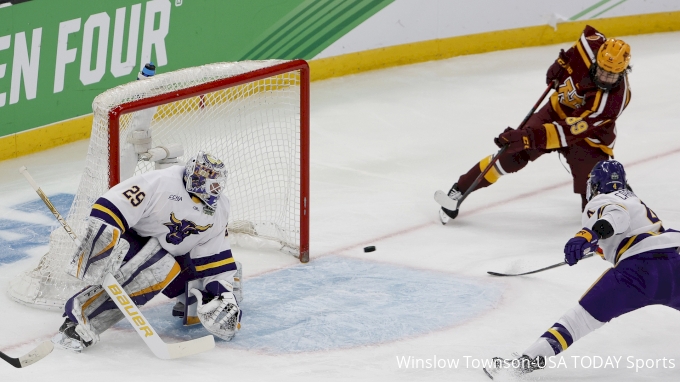 Minnesota
The Golden Gophers locked into the No. 1 overall seed for weeks thanks to their impressively strong schedule and success within it. They're the best team on paper in the country, with tremendous depth and a team full of players that were part of the same group that went to the Men's Frozen Four last season.
Having secured many key returnees, especially on their blue line, Minnesota has a team that's built better for the postseason. Brock Faber (MIN) may be the best defensive defenseman in the country, with Ryan Johnson (BUF) in that mix as well. Additionally, Jackson LaCombe (ANA) is a top puck-mover who can get the job done at both ends of the ice. Meanwhile, the Gophers have gotten great goaltending from Justen Close all season after he was surprisingly thrust into the spotlight last season and managed to repeatedly deliver for his team.
Up front, the Gophers are led by the absolute best offensive trio in the country. Logan Cooley (ARI), Matt Knies (TOR) and Jimmy Snuggerud (STL) have scored 60 goals collectively. Cooley is at 52 points and among the NCAA scoring leaders, while Knies leads the team with 21 goals himself. Each are Hobey Baker finalists. Most teams can't hope to stop this group, but if they do, they still have a team that boasts tremendous forward depth.
Our jaw.

It's on the floor. pic.twitter.com/AZct1kypWC

— Minnesota Men's Hockey (@GopherHockey) February 26, 2023
This group was built to go for the whole thing and even after losing the Big Ten championship to Michigan, they still look like one of the nation's most formidable teams.
NHL Draft Picks
Logan Cooley (ARI), Jimmy Snuggerud (STL), Matt Knies (TOR), Jackson LaCombe (ANA), Brock Faber (MIN), Ryan Johnson (BUF), Bryce Brodzinski (PHI), Mike Koster (TOR), Rhett Pitlick (MTL), Aaron Huglen (BUF), Ryan Chesley (WSH), Connor Kurth (TBL), Brody Lamb (NYR), Cal Thomas (ARI)
St. Cloud State
The NCHC tournament champions are going to be a tough out in this tournament, but they've dealt with injuries down the stretch. There was none bigger than that to Dylan Anhorn, who is out for the season after leading the team's blue line for much of the 2022-23 campaign after transferring in.
Still, the Huskies play hard and can make scoring on them difficult. They have a solid tandem in net, though it appears Jaxon Castor is going to be the go-to guy in the pipes for SCSU at this critical stage of the season. He has a .920 save percentage through 21 appearances.
After Saturday's championship victory, HC @BrettLarson18 refleced on the resiliency from All-Tournament Goaltender @JaxonCastor #GoHuskies | #HuskyHockey 🏒 pic.twitter.com/9uYV7Z2rBZ

— St. Cloud State Men's Hockey (@SCSUHuskies_MH) March 20, 2023
Up front, the Huskies have a number of well-rounded players that can score and protect their own end as well. Jami Krannila is a solid two-way forward who is leading the team in scoring with 40 points. Transfer Grant Cruikshank, who played in the Frozen Four with Minnesota last year, leads the team with 22 goals. Meanwhile, the D corps will lean heavily on Jack Peart (MIN) in Anhorn's absence.
NHL Draft Picks
Jack Peart (MIN), Veeti Miettinen (TOR), Adam Ingram (NSH), Dominic Basse (CHI)
Minnesota State
If the Mavericks want to go back to the Frozen Four for a third straight year, they're going to need their best overall effort of the season. They always seem to have their best when their backs are against the wall, though. Look no further than their dramatic comeback to beat Northern Michigan in a must-win CCHA tournament final to book another trip to the dance.
Despite significant losses from last year's team, the Mavericks still have a group that can compete with the best of the best. That starts from their blue line with veterans Jake Livingstone and Akito Hirose, two top undrafted free agents that NHL teams are looking at, playing the bulk of the minutes. The blue line as a whole is mobile, can be physical and they protect their net well.
The goal that set off the party in Mankato! Zach Krajnik spun his way to the middle and flipped home the overtime game-winner for @MinnStMHockey, giving them the @CCHAHockey Mason Cup and sending them to the NCAA Tournament! 🚨 🏆 pic.twitter.com/uHUdTsT9U4

— FloHockey (@FloHockey) March 19, 2023
Meanwhile, the Mavs have enough experience up front including versatile forwards like David Silye, Ryan Sandelin and Ondrej Pavel. They've also gotten big-time contributions from freshman Christian Fitzgerald who is third on the team with 29 points.
Minnesota State got swept by St. Cloud in the first month of the season in a pair of close games. They're a battle-hardened team now, though, so it should be an interesting rematch.
Players to watch
Jake Livingstone, Akito Hirose, David Silye, Christian Fitzgerald, Ondrej Pavel
Canisius
The Golden Griffins represent one of college hockey's best in-season turnarounds. Languishing in last place in Atlantic Hockey before the calendar flipped to 2023, Canisius closed out the season with a 15-7-1 record from January on. They played in two hard-fought series to get to the AHA championship game and took care of business against surging Holy Cross to be put in this position.
Watch the final seconds as @GriffsHockey celebrates their @Atlantic_Hockey title and an automatic bid to the NCAA Tournament! pic.twitter.com/twdbRkqtRc

— FloHockey (@FloHockey) March 19, 2023
Led by senior forward Keaton Mastrodonato's 36 points, Canisius has gotten fairly balanced scoring this year and goaltender Jacob Barczewski has been exceptional between the pipes, especially lately.
The challenge in front of the Atlantic Hockey champions could not be bigger. They'll meet one of the deepest teams in the country with 14 NHL Draft picks on their roster. Canisius has none.
Read Jacob Messing's Canisius NCAA Tournament Preview
The Golden Griffins will have to play a perfect game to beat the Gophers, but when you're the 16th overall seed, what do you have to lose? Expect a great effort.
Players to watch
Keaton Mastrodonato, Jacob Barczewski, Ryan Miotto, David Melargni
Predictions
Minnesota 7 – Canisius 1
Minnesota State 2 – St. Cloud State 1
Regional Champion: Minnesota