2023 Northern Michigan vs Minnesota State - Men's
CCHA RinkRap: Familiar Finish Sends Mavericks To NCAA Tournament
CCHA RinkRap: Familiar Finish Sends Mavericks To NCAA Tournament
In a game that bore an uncanny resemblance to the 2019 title game, Minnesota State scored a pair of goals in the final minutes Saturday and went on to win.
Mar 21, 2023
by Tim Rappleye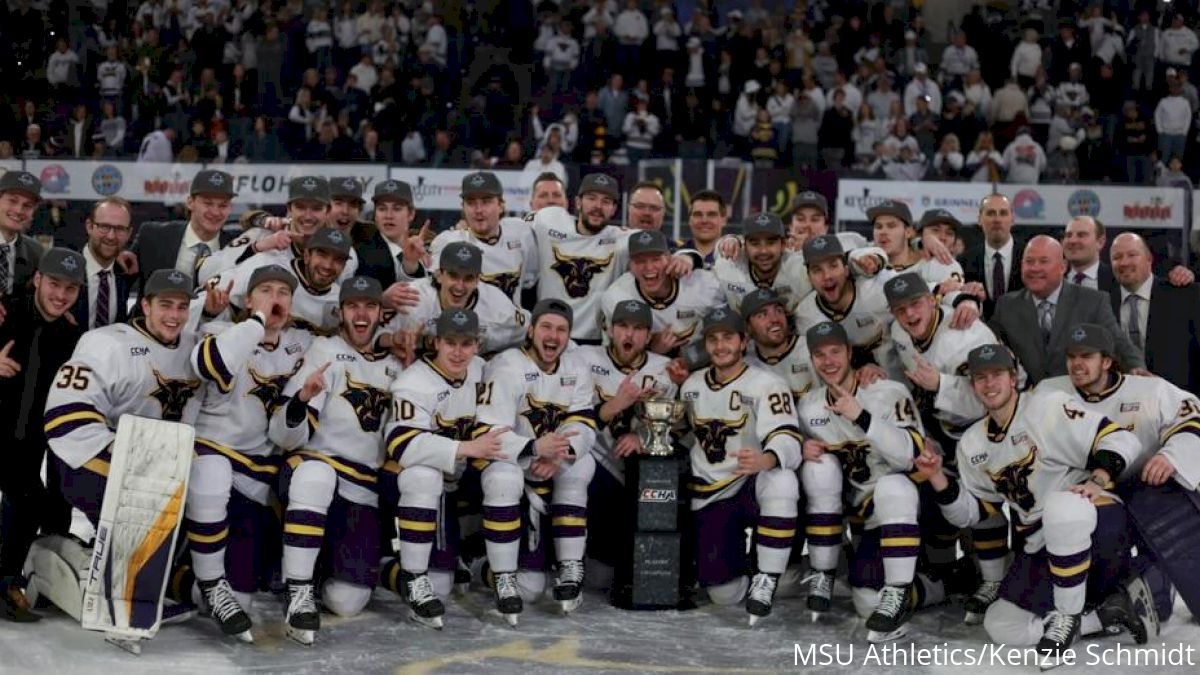 In a CCHA championship game that bore an uncanny resemblance to the 2019 title game, Minnesota State scored a pair of goals in the final minutes to force overtime against Northern Michigan.
Then, unheralded sophomore Zach Krajnik scored 1:08 into overtime.
Four years ago, it was Nick Rivera who scored the OT winner at the 1:37 mark to beat Bowling Green.
In the same building, both games finished with an identical 3-2 final score in favor of the hometown Mavericks.
"Crazy things happen in this building," said MSU coach Mike Hastings in his post-game remarks, an understatement based on last year's Mason Cup finale, in which the overtime was replayed an hour after the original celebration.
The biggest difference between 2019 and 2023 was that four years ago, Bowling Green had the consolation of moving on the NCAA Tournament. In this case, runner-up Northern Michigan, the hottest team in the NCAA, saw its season come to a painful close.
"I just had to be in a room with a team that could not have played better," said Northern coach Grant Potulny, clearly emotional after the gut-wrenching loss. "It's just really hard for me right now."
This was Potulny's third trip to his league's title game, and all three times, his Wildcats failed to get the automatic bid into the NCAA Tournament.
He explained how killing two late penalties wore out his core players.
"The last five minutes of a game we're down a man, or two men, whether it's a penalty or the goalie is pulled," Potulny said. "You're tired, the guys are tired. The same guys going over and over again. We couldn't have played better, I'm proud of our team's effort."
On the other side of the building, host Minnesota State faced its own NCAA mortality.
The Mavericks were down two goals and missing leading scorer David Silye to an upper body injury.
His role was filled by dynamic freshman Christian Fitzgerald, who had been pounded relentlessly Saturday by the Wildcats' rugged defenders. He appeared wobbly on more than one occasion, but he answered the call heroically.
"I definitely wasn't going to back out of that game," said Fitzgerald, who finished the second period on the ice, clutching his arm. "That's all part of going to battle. You're going to have to take a punch. It's how you respond to that. There's no way I wasn't playing that game."
🎥 Fitzy's game tying goal w/#sullycam pic.twitter.com/3So113bJ6o

— Minnesota State Hockey (@MinnStMHockey) March 20, 2023
Fitzgerald scored the tying goal in the 59th minute of regulation, driving the puck high into the net behind another star freshman, Northern goalie Beni Halasz.
Before MSU's two-goal explosion late in the game, it appeared that Halasz would be the glory story of the 2023 Mason Cup.
He was coming off a semifinal shutout of nationally ranked Michigan Tech and working on a postseason shutout streak over 142 minutes long. He couldn't close the deal, however, and new heroes took his place in the winner's circle, including Minnesota State sophomore Krajnik.
Two years ago, Krajnik missed an entire season of organized hockey due to COVID-19. He had been used sparingly this season, with only three goals to his credit entering Saturday's championship tilt. Then, his life changed in sudden death.
"I'm not going to lie, I blacked out after that goal," Krajnek said with a laugh during the post-game session. "It's surreal to think about how I wasn't playing hockey two years ago. To be able to come here and have confidence instilled in me by the coaches, staff and players, and now we're moving on? Just surreal."
This angle of Zach Krajnik's game-winner… Goosebumps…. pic.twitter.com/rsE6OAbKbq

— Minnesota State Hockey (@MinnStMHockey) March 19, 2023
Krajnik's championship-winning goal was one for the ages, flashing through the circles with a 270-degree spin to his backhand, then finishing with a flourish.
It brought elation to most of the 5,000 fans crammed into Mankato's Mayo Clinic Events Center, and pure dread to the visitors from Marquette.
Minnesota State's Hastings, a coach who has known more than his share of hockey heartache, put it into perspective late Saturday night.
"This game will humble you, it always does," he said.
The Mavericks move on to the NCAA Tournament, where they will face in-state rival St. Cloud, a team that swept MSU back in October.
The Wildcats, valiant in defeat, return to the Berry Events Center to pack up their gear, the final time for several players.