Atlantic Hockey
Frozen Four: 2023 NCAA Men's Hockey Tournament Field Set
Frozen Four: 2023 NCAA Men's Hockey Tournament Field Set
The road to the 2023 Men's Frozen Four is set as the NCAA announced the men's hockey tournament field led by No. 1 overall Minnesota.
Mar 19, 2023
by Chris Peters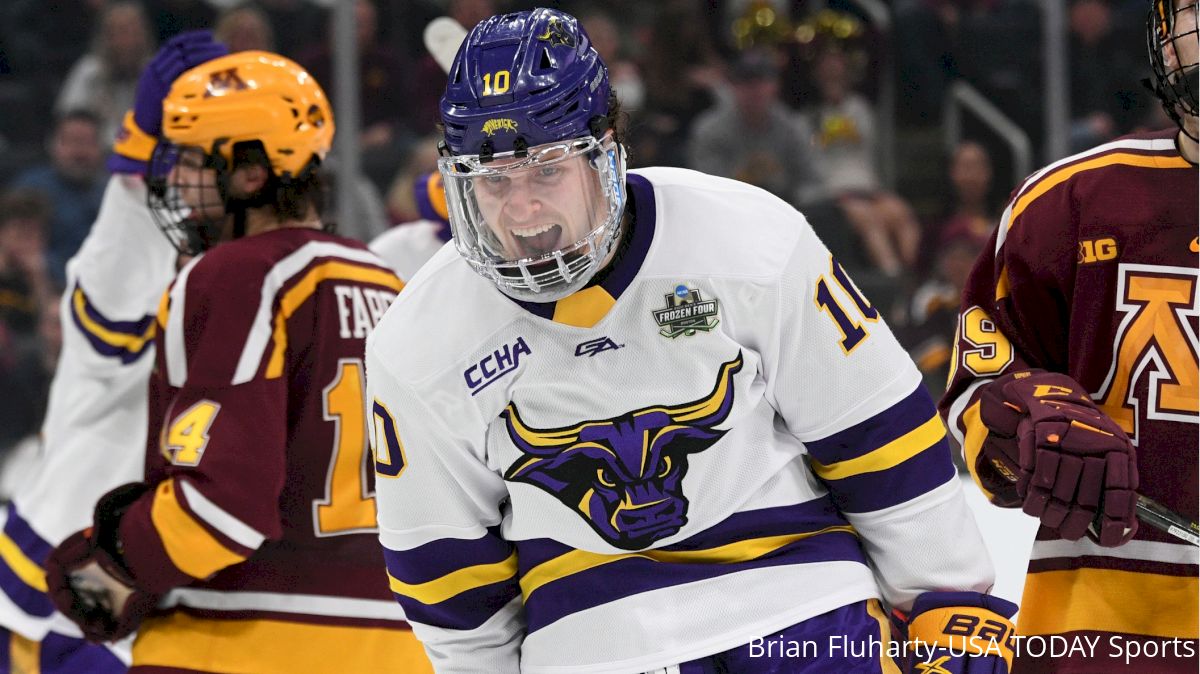 The 2023 NCAA Men's Hockey Tournament is set and each of the 16 teams participating know the road they'll have to travel to get to Tampa for the Men's Frozen Four April 6-8. All four of last year's Frozen Four participants are back in the tournament, with three of them among the No. 1 seeds in the tournament.
No. 1 overall seed Minnesota will look to improve on their semifinal finish from last season with one of the nation's deepest rosters and many returnees. Their tournament begins in Fargo, North Dakota, where they'll take on No. 16 overall seed Canisius.
No. 2 seed Quinnipiac will be based in nearby Bridgeport, Connecticut for their regional opener where they'll take on Merrimack, which got in as an at-large despite losing the Hockey East final to Boston University in overtime Saturday. The Bobcats have been to the Frozen Four twice in their program's history, including 10 years ago in Tampa when they reached the national championship game only to lose to ECAC rival Yale.
No. 3 seed Michigan, which just beat Minnesota in Minneapolis for their second-straight Big Ten tournament title, will head to Allentown, Pennsylvania for their regional where they'll meet Colgate, which got into the tournament by beating both Quinnipiac and Harvard in the ECAC tournament.
No. 4 seed and defending national champion Denver will begin their title defense in Manchester, New Hampshire, against Cornell. The Pioneers got upset in the NCHC semifinals by local rival Colorado College, but won the league's regular-season title. Meanwhile, Cornell is back in the NCAA tournament after having one of the program's best-ever seasons cut short by COVID-19 in 2020, when the tournament was canceled. The Big Red were No. 1 in the country at the time the season was canceled.
The teams are ranked based on a collection of criteria best tracked by Pairwise ratings. Conference champions receive automatic bids and are ranked based on their Pairwise rating. The NCAA selection committee, however, has some discretion on matchups based on a number of different criteria to present the best bracket. Here is how the teams were ranked prior to their placement.
The Field
1. Minnesota
2. Quinnipiac
3. Michigan
4. Denver
5. Boston University
6. St. Cloud State
7. Harvard
8. Penn State
9. Ohio State
10. Michigan Tech
11. Minnesota State
12. Western Michigan
13. Cornell
14. Merrimack
15. Colgate
16. Canisius
Here's a look at how all of the regional matchups are set up.
Fargo Region
No. 1 Minnesota vs. Canisius, Thursday at 9 p.m. ET
St. Cloud State vs. Minnesota State, Thursday at 5 p.m. ET
Bridgeport Region
No. 2 Quinnipiac vs. Merrimack, Friday at 5:30 p.m. ET
Harvard vs. Ohio State, Friday at 2 p.m. ET
Allentown Region
No. 3 Michigan vs. Colgate, Friday at 8:30 p.m. ET
Penn State vs. Michigan Tech, Friday at 5 p.m. ET
Manchester Region
No. 4 Denver vs. Cornell, Thursday at 5:30 p.m. ET
Boston University vs. Western Michigan, Thursday at 2 p.m. ET