2023 Holy Cross vs Canisius - Men's
Canisius, Holy Cross Meet In 2023 Atlantic Hockey Championship
Canisius, Holy Cross Meet In 2023 Atlantic Hockey Championship
The Golden Griffins and Crusaders clash this Saturday for the Atlantic Hockey Championship and an automatic bid to the National Tournament.
Mar 16, 2023
by Jacob Messing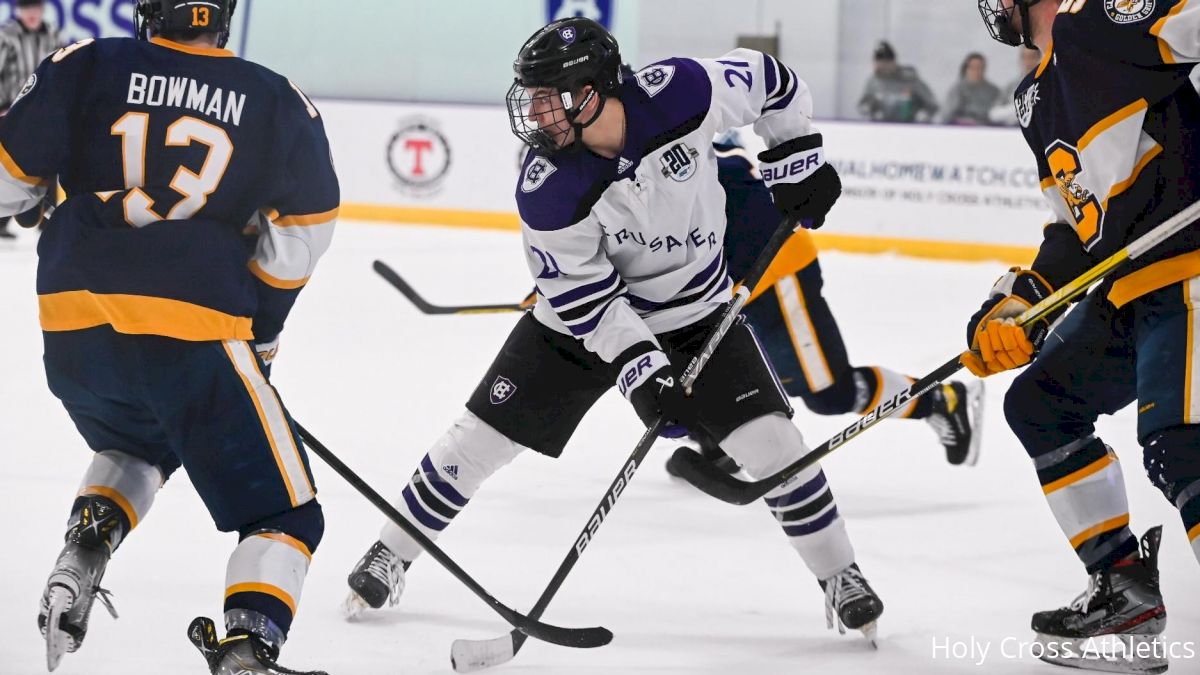 The Canisius Golden Griffins and Holy Cross Crusaders clash this week for the Atlantic Hockey Championship and an automatic bid to the National Tournament.
The programs will face off Saturday, March 18 at 6:00pm ET for the Atlantic Hockey title streaming live, right here on FloHockey.
Last month the Griffins swept the Crusaders to close out the regular season, sending Holy Cross to a final seventh-seeded finish and loss of home ice for the postseason where their path would cross No. 2 seed AIC and No. 1 seed RIT.
"We certainly knew what we were up against in both of those series with AIC being a four-time champion and RIT kind of running away with it this year," said Holy Cross coach Bill Riga.
Riga and his team ignored their seasons' series with the teams, where the Crusaders had a combined 2-4 record against the top two seeds they bested in the quarterfinals and semifinals.
"With every opponent we come up with a game plan and try to find their strengths and weaknesses and do things to kind of take advantage of those and take some of what they like to do away," Riga said.
"Going on the road, we were comfortable with that, we've played pretty well on the road and it was just one game at a time."
One game at a time ultimately lifted the Crusaders to two upsets in‌ increasingly impressive wins. Three third-period goals evened the series with AIC before an overtime thriller by Liam McLinskey ended a near 80-minute affair for the series win.
Six months ago, FloHockey pegged McLinskey as a potential game-changer for Holy Cross and he's living up to that potential. At RIT, he scored another overtime winner for the 1-0 victory in Game 1. The Crusaders showed they could hang with the best regardless of offense, defense, or time.
In Game 3, it was the offense that led the way. The Crusaders took the series with a decisive 5-1 win after a pair of empty net goals, the second of which came from none other than McLinskey.
The underdog story continues! #GoCrossGo pic.twitter.com/uyfI2HlRo7

— Holy Cross M. Hockey (@HCrossMHockey) March 12, 2023
"This is really his first year and he became a 200-foot player," said Riga.
"We always knew that he was a goal scorer and he just didn't have the opportunity with how good Quinnipiac was to be that guy."
McLinskey's postseason includes nine goals in six games, three of which stand as game-winners.
"It's a credit to him that in the big games, he's stepped up," Riga continued.
McLinskey and co. will look to stay red-hot as only one game stands between the Crusaders and a berth to the 16-team National Tournament. It's bound to be their toughest test yet.
"It's two teams that are playing well, are both on it at the right time," Griffins coach Trevor Large said of this week's championship matchup.
The Griffins have been among the hottest NCAA programs since the turn of the calendar, skating into the championship with a 14-5-1-2 record since Jan. 13—when they played their first game of 2023. They turned a bumpy fall semester around by revisiting their penalty kill, which was flirting with the worst percentage in the country.
"The penalty kill might be the most important thing for long-term winning," Large said, crediting his colleague and former NHL forward Daniel Paille with the adjustments.
"When you looked at our statistics on the penalty kill it was a problem, so we put in a lot of work."
Large believes that work is a driving force behind the Griffins resurgent 2023 and now that long-term success will face a test this weekend. The Crusaders' powerplay has converted five times over 21 chances during the postseason at a rate of 23.8 percent.
The Griffins have successfully killed off 82.6 percent of penalties this postseason.
On the other end of the ice, the Griffins' powerplay has been a strength all season and provided four goals in nine opportunities in their pair of semifinal wins over Niagara last week. But the Crusaders' penalty kill has been on point, having killed off 92 percent of penalties this postseason.
"We're aware of where they're having success," Large said on McLinskey fueling the Crusaders' recent run.
"Depth versus a line that's scoring a lot; either one of those can win a hockey game and that's why we're trying to do, we're trying to win a hockey game."
NOT. DONE. YET.#Griffs pic.twitter.com/eHLHvqW4B6

— Canisius Hockey (@GriffsHockey) March 13, 2023
And it's a hockey game most Griffins have experienced before. Nine skaters and netminder Jacob Barczewski return to the championship game after losing to AIC in 2021. But Large isn't drafting on that experience.
"I think anytime you get to this time of year, the focus—and I think has been very good for our team—is to be present," Large said regarding the 2021 loss.
"I think that's way more actionable."
---
Have a question or a comment for Jacob Messing? You can find him on Twitter @Jacob_Messing.