2023 Waterloo Black Hawks vs Fargo Force
USHL's Next Rising Coach: Meet Waterloo Black Hawks Head Coach Matt Smaby
USHL's Next Rising Coach: Meet Waterloo Black Hawks Head Coach Matt Smaby
Matt Smaby was hired in July 2021 to take over the head coaching role in Waterloo. He led the team to a 28-30-3-1 mark during the 2021-2022 season.
Mar 14, 2023
by Ryan Sikes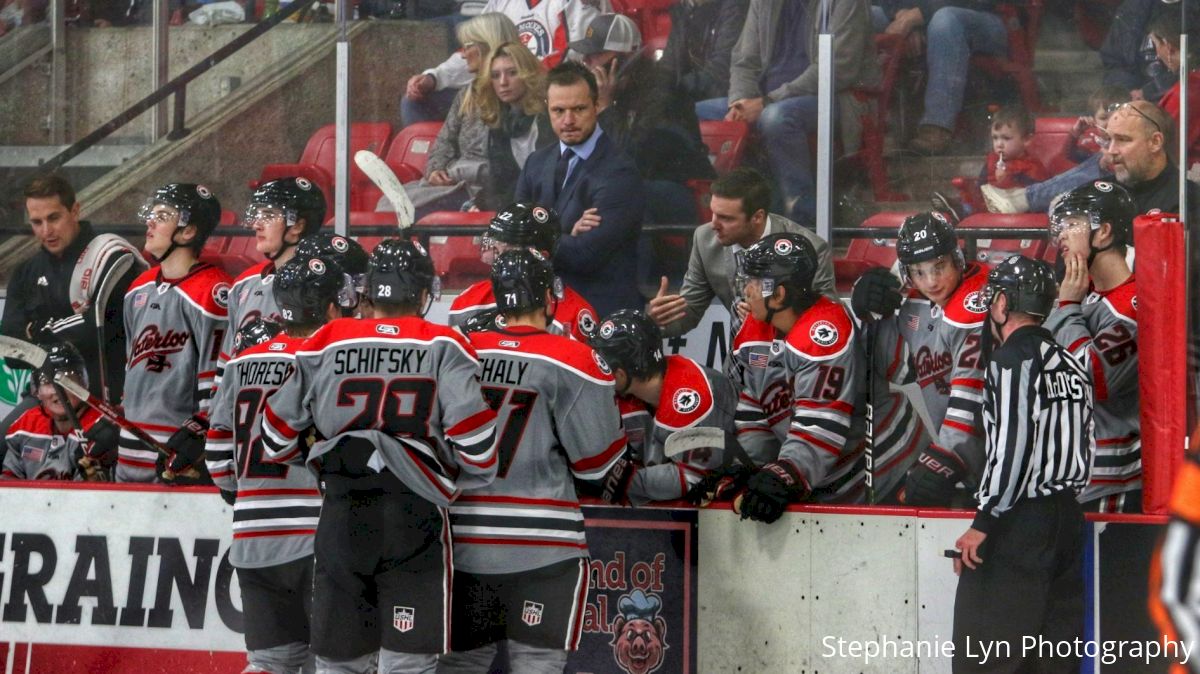 Some of the most esteemed hockey coaches started in the United States Hockey League.
Jon Cooper (Tampa Bay Lightning), Mike Hastings (Minnesota State University), Dave Hakstol (Seattle Kraken), and Mark Osiecki (University of Wisconsin), to name a few. It was in the USHL where they received the tools needed to succeed at the next level.
The league has a track record of producing NHL talent on the ice and also NHL talent behind the bench. Every year, there's always one coach on the fast track to the professional level.
Meet Waterloo's Matt Smaby.
The 38-year-old was hired in July 2021 to take over head coaching duties for longtime coach P.K. O'Handley, who moved exclusively into a front-office role.
Smaby guided the Black Hawks to a 28-30-3-1 record during the 2021-2022 regular season, securing the final spot in the Western Conference.
This year, he has Waterloo on the cusp of something special. His squad is one of the best teams, not only in the conference, but in the league, heading down the homestretch of the season.
FROM CHANHASSEN, MN...
YOUR USHL DEFENSEMAN OF THE WEEK...@RinzelSam!https://t.co/aWrWBcd03L

— Waterloo Black Hawks (@BlckHawksHockey) March 6, 2023
His path to get to this point was a whirlwind experience.
As a former second-round pick, 41st overall, of the Tampa Bay Lightning in 2003, Smaby frequently was up and down between the AHL and NHL. Early on, he wasn't sure if he wanted to stay in the game as a player.
He spent the last four years of his career playing across the pond in Germany. There, Smaby had terrific experiences with the coaching staff, quickly realizing that coaching was something he wanted to pursue.
"I could be like those (coaches) who can really foster the love for the game and teach a lot and treat people the right way and players the right way," he said. "I think when that light went off for me, I knew that was something I wanted to do for the rest of my life. I regained my love for the game and had such a great experience with those guys as my coaches. That's what I wanted to be and how I wanted to do things for younger players on the way up."
Even before he was done as a player, Smaby knew there was an opportunity for him to begin his coaching career at the University of North Dakota, his alma mater.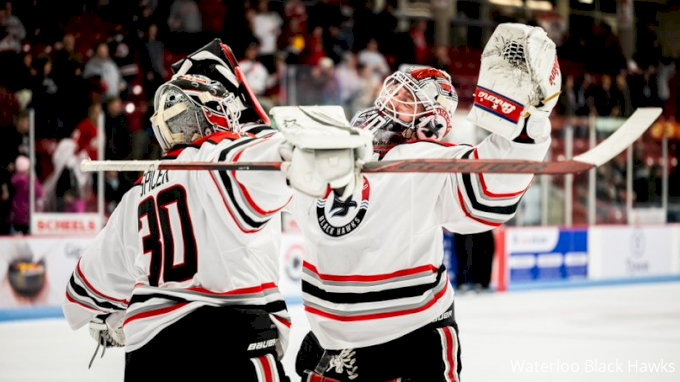 In three seasons with the Fighting Hawks, Smaby, a defenseman, accumulated 29 points (six goals, 23 assists), guiding North Dakota to a runner-up finish in the Frozen Faceoff championship game in 2005. In his final year on campus, he was named team captain.
Hired under the title "student manager," it was a chance for him to not only begin his coaching career but to get his degree, something he felt was important for him to finish.
After only two seasons with North Dakota, an opportunity came up with EC Salzburg of the Erste Bank Eishockey Liga (EBEL) in Austria as an assistant coach.
While it was great professionally to advance his coaching career, Smaby made the difficult decision of leaving his family behind in North Dakota.
"I spent all day every day at the rink, diving in and working on my craft, on the game of hockey and with the players," he said. "I feel really lucky to have a super supportive wife who knew and understood that this was my dream and was willing to make a sacrifice to make sure it happened. It was a tough year being away from them, but it was also a great year and a chance for me to really grow and get ready for the next step."
With Salzburg owned by Red Bull, Smaby knew expectations would be high.
Working under Matt McIllvane, the young coaching prospect developed an eye for details and ensuring things were done correctly, something he still credits for preparing him for where he is now.
After only a year overseas, Smaby jumped at the opportunity of a head coaching role in North America. He returned to North Dakota, taking on bench-boss duties for the Grand Forks Bantam AA squad.
The timing coincided with the start of the COVID-19 pandemic. Given the uncertainty, Smaby made a family decision to return home. Aside from all the challenges that came from the pandemic, testing and quarantining, he transitioned from coaching grown men to kids in their young teens.
"I approached every day like I would if I were back in Salzburg, or like I am now here in the USHL, and I really tried to work on my crafts and still help the kids and teach them and help them get better and really understand the game," Smaby said. "All that includes some of the things I feel are important, like being a good teammate, playing the team game and trying to get them to have a better understanding of hockey and what it takes to make it.
"I thought it was a really good opportunity that was a little different than the path I was expecting, but it was a great experience. I really feel lucky to have done it, because it forced me to become a better coach."
With a year of head coaching under his belt, Smaby connected with current Waterloo general manager Bryn Chyzyk, the director of scouting for the team at the time.
A conversation between the two former North Dakota players led to Chyzyk gauging Smaby's interest in a head coaching job at the USHL level. After receiving P.K. O'Handley's phone number, Smaby cold-called the four-time USHL Coach of the Year Award winner.
One lengthy conversation turned into a couple of long discussions about the game of hockey and gauging what Smaby was interested in. The process led to the Black Hawks formally introducing him as the team's next head coach on July 27, 2021.
In nearly two seasons as the team's head coach, Smaby has learned something new every day. He can't point to one specific thing he's learned the most. Instead, it's a few somethings he puts in his back pocket for next time. Learning moments, if you will.
That said, he's found that the most significant challenge thus far is the grind of a 62-game schedule.
"If you look at our schedule, we basically overlap with the NHL regular season, and it becomes a grind," he said. "Like, it's a long time. Finding ways to keep the guys engaged throughout the course of the year, not losing sight of the end goal, but also fixing problems that need to be fixed in the moment.
"I think having that experience of playing pro and knowing and understanding the wear and tear mentally and physically as the season goes on, it was a good thing for me.
"Having all that responsibility on your shoulders to make sure everything goes well, it's something that was new, having just gone through it the first time, and I think it better prepared me for getting ready for this season."
At the moment, Smaby is focused on the task in front of him with Waterloo.
Sitting in second place in the Western Conference, the Black Hawks have the roster and the coaching staff in place to make a long postseason run.
Much of the Hawks' roster hadn't started kindergarten the last time Waterloo came back from five second intermission deficits in the same season.https://t.co/sOZEMiV8jC

— Waterloo Black Hawks (@BlckHawksHockey) February 7, 2023
He'll continue developing the tools needed for if, and when, an opportunity arises to coach in the AHL or NHL. But there's something to be said about being present-minded and not looking too far into the future.
"I hope one day that the body of work I'm able to put together provides an opportunity for me to have some options," Smaby said. "But, for me, just focusing on what it is I have to do in the moment is going to put me in a better spot to be prepared if anything were to come up at some point."