2023 Orlando Solar Bears vs Idaho Steelheads
Veteran Matt Register Has Been A Key To Success For Idaho Steelheads
Veteran Matt Register Has Been A Key To Success For Idaho Steelheads
The Idaho Steelheads already won their division - and they still have 16 games left on their regular-season schedule. How have they been so successful?
Mar 13, 2023
by Mike Ashmore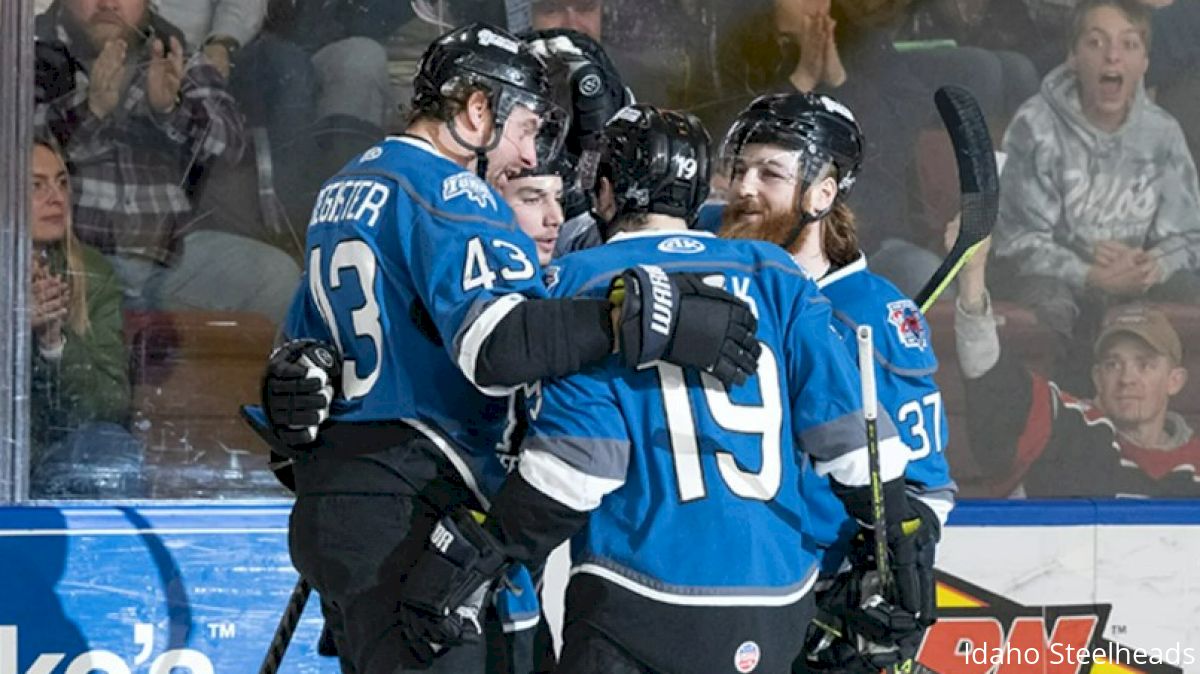 How well are things going for the Idaho Steelheads?
They clinched the ECHL's Mountain Division on Friday night with a 6-4 win over the Allen Americans, as seen exclusively on FloHockey.
They did so on March 10.
There are 16 games left in the regular season.
And Idaho already isn't just in the Kelly Cup Playoffs – the Steelheads are division champs.
So, how well? That well.
But how?
The recipe is a simple one on paper, but not quite as simple to execute in reality, with Steelheads head coach Everett Sheen having built his team from the back end out.
Three of the league's top 6 scorers among defensemen call Idaho home, not to mention two of the top 3 statistically qualifying goaltenders, Remi Poirier and Adam Scheel, have manned the nets in the Gem State this year.
The shot that secured the Mountain Division. 😎@RStealthy15 | #ReelSteel pic.twitter.com/lzHohnefIs

— XY - Idaho Steelheads (@Steelheads) March 11, 2023
Specifically, however, it has been the trio of defensemen driving the bus this year – Matt Register, Owen Headrick and Patrick Kudla – with Register, a three-time Kelly Cup champion and three-time ECHL Defenseman of the Year, serving as the team's key acquisition during the offseason.
After a year overseas in Europe with the Cardiff Devils, the 33-year-old future league hall of famer essentially could write his own ticket to anywhere he wanted this year, whether that be the ECHL or back on foreign soil.
"Honestly, it's been a few years recruiting him," Sheen told FloHockey in a one-on-one cell phone conversation. "But him and I, we go back. We were roommates for three years playing in Ontario, so I had a very good relationship with him. I tried a few times to get him to come over here, but he'd get a different offer or an American League two-way (contract), but after that year over in Europe, I just called him and said, 'Hey, you going to come play for me what.'"
After some brief negotiations and the usual business back and forth, Sheen got his guy.
Thus far, the previous relationship it took to bring in such a talent has paid big dividends for Sheen and his group.
Yes, Register has put together another award-winning-caliber season, which includes six goals and 38 assists in his first 56 games and a stunning league-leading plus-50 rating, but there has been something of a trickle-down effect with the younger blueliners, Headrick and Kudla, as both are having career years with Register by their side.
"He's definitely a big-time leader on the back end," Sheen said. "Guys know who he is and what he's done at this level, and they kind of learn from him."
Sheen is very familiar with Register's level of play and his ability to elevate those around him, but the time that has passed since they shared the ice and a living space gave Register a chance to develop into even more of a leader.
"From my time playing with him and living with him to seeing him now, it's amazing how much he's actually grown in that aspect," Sheen said. "Just that leadership role and showing the young guys how to be a pro day to day. He's been around so many teams, too, that he knows how to bring everyone together and create a close-knit kind of group, so that's gone hand in hand with the on-ice play."
📽 Head Coach Everett Sheen reflects on capturing the Mountain Division last night and looks ahead to tonight's matchup with Allen at 7:10 p.m. pic.twitter.com/j4fiak6hxi

— XY - Idaho Steelheads (@Steelheads) March 11, 2023
Register, to his credit, has been willing to take on the veteran leadership role with those younger players, all while still producing at an extremely high level in a move he says was as a "no-brainer" for him, given the reputation Idaho has been building under his old teammate's direction.
After a few conversations over the summer, things started to fall into place.
"From the core group that was coming back, I knew that it could be a special season, and kind of a breakout season for Idaho," Register said. "They'd never really been able to get up over the hump for that last little while and couldn't get out of the first or second round. I know Everett coming in and taking over as head coach, he's a detail guy and expects a lot from his players with guys coming in and working hard every single day. Once more of those pieces of the puzzle started coming together, I knew this could be a very special group."
It didn't take long for the team to gel, and they've only picked up steam as the season has progressed.
Similarly, to Sheen's credit, he's allowed Register to have the kind of influence on the team that he's undoubtedly earned with his vast accomplishments in the league to help accelerate that process.
"I love working with these younger guys, and there's a lot of potential," Register said. "Our back end, I don't think I've ever played on a back end as powerful as this one. We have all the tools to have a really deep playoff run, and it's been a lot of fun to be a part of."
A check in with the Record Books and we have a New Leader! 📖
Matt Register passes Darrell Hay and others as the Defenseman with the most assists in a single season throughout the ECHL era.
Congrats Reggie! 🤩 #ReelSteel pic.twitter.com/XvWOVdT3lD

— XY - Idaho Steelheads (@Steelheads) March 11, 2023
Register's experience, numbers and past success garnered attention and created hope for the season, if nothing else, but he said he does feel a level of respect from the team based on those things and that they're willing to hear what he has to say.
But it's a mutual respect, and that has helped the team reach the heights it has so far this year.
With Register's presence serving a big role, the Steelheads have built the league's best D core, which is something Sheen says was a goal of his for offseason, though he wasn't quite sure how it all would play out once the games began.
"We definitely targeted guys who can produce from the back end," Sheen said. "Our style of play is really a five-man system, and in order for that to work, you need defensemen who can drive offense from the back end. Sure, you can have offensive defensemen who aren't very good in their zone, but I think we have a very good mix of offensive defensemen who are very good at getting the puck back, so we don't spend a lot of time in our zone. Once we're out of our end, we're dynamic, we're a threat every time we're in the O zone. That was definitely a target – D-men who could skate, had defensive instincts, but also could defend."
While plus/minus largely never is a good all-encompassing stat for player evaluation, outliers such as the plus-50 in Register's case are indicative that he's met all of those requirements and then some this season.
"It still kind of baffles my mind a little bit," Register joked. "It's a crazy number...that number has just been growing over time. I might have finished plus-20 once in my career, but I've never been anywhere near this. I think it shows I can still be trusted after 12 years in the league, and I take a lot of pride in that."
With that box inarguably checked, another problem – a good one to have, regardless – arises.
With little to play for in the regular season, other than trying to make sure home ice is secured for the duration of what they're hopeful will be a long run in the postseason, Sheen is left to figure out just how hard to try to attack winning a Brabham Cup, as he balances rest versus staying sharp for veterans like Register.
"At this point in the season with where we are, (the Brabham Cup) is definitely a goal of ours, and something that we're striving for," said Sheen, whose team entered Saturday's games nine points ahead of the Toledo Walleye for the number one seed in the West. "You still have to have those targets. You'd be hard-pressed to coast into the playoffs. That's where you get upset and when you're not prepared."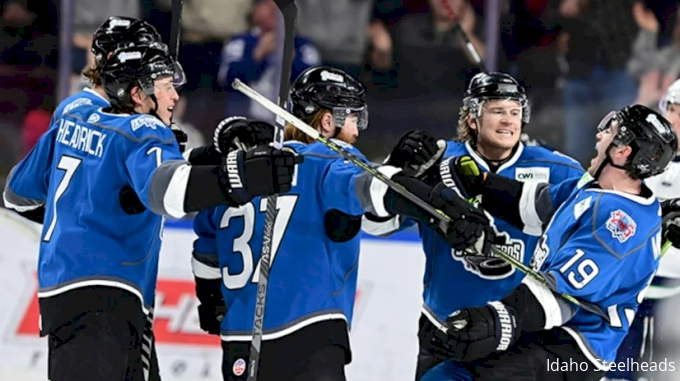 Ultimately, the team has put in the work and stayed focused. The group also is deep and talented and confident in each other's abilities.
There are some interchangeable parts, too, so if Sheen can find the right balances, he's confident the team will continue to excel.
"If we don't get it, it's not the be-all, end-all, but being in the position we are, we can chase down some history, which all of our guys are fully aware of," Sheen said. "It's one of their goals. So, it's feeling out their mindset, but in the same breath, we have such a deep group that believes if I sit Matt Register, we're still fine, and we have guys who can step in and fill that void for a game or two. But there definitely will be a balance between making sure we get the rest and putting our guys in positions to succeed and continuing to win."