2023 Iowa Heartlanders vs Cincinnati Cyclones
Mark Sinclair Has Made Fast And Furious Move Into ECHL Spotlight
Mark Sinclair Has Made Fast And Furious Move Into ECHL Spotlight
Mark Sinclair has been one of the best stories in the ECHL this year, emerging out of relative anonymity to play a key role on one of the best teams.
Mar 13, 2023
by Mike Ashmore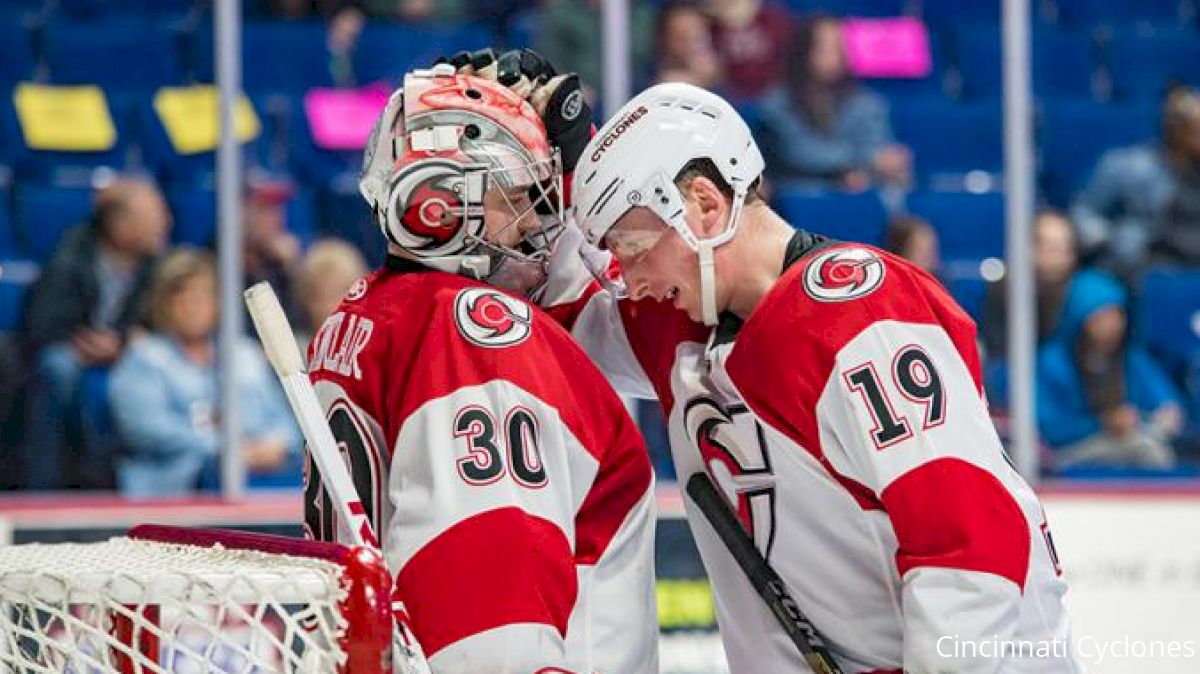 It can be a bit difficult to find information on Cincinnati Cyclones goaltender Mark Sinclair.
A simple Google search returns plenty of results, sure, but mostly on actor Vin Diesel, who has long since abandoned his real name for a more marketable moniker. This is something teams have around the league have used to poke some good-natured fun at the 27-year-old hockey standout.
He simply deflects it away, another easy save in a season where he seems to have made many of them.
Sinclair has been one of the best stories in the league this year, emerging out of relative anonymity to play a key role on one of the ECHL's best teams and put his name on the radar for teams looking to add a goalie on a two-way American Hockey League deal for next season.
It all started at the tail end of last year, when the Hamilton, Ontario, native had just wrapped up a circuitous collegiate career that saw him finish up with Michigan Tech, seeing just 11 games with them over two seasons. He had transferred from the University of Alabama-Huntsville, where he served as a two-year starter.
Was he worried about what his opportunities to play after college might look like?
"Actually, yeah I was, for sure," Sinclair told FloHockey via cell phone. "I was hurt for the first half of the year, and then when I came back, Blake (Pietila) was playing really well, and our team was doing really well. We made it to the national tournament and stuff, which was awesome to see and cool to be a part of, even though I wasn't really playing. But I was worried for sure.
"I was just hoping to keep playing after college, and I guess they ran into some injury problems here then and needed a guy, so (head coach) Jason (Payne) gave me an opportunity to come here, and I got a few games in and got to see what it was like to experience a little bit of pro hockey for a bit."
After what essentially amounted to a two-game tryout last season, Sinclair was re-signed this year to form a tandem with AHL-contracted goalie Beck Warm, and the two have emerged as one of the league's best pairs in net, helping to lead the Cyclones to a 34-12-6-3 record that has them all but surely set to clinch a Kelly Cup Playoff berth well before the end of the regular season.
Sinclair says he had good conversations with Payne at the end of last season and was hoping to come back, but wasn't sure if it would be a reality.
Now, he's statistically outplayed Warm – albeit in a smaller sample size, posting a 2.57 goals against average and .916 save percentage in 23 games, compared to Warm's 2.83/.902 mark in 35 contests – in a run that's been particularly impressive, while he's worked to get back into the rhythm of simply getting to play consistently again.
"When I was in Huntsville, I got to play quite a bit, which was nice, but any hockey player – goalie or not – you just want to play games," Sinclair said. "When you're just kind of sitting there, you still enjoy the time with the guys, but you always want to be playing. It was nice to get here, and you play a 72-game season, so you're going to need both guys."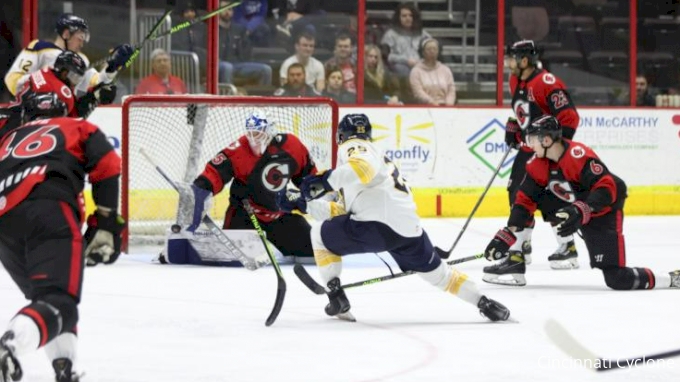 Being able to share the role with an experienced player has helped Sinclair learn and develop. He has benefitted from seeing how Warm approaches things, plays and takes care of himself during the long season.
They're able to push each other, too, which ultimately has contributed to the team's successful year, which they hope continues. But how far can they go?
That remains to be seen.
Warm and Sinclair both likely will see action in the Kelly Cup Playoffs, and the focus shifts towards keeping their eyes on the prize sooner, rather than later.
"I just want to try to give my team the best chance to win as I can whenever I'm in there," Sinclair said. "Hopefully, we keep rising in the standings here, get some wins and get into that top spot heading into the playoffs."