2023 Ferris State vs Minnesota State - Men's
A Look At The Upcoming CCHA Semifinal Matchups
A Look At The Upcoming CCHA Semifinal Matchups
The Mason Cup semifinals are upon us. Expect a barnburner in the early game and a stern statement in the later game.
Mar 10, 2023
by Tim Rappleye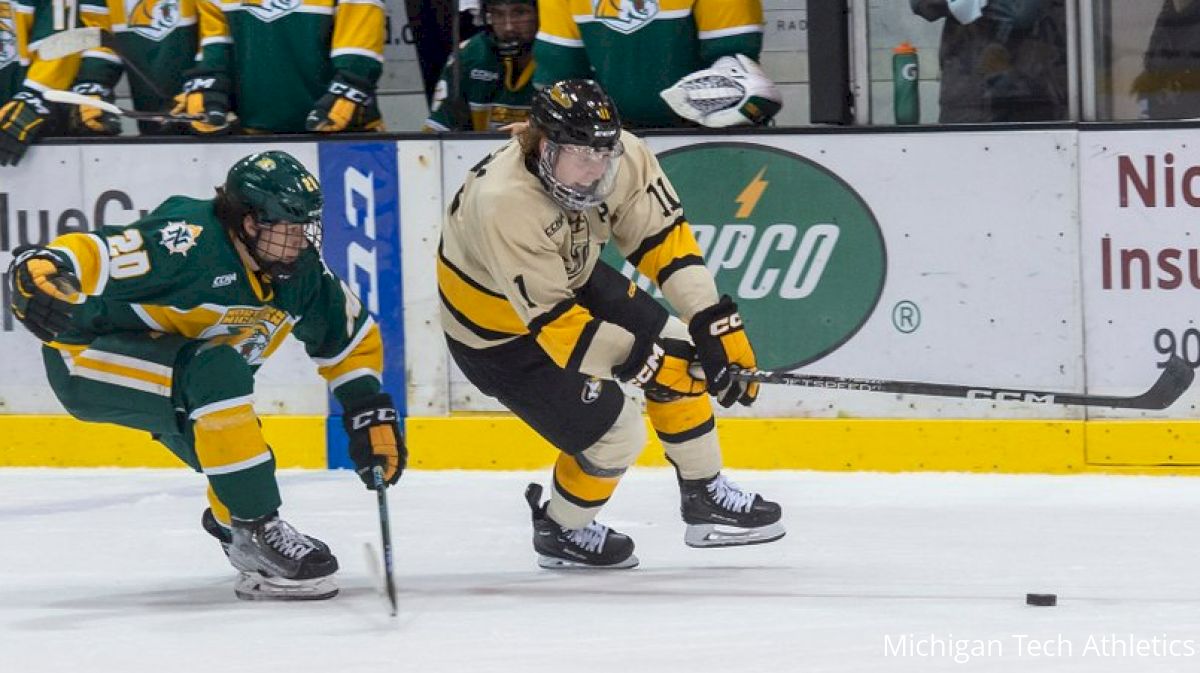 The Mason Cup semifinals are upon us. Expect a barnburner in the early game and a stern statement in the later game.
Semifinal 1: No. 4 Northern Michigan Vs. No. 2 Michigan Tech
It sure feels like Christmas in Michigan's Upper Peninsula.
The CCHA's version of March Madness has the entire hockey-mad region counting the hours until Saturday at 6 p.m. Eastern, when the shiniest present of all is opened at the drop of a puck – one game, single elimination.
It is the most sought-after hockey ticket of the season. The demand of two fan bases greatly outstrips the supply of seats at MacInnes Arena.
Adding to the tension is that third-party ticket agency, AudienceView, crashed Monday, forcing a temporary halt to purchases.
Tech SID Cal Larson was summoned on to local radio Monday to tell fans that they must get to the box office pronto, if they wanted to guarantee their seat locations. To fans, coaches and media, the clock gets louder as we get closer to Saturday, tick . . . tick . . . tick.
Michigan Tech head coach Joe Shawhan jumped on the microphone moments after Larson, eager to fulfill his weekly obligation, and he was full of compliments for his arch rivals.
"I have tremendous respect for them . . . I picked them [NMU] to win the league at the beginning of the year," Shawhan said.
His comments earlier in the year, however, reveal other sentiments.
In the middle of the season, he praised the talent of the offense-minded Wildcats, saying they were the product of their wide-ice home rink, and they had the tendency to "cheat" toward the offensive side of the puck.
During Tech's bye two weeks ago, Shawhan conceded that he couldn't bring himself to watch Northern's demolition of Ferris State, implying there was no defense being played.
On first blush, Tech and Northern is a classic matchup of irresistible force (NMU) against the immovable object (Tech). Offense versus defense. Yin vs yang.
That characterization no longer is the case. Northern proved on Saturday – and Shawhan has studied the video this time – that it can hang with the big dogs in a defensive battle.
"We've become a tougher team," NMU coach Grant Potulny said.
Tough, as in taking a hit to make a play, blocking shots to drastically improve its penalty kill and converging on the faceoff dot to win crucial possession battles.
The question now becomes, can NMU's exceptional rookie goaltender Beni Halasz be able to outduel his Tech counterpart Blake Pietila? It's the toughest task in college hockey.
The latest reincarnation of "Mr. Zero," Pietila has been virtually impenetrable on Fridays this season, and that's no coincidence.
The senior superstar has pitched nine of his 10 shutouts this season armed with a week's rest.
Due to the fact that Tech swept a stubborn St. Thomas club, Pietila will have an additional day of rest when the puck drops on Saturday. Should he manage another shutout, he will stand alone as the CCHA's king of zeroes for a single season.
thanks! we have an updated version. pic.twitter.com/fIK2pzH3ue

— CCHA (@CCHAHockey) March 4, 2023
Northern will not go quietly.
The Northern Michigan roster includes multiple scorers who can cleanly beat mortal Division I goalies, pure snipers from all over the planet: Andre Ghantous (Los Angeles), Artem Shlaine (Moscow), A.J. Vanderbeck (Colorado) and Joey Larson (Detroit). They will all get chances to break the veneer of invincibility Pietila exudes.
Shawhan knows he cannot match the pure talent that lies 90 miles to the east.
Tech will try and counter all that skill with a supreme goalie and a singularity of purpose.
"We rely on goaltending and chemistry," Shawhan said. "One heartbeat within the room."
Prediction: Tech wins in a low-scoring affair, adding the empty-net goal for a 3-1 win.
The Mason Cup semifinals are upon us. Expect a barnburner in the early game and a stern statement in the later game.
Semifinal 2: No. 6 Ferris State Vs. No. 1 Minnesota State
There is a plausible narrative for a stirring Ferris State upset Saturday night.
First, the athletic department has granted the Bulldogs a flight, instead of a leg-numbing 10-hour bus ride.
Too early for Schleps.....not Brad though! Wheels up to St. Paul! pic.twitter.com/BCi6cnV6w7

— Ferris State Hockey (@FerrisHockey) March 9, 2023
Next, goaltender Noah Giesbrecht has fought through his February slump and returned to excellence.
Finally, coach Bob Daniels already has coached this team to two victories in Mankato, giving his squad all the confidence necessary to advance to its first league championship game in seven years.
Sadly, for Ferris fans, this narrative will prove to be a fairy tale.
Minnesota State is not just CCHA regular-season champion, the team also is a national power, possessing a roster full of college hockey rock stars who have been through the wars under the hottest lights of April.
Last Saturday, it was senior Ryan Sandelin who proved to be Mr. Clutch in the late moments of a tie game with Lake State.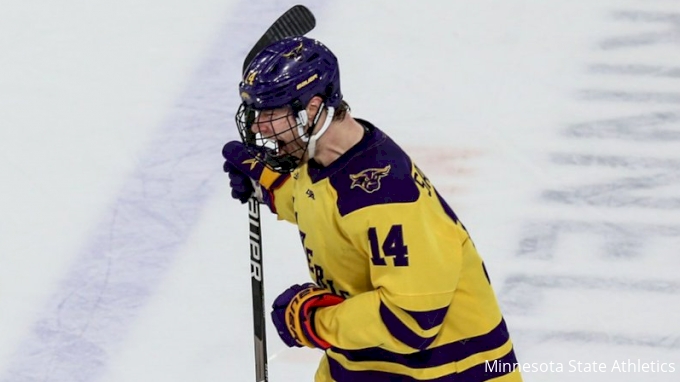 Over the weekend, the Mavericks solved not one, but two, of the hottest goalies in the CCHA. They defeated both Ethan Langenegger and Seth Eisele.
The biggest buzzkill of all for the Ferris fortunes is the Minnesota State power play.
MSU has converted on seven of its last 13 attempts, a shocking 54% efficiency in the last three games.
Daniels stated on Tuesday that his biggest fear is taking penalties this weekend, and with good reason.
In terms of goaltending, Mavericks sophomore Keenan Rancier has put together an excellent body of work in the second half of this season, shrinking his goals-against average and expanding his save percentage into contention with the national leaders.
MSU will do its part to provide college hockey fans with the enticing rematch with Michigan Tech.
One final note on this series – Minnesota State is playing for its season, perilously close to the cutoff for the national tournament.
When they were shocked at home in the semifinals two years ago by Northern Michigan, they were playing with proverbial house money, having clinched an NCAA berth weeks earlier.
Mike Hastings' men in purple will be a desperate bunch Saturday, however – a band of hardened and talented warriors playing for their lives.
Mavericks take on the Bulldogs in the CCHA Semis Saturday night. @MaryRomingerTV has this week's Maverick Minute presented by @dunkindonuts pic.twitter.com/txV17W1KLI

— Minnesota State Hockey (@MinnStMHockey) March 10, 2023
Hats off to Daniels for getting his Bulldogs to the Mason Cup semifinals, but the clock will strike midnight on their Cinderella run Saturday around 8:20 p.m. Central. They will run smack into a national contender in a hostile building, and MSU is looking to right the wrong of the team largely responsible for its Pairwise plight.
Prediction: To quote Brooklyn's Louie "The Lock" Aidalla once again, if you choose to wager on this game, take the favorite, "All you want." Meaning, feel free to risk your house, your car or your mortgage on the Mavs. The "Ole" song will play early and often in Mankato Saturday.