2023 Lake Superior State vs Minnesota State - Men's
A Look At The Upcoming CCHA Quarterfinal Matchups
A Look At The Upcoming CCHA Quarterfinal Matchups
It's here, hockey's version of March Madness, earlier and richer than its more ballyhooed sibling college hoops - the CCHA's Mason Cup Playoffs.
Mar 3, 2023
by Tim Rappleye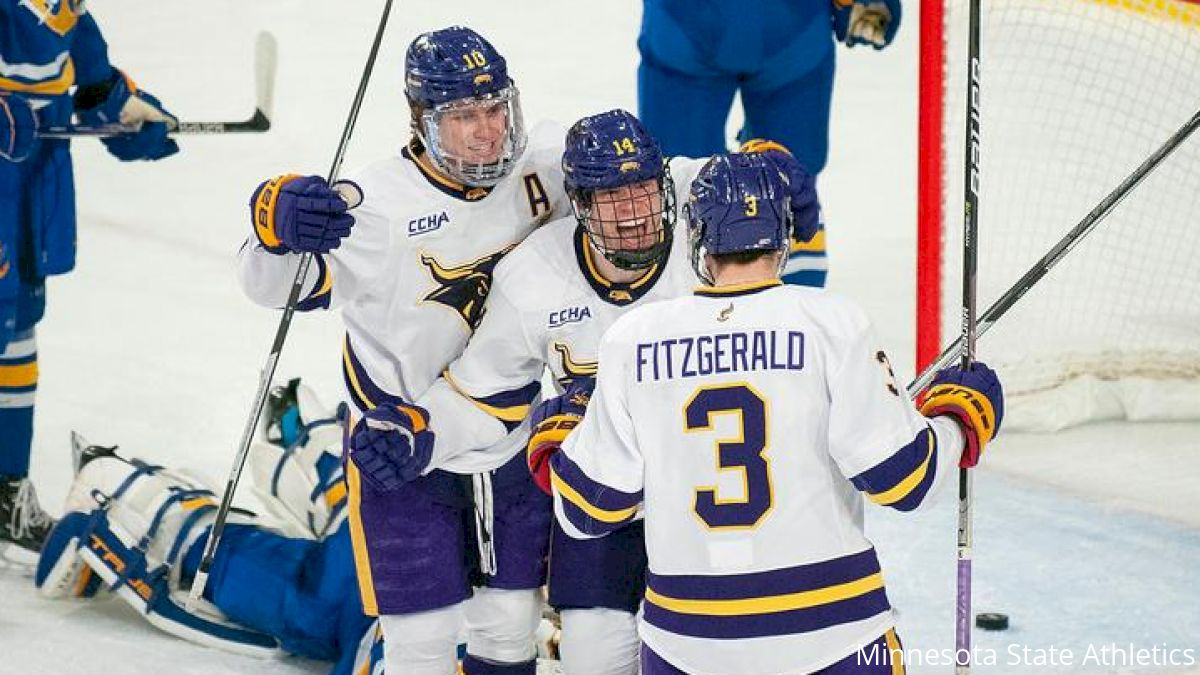 It's here, hockey's version of March Madness, earlier and richer than its more ballyhooed sibling college hoops.
Conference tourneys like the CCHA's Mason Cup Playoffs represent the equivalent of early-round games of a 64-team bracket. Nearly every CCHA quarterfinal series is a life-and-death affair, starting with MacNaughton Cup champion Minnesota State hosting Lake Superior State.
The numbers preceding the team names are the CCHA Tournament seeds.
No. 8 Lake State Vs. No. 1 Minnesota State
On paper, this series is an afterthought, with a perennial national power hosting this year's CCHA cellar dwellers. But such thinking could be fatal to MSU's season.
Due to Minnesota State's dismal December, they are stuck precariously on the NCAA bubble, and a loss to Lake Superior in this CCHA quarterfinal will find the Mavericks out of the national tournament for the first time since 2017.
They must park their giddiness from last Saturday's trophy romp and get back to business.
Lake State is armed and dangerous. The Lakers just swept a Ferris State club that was desperate to claim home-ice.
LSSU's stopper in goal, Ethan Langenegger, has the best save percentage in the league since Jan. 14 with a startling .943 mark, five points higher than Blake Pietila over that same period (courtesy Harrison Watt of Ferris State).
Langenegger owns a shutout against the Mavericks from last season and is playing the best goal of his life.
"He's on a hot streak right now," MSU coach Mike Hastings said of Langenegger. "We're going to have to get to the net and stay there."
When it comes to scoring, the cavalry is arriving for Minnesota State.
After more than a two-month absence due to injury, Lucas Sowder has scored enormous goals in both of his first two series back.
Lucas Sowder gets No. 11 @MinnStMHockey on the board late in the 2nd!

Watch live on @FloHockey
💻: https://t.co/WoFCBfUAul #CCHAHockey pic.twitter.com/3fwdBxF9Im

— CCHA (@CCHAHockey) February 26, 2023
"He had an impact in the most important game of our season," Hastings said about Sowder's power-play goal Saturday. "He's someone we trust . . . also Josh Groll was cleared to play on Monday. Hopefully, both those guys will make an impact this weekend."
In the special teams breakdown, Minnesota State leads the conference with a 26.5 power-play percentage, including a 3-for-4 master class Saturday that torpedoed Michigan Tech.
Lake State's propensity to take "ill-conceived" penalties may prove to be the downfall this weekend for the Lakers.
Prediction: Lake State will give the Mavericks fits for at least one night, maybe even force overtime, but Minnesota State is in postseason mode and should dispatch the pesky Lakers in two games.
No. 5 Bemidji State Vs. No. 4 Northern Michigan
As expected, this 4/5 matchup is the most compelling in terms of parity.
Home ice was determined on the last day of the regular season, as Northern Michigan went on a 6-1 tear to snag the honor at the wire.
Despite Bemidji's reputation as a team that plays playoff-style hockey in perpetuity for 22nd-year coach Tom Serratore, it is Northern that should be favored in this quarterfinal.
The Cats' plethora of veteran scorers had them ranked second in the CCHA preseason poll, and they've finally reached their potential in recent weeks.
Along with Bemidji's supreme rookie Lleyton Roed, Northern's player of the month, Andre Ghantous, is a major reason to watch this weekend. He always has been an elite distributor, but in recent weeks, Ghantous has found a killer scoring touch, including this long-range snipe last Saturday again Bowling Green:
Andre scores his 10th of the season. #NMUwildcats #ShareNMU pic.twitter.com/UlSrA6JjS9

— Northern Michigan Hockey (@NMUHockey) February 26, 2023
In a rehearsal of roles, it's now Northern that is the CCHA's stingiest penalty-killing club of late, having snuffed out 27 of their opponents last 28 attempts.
"It takes heart and guts," said coach Grant Potulny of the killing craft. "We're turning into a tough team."
His Cats also are averaging five goals per game over their last six contests. As is his mission every season, Potulny has the Cats playing well at the right time of the year.
Prediction: To the delight of fans everywhere, offense rules this series. Look for Northern to sweep the Beavers and advance to the conference semis for the fifth time in Potulny's six seasons.
No. 7 Ferris State Vs. No. 3 Bowling Green
No one in the CCHA scores as much as Bowling Green.
In the words of Brooklyn's sports savant Louis Aidala, "Look it up."
Bowling Green has scores 110 goals in 34 games, which tops the charts.
If success in college hockey truly is what they say – a race to three goals – then Ty Eigner's Falcons have a decided edge in most games.
So much is made of BGSU's player-of-the-year candidate, Austen Swankler, but don't be surprised if his running mates Nathan Burke (17 goals), Ryan O'Hara (29 points) and Ethan Scardina (11 goals) bury daggers into the Ferris twine this weekend.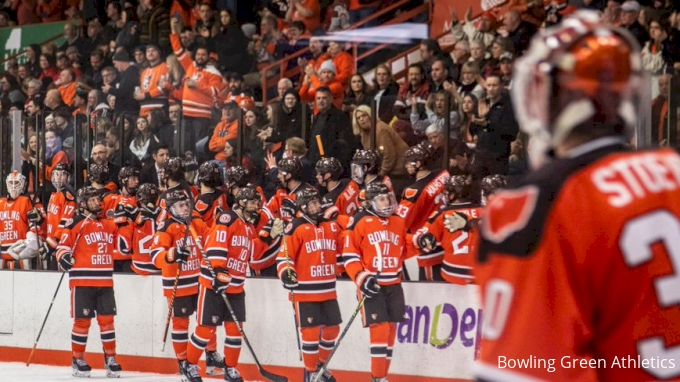 It's a terrible time for Ferris State's elite goalie, Noah Giesbrecht, to be slumping, but that is a cold, hard fact. A day after climbing to the top of the CCHA leaders with a .930 save percentage on Jan. 13, the Bulldog stopper has been anything but, going 2-7-1 and seeing his once-lofty save percentage plummet to a pedestrian .906.
Prediction: Red-light alert at the Madhouse, as Bowling Green takes out its frustration on the slumping Bulldogs. A sweep for the brown and orange.
No. 2 Michigan Tech Vs. No. 7 St. Thomas
Led by passionate coach Joe Shawhan, Michigan Tech hockey has circled the wagons following its excruciating loss to Minnesota State last Saturday.
Ordinarily one of the most available coaches in hockey, Shawhan's interviews – whether it be Saturday night's post-game efforts or Monday's weekly radio show – have gone dark.
This week, fans and media have but a single Tweet for public dissection, one with a cryptic reference to the Super Bowl:
On behalf of @mtuhky congrats to @MinnStMHockey on winning the McNaughton Cup. From the Coaches Challenge to the late power play goal they executed when needed, as did we.
To our fans, let's learn from the Super Bowl. It was a great hockey game despite the controversies.

— Joe Shawhan (@jrshawha) February 27, 2023
Shawhan's club now has a gigantic chip on its shoulder, which may be useful in a championship rematch with Minnesota State, but they must win two rounds in the Mason Cup Playoffs to get there, which is no easy task.
Tech boasts the best Pairwise ranking in the CCHA, but there may be a chink in their armor.
When we last saw heralded goalie Blake Pietila, he was getting beaten high to both the blocker and glove sides. The entire league has gone to school on that video, and there is no doubt the Tommies will be firing top shelf this weekend.
Since September, Shawhan has touted the strengths of Division I newbie, St. Thomas.
In what appeared to be a self-fulfilling prophecy, Rico Blasi's Tommies came to Houghton in January and pushed Tech to the limit. They split the series, and for long swaths of time, appeared to be the team better suited for postseason puck battles.
STU's leading scorer Mack Byers, a three-year CCHA veteran after transferring from NMU in 2021, is a clear-and-present danger to the Huskies (six points/two goals in his last six games played).
Before reading too much into their January series, remember that Tech lost to St. Thomas without 6-foot-5 centerman Arvid Caderoth, the most reliable faceoff man in black and gold. All three of STU's goals in their January victory came off a Tech loss in the circle.
Prediction: Tech will get a scare this weekend. It is impossible to out-will the Tommies for six straight periods, forcing Shawhan to taste defeat at the hands of Blasi in his own building, yet again. But only once. In a gripping series, look for Tech to survive and advance.