ECHL - Eastern
Pavel Gogolev Reacts To Trade To Blackhawks, Leaving Newfoundland Growlers
Pavel Gogolev Reacts To Trade To Blackhawks, Leaving Newfoundland Growlers
Part of the trade package the Toronto Maple Leafs sent to Chicago for Jake McCabe and Sam Lafferty, Pavel Gogolev shares his thoughts with FloHockey.
Mar 1, 2023
by Mike Ashmore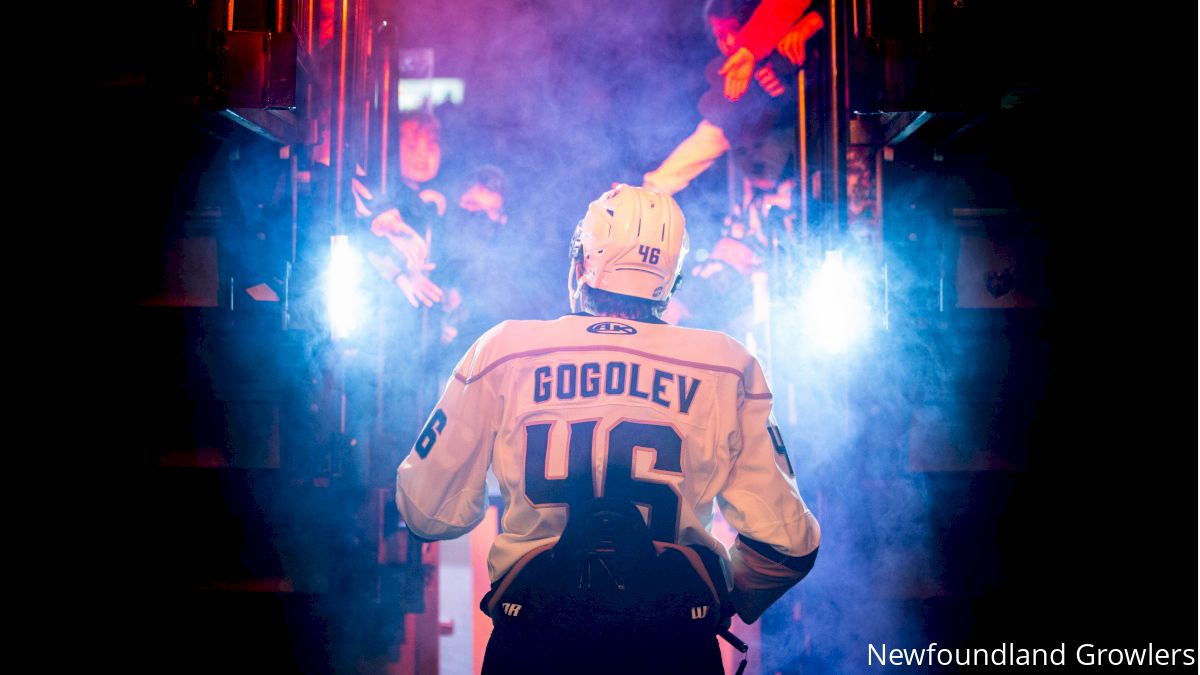 Pavel Gogolev's suggestion for Chicago Blackhawks fans who were looking to find out just what kind of player they were getting in Monday afternoon's multi-player deal with the Toronto Maple Leafs was one that FloHockey viewers certainly will appreciate.
In short? Look at some highlights.
🚨 GOAL 🚨

PAVEL POWERPLAY GOALGOLEV 🚀#STANDonGUARD pic.twitter.com/S6NgKuPqqp

— Newfoundland Growlers (@NLGrowlers) December 10, 2022
The just-turned-23-year-old Moscow native – who is confident that you'll see his skill and hockey IQ shine through in the multitude of clips that are available online – has created plenty of them this season in a breakout year with the ECHL's Newfoundland Growlers. He scored 21 goals and added 27 assists in just 33 games before an undisclosed injury, that he was just getting set to return from, sidetracked the 6-foot-1, 197-pound winger.
Now, he's set to play his first games since early February with the American Hockey League's Rockford IceHogs after being sent to their parent club along with Joey Anderson and multiple draft picks in exchange for Jake McCabe, Sam Lafferty, and two conditional selections in upcoming drafts.
Ironically enough, he met his new teammates in Toronto, as Rockford is set to play there against the Marlies on Wednesday night.
We have another trade to announce ‼️ pic.twitter.com/d0mGU8wmBY

— Chicago Blackhawks (@NHLBlackhawks) February 27, 2023
"It's been pretty crazy, honestly," Gogolev said in a one-on-one cellphone chat with FloHockey. "When I found out yesterday – and of course, I found before the trade was announced – I'd been on the phone with many people between like 2:30 p.m. to like 7:30 p.m."
That was just a prelude to Gogolev's whirlwind of a Tuesday which began with an alarm at 3 a.m. He then boarded a 6 a.m. flight in Newfoundland that arrived in Toronto at 8 a.m. Up next, it was a quick stop at his own apartment in Toronto to drop a few things off before going to the arena. Gogolev met up with some familiar faces and friends nearby for a quick chat and then it was off to meet his new team.
"Got to know the guys, my new teammates, the coaches, the staff, just everyone around, but it's been a crazy I'd say 28-30 hours or so," Gogolev said.
Gogolev is unlikely to play in the game in Toronto, having just had his first practice with the IceHogs on Tuesday. He says the plan is for him to continue to receive treatment on his injury over the next several days, practice again on Thursday, and hope his body feels good so he can debut either Friday or Saturday.
This won't be Gogolev's first go-around in the AHL as he spent parts of the last three seasons with the Marlies after signing with the Maple Leafs as an undrafted free agent. He earned that NHL deal after a stunning year in the Ontario Hockey League with the Guelph Storm, where he posted a 45-51—96 line in 63 regular season games.
The trade returns him to a level he knows he belongs at as a veteran of 45 AHL games with 20 career points to his name.
"I was kind of hoping for [an AHL recall] when I did get sent down to the Growlers, but then after a couple weeks, I'd never heard anything," he said. "I'd hear some news, but never really for sure. I had committed to be a Growler and stay there for the playoffs and everything, but yesterday the trade came up, and I didn't know what to think, really.
"I didn't know if it was good or bad, but I feel this is a good opportunity for my hockey career. I've heard a lot from Chicago itself, and they've said it will be a good opportunity, so I'm open to receive that opportunity, and I know I'll take advantage of it."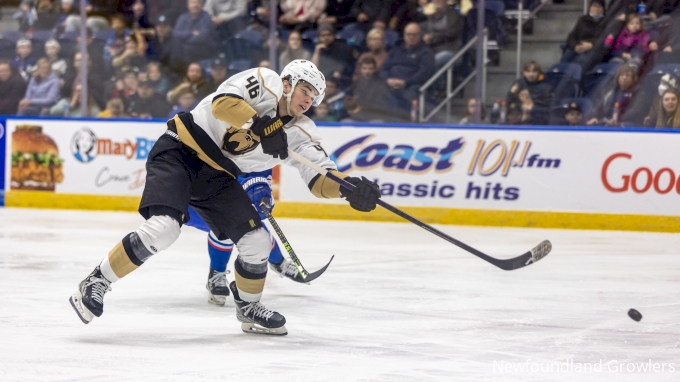 As much as a new opportunity will perhaps open some doors for the skilled winger, he's leaving some of the familiarity that helped contribute to his success at the ECHL level this season.
Returning to Newfoundland, where he scored nine goals in just 14 regular season games last year and then added three more in the Kelly Cup Playoffs, provided the right atmosphere to help him find that spark in his game again.
"It's definitely good when you already know the guys and know the coaches," he said. "But for the confidence, [playing in Newfoundland has] definitely been good. You're playing with skilled players, you're on the power play, you're playing a lot of minutes."
He converted those big minutes into the most productive season he's had as a professional. The 1.45 points per game he had been averaging in the ECHL was fourth-best in the league among players with a minimum of 15 games played.
Having a good team around him was just one aspect that helped contribute to his success though. As most players who skate in St. John's will tell you, atmosphere and fan support are both major perks of the job and help lead to more on-ice success.
"It's been great and been fun playing at home for sure when you get a lot of fans in and people coming to the games with that energy at the rink. It's honestly been amazing," Gogolev said.
🚨 GOAL 🚨

PAVEL PUTS THE 🐶 ON TOP!!!#STANDonGUARD #STANDonGUARD pic.twitter.com/4CquQfOXUi

— Newfoundland Growlers (@NLGrowlers) January 14, 2023
Now Gogolev feels a bit of an energy burst from what he has in front of him. Starting with Rockford allows him to prove himself in a new organization with a clean slate. The NHL dream is alive and well for Gogolev and being in the AHL gets him one step closer.
"I've been having fun and enjoying myself, and it's been paying off," he said of how he's played this season. "Hopefully that transitions to the AHL level. And then if I do get an opportunity, it can transition to the big league, which I definitely still believe in. But it all starts from the opportunity, and when I'll get it and if I'll get, I know I'm capable of taking that opportunity and using it."
As he takes this next big step in his career, Gogolev knows what he's leaving behind. As a big piece for a team that has emerged as one of the favorites in the Eastern Conference, he's sad to miss out on an opportunity to perhaps help bring the trophy back up north.
"I did believe in this group, and I still do," he said of his now former teammates with the Growlers. "I'm definitely part of a different organization right now, but I texted all the guys and everything, and I definitely believe that they will be taking the Kelly Cup home to Newfoundland.
"It's a bit difficult to leave that, knowing we had a high chance of winning the Kelly Cup, and me being a part of it. But now, for my career where my goal is to play in the NHL, I feel this is a really good opportunity to make it and get the opportunity I need."