ECHL
Evaluating the Sharks' Return In Timo Meier Trade With New Jersey Devils
Evaluating the Sharks' Return In Timo Meier Trade With New Jersey Devils
Prospects analyst Chris Peters evaluates the return the San Jose Sharks got for trading Timo Meier, including a scouting report on Shakir Mukhamadullin.
Feb 27, 2023
by Chris Peters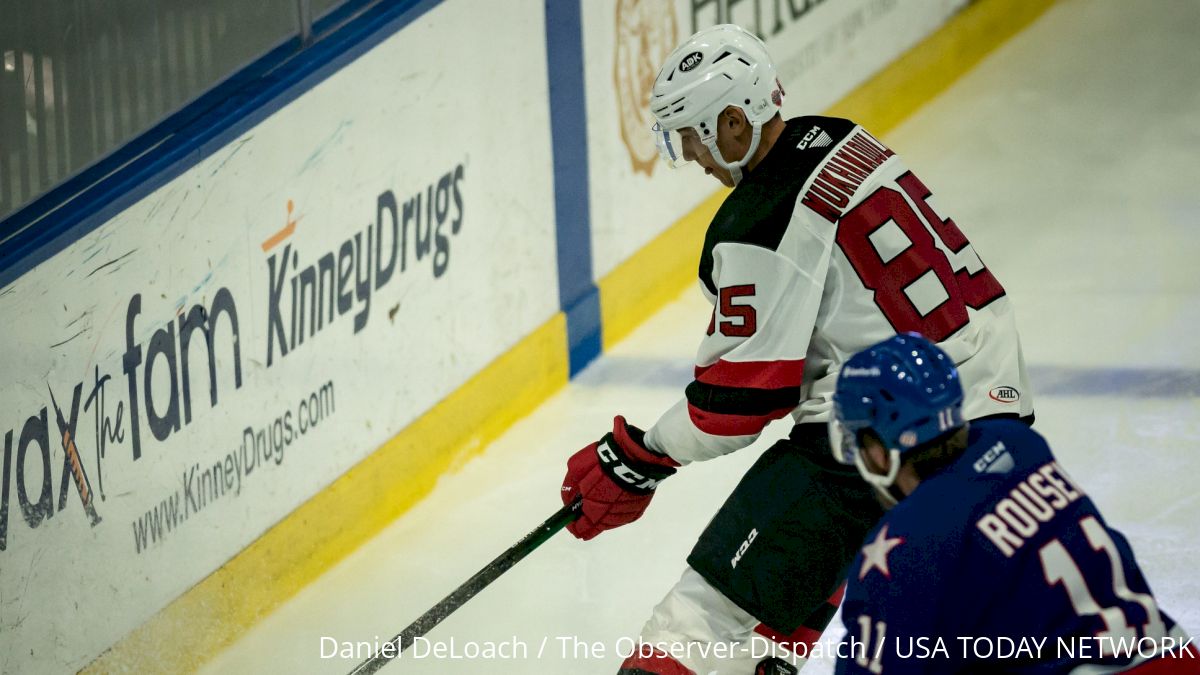 In the lead-up to the NHL Trade Deadline on March 3, FloHockey's prospect analyst Chris Peters will be evaluating each of the trades that involve significant prospects and picks.
One of the biggest prizes on the NHL trade block moved Sunday as the New Jersey Devils swung a major trade with the San Jose Sharks for a package that was headlined by Timo Meier. Also acquired by New Jersey in that deal was defenseman Scott Harrington, defenseman Santeri Hatakka, forward Timur Ibragimov, goalie Zach Emond and a 2024 fifth-round pick.
For parting with one of their best players in Meier, the Sharks got a seven-piece package that included players Andreas Johnsson, Fabian Zetterlund, Nikita Okhotiuk and Shakir Mukhamadulin. They also got a conditional 2023 first-round pick, a conditional 2024 second-round pick that could become a first if the Devils go far enough in the playoffs and a 2024 seventh-round pick.
It was one of the more mind-blowing tades in terms of the sheer number of pieces that transferred.
The Devils got the best player in the trade and even picked up some other pieces that can help down the road, but for our purposes here, we're going to focus on the return the rebuilding Sharks received.
So let's dive in.
6:00pm - we have officially made a trade pic.twitter.com/m3DbRYmHeE

— San Jose Sharks (@SanJoseSharks) February 27, 2023
About the Sharks' Return
The Sharks gave up a lot, but they got a lot. They'll have a first-round pick this year on top of their own, which will be in the lottery range. They also have the potential of getting another first-round pick in 2024 if the Devils make the Eastern Conference Final in either of the next two seasons and Meier plays in 50% of the team's games this year. At worst, they get a 2024 second-round pick, which is going to be in a range where they can still land a future NHL player.
San Jose now has 11 draft picks for 2023 and will probably get a few more before they're done.
The prized prospect in this package, however, is defenseman Shakir Mukhamadullin who was selected 20th overall in 2020. It was a surprising pick on draft day as Mukhamadullin was a polarizing prospect, but now 21, he's evolved into a blue-chip prospect with a decent chance of rounding into a top-four contributor on an NHL blue line.
In 67 games with Ufa in the KHL this season Mukhamadullin collected a career-best 25 points, which was good for fourth among U22 defensemen in the KHL. At 6-foot-4, 190 pounds, he has good mobility and has seen his offense improve in each of the last three seasons.
Another especially important factor in landing Mukhamadullin is that he is under NHL contract. The fear over getting him signed no longer exists as he's only in the KHL on loan. The Sharks don't have to worry about him re-upping in the KHL because he's only there on a loan agreement currently. That's not to say getting Russian prospects back to North America isn't without tension given the current geopolitical climate, but this does not appear to be a high-risk situation for San Jose.
On top of that, Fabian Zetterlund is a serviceable NHL depth player as he's already proven over 45 games this season. Meanwhile, Nikita Okhotiuk is a 22-year-old who is right on the edge of NHL readiness. He is a nasty physical defenseman with limited offensive pop, but he can protect his own end. Okhotiuk has 15 NHL games so far, but should have plenty of opportunity with San Jose. Lastly, Andreas Johansson is a player with NHL experience who might fit better for San Jose than he did in Jersey, seeing as he was in the AHL for most of the year.
Mukhamadullin is the player, however, that provides the most value and upside among those acquired by San Jose.
Evaluating The Sharks' Return
In Mike Grier's first ever mega deal, he got what could ultimately amount to the equivalent of three first-round draft picks depending on if all conditions are met. That includes Mukhamadullin who has grown from raw prospect into legitimate talent with clear NHL upside.
Parting with homegrown players that have made a major impact like Meier is never easy, but it's more palatable when you get multiple assets of a high value.
The Sharks are going to retool a bit here. They have some decent players in their current core and some exciting youngsters, but this San Jose prospect pool was not deep at all. Beyond William Eklund and Thomas Bordeleau, there's not a ton to get super excited about. Mukhamadullin, plus the two first-rounders they'll have this year could afford the team some new building blocks if all goes well.
There are no guarantees and we still haven't seen Mukhamadullin play in the NHL, which is going to be an adjustment for him assuming he comes over and starts playing for the Sharks next season. But the upside of this deal is pretty solid.
I have Mukhamadullin rated as an B+ prospect, meaning I believe he has top-four upside with a good chance to be an everyday impact NHL player, but it's not a given. I did not love him in his draft year and was surprised when he went in the first round, but sometimes those bigger players take longer to find their game. It appears he's found it over the last few seasons and with his size and mobility, he's got a chance to make this deal a bigger home run for the Sharks. There's still a long way to go, though.
I've liked Zetterlund as both a prospect and an NHL player because he's quality depth and he's got a good work ethic about him on the ice. Okhotiuk is right on the edge of being ready and he brings a bit of edge to their blue line which is still needed, especially for when the Pacific gets back to being one of the tougher divisions in the league.
I don't think any of the other prospects the Shakrs parted with are guys they'll lose sleep over. Hatakka has some NHL capabilities, but probably lands as a depth guy or maybe even a NHL-AHL tweener. Zach Emond is still very young in his career in goalie years and has seen some time at both the ECHL and AHL level. Meanwhile, Timur Ibragimov has never quite found his way in North America, but seems to have found some footing with the ECHL's Wichita Thunder this season and maybe can work his way back to the AHL.
The Sharks had to get a strong return for Meier and even retained 50% of his cap hit to make sure they did. For one of Grier's first major forward-looking decisions for this franchise in the GM's chair, I think he did about as well as he could have under the circumstances.