ECHL
Jason Payne's Second Year In Cincinnati May Be Better Than His First
Jason Payne's Second Year In Cincinnati May Be Better Than His First
Jason Payne made headlines last year as the only Black head coach in North American professional hockey. He led the Cyclones to the Kelly Cup Playoffs.
Feb 22, 2023
by Mike Ashmore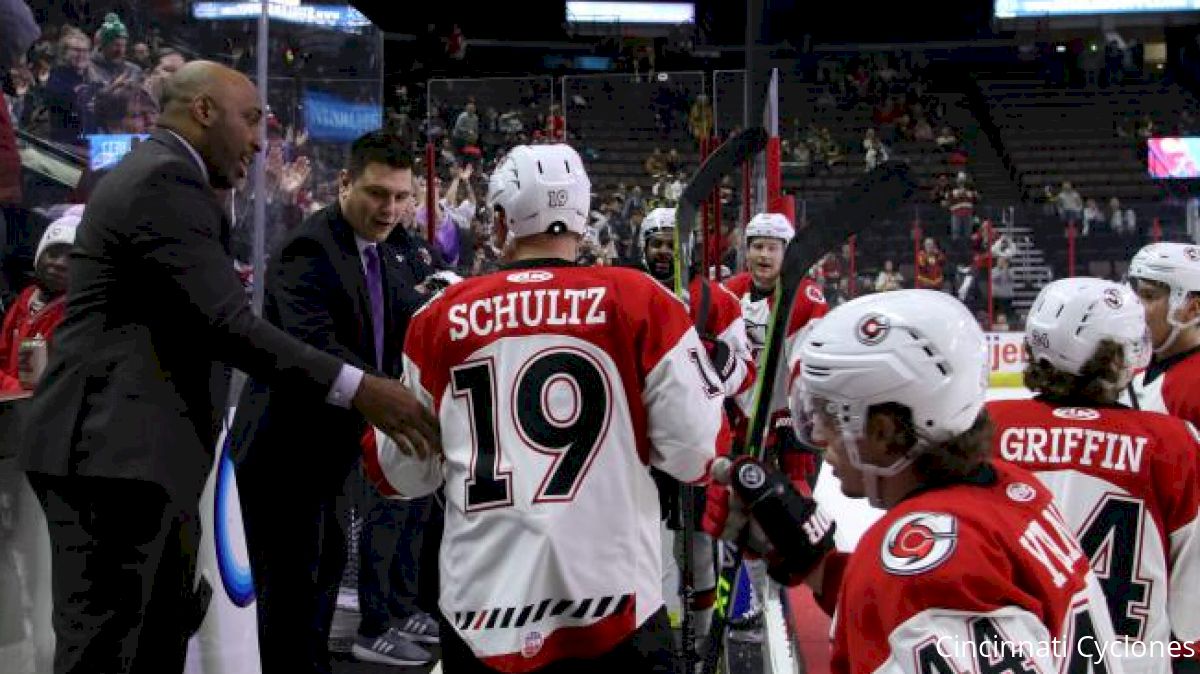 The sequel is on pace to be better than the original.
Jason Payne made national headlines last year for becoming the only Black head coach in North American professional hockey after being promoted by the Cincinnati Cyclones, and he led his team to a somewhat unlikely appearance in the Kelly Cup Playoffs.
His second season has been even better.
Cincinnati is tied for the lead in the ECHL's Central Division heading into this week's slate of games, and the Cyclones are on a roll.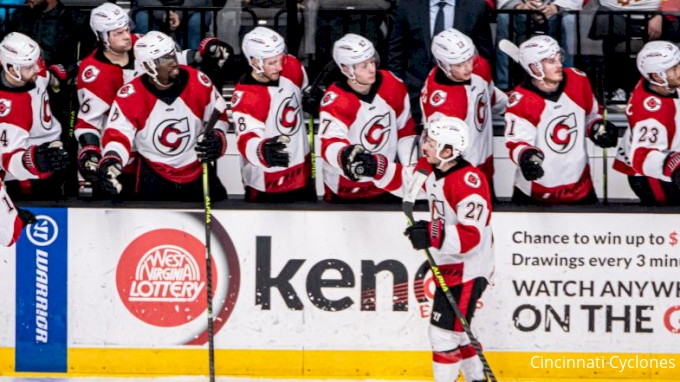 Payne's team hasn't lost in regulation in six straight games and is 7-1-1-1 in its last 10 games. The team has taken big steps, on and off the ice, this season as a group.
"Honestly, I think the biggest thing is just correcting and cleaning up the culture we have as an organization and as a team," Payne said in a lengthy one-on-one chat with FloHockey. "Last year, we had a certain culture, but it was more of a culture that was somewhat inherited. As you take over something, it's finding your footing, finding your ground, finding what works for you."
Payne has worked to make things his own, while putting the right people in roles that will help the team continue to be successful.
The formula is about more than just finding good players – it's about finding great people who can be positive influences on others and in creating the desired environment.
Some of the changes needed to wait until Payne's second year, and the results have paid dividends, both in the locker room and on the ice, with the team off to a 29-12-5-3 start and a playoff spot almost surely already locked up, if not a potential division title.
Payne knows how frequent change can be in the ECHL, so he has focused on finding a balance between the top young talent and the older, experienced players. Balance equals chemistry.
The head coach is a big part of that chemistry, of course, but if you ask around the dressing room, the culture change has been a welcomed one that has continued to earn Payne the respect of those around him, not to mention an appreciation for bringing in people for opportunities that are perhaps unexpected ones.
"He's got a good relationship with a lot of guys on the team, but just for me personally, I wasn't sure if I was going to get an opportunity," said second-year Cyclones standout Mark Sinclair, who has blossomed into one of the league's top young goaltenders. "But Jason brought me in last year and saw something in me. He decided to give me another chance and bring me back. I appreciated that a lot, because I wasn't sure what kind of opportunities I'd be getting.
"I don't think I started a game at all last year, so that's a pretty big chance to be taking on a guy like me. That was big, for sure. With Jason, I would say he's more on the side of a player's coach. He likes to have fun with the guys and likes to keep it light, but when it comes down to laying it down a little bit, he's able to do that, as well."
As for that potential division title, it certainly won't be easy.
The Central Division arguably is the league's top group, with three of the ECHL's top 6 teams in the overall standings fighting all season for the banner.
The Cyclones are tied with the defending Western Conference champion Toledo Walleye with 66 points, and the Indy Fuel are right behind them with 64.
7 goals. 2 points. Tied for 1st place 🥇

🗞 https://t.co/3SsUWO9N7R pic.twitter.com/Te5mA9RJbB

— Cincinnati Cyclones (@CincyCyclones) February 19, 2023
"I think this division is one of the toughest divisions I've seen so far," Payne said. "Not to really speak out of turn, because I haven't been in those other divisions, but at least the top 5 teams, you're always going to have heavy competition with them.
According to Payne, Indy is doing a great job and playing well together. It's the same in Toledo. Fort Wayne continues to battle. Wheeling pulls out wins. Kalamazoo is competitive night in and night out.
That means, things are anything but predicable.
Speaking of Kalamazoo, Payne made headlines again this season when he faced off for the first time against the Wings and their head coach, Joel Martin. It was the first matchup in pro hockey history between two Black head coaches, and it was seen exclusively on FloHockey.
"It was great," Payne said. "It's definitely a positive look to see another Black coach across the bench. We have a good relationship dating back a bit – but to see that, honestly, it's something where you know everybody out there and fans around the world, even from Kalamazoo, or wherever we're at, they're going to see a person of color on the bench, and not necessarily on the ice, but behind the bench and running a team, that allows them to realize they don't have to just be players, they can be coaches, too."
Payne and Martin have been pioneers, and it's something they're very proud of, especially as they see other Black coaches now working their way through the hockey ranks. It's continued positive growth for the sport.
These coaches each have a unique path in hockey that led them to the @USPHL, @OHLHockey,@NAHLHockey, @ECHL and @NHL.

Learn more about their coaching journeys and meet all members from the #NHLCA BIPOC Coaches Program at https://t.co/wA7Ej5eG5V.
#BlackHistoryMonth pic.twitter.com/G0Vmi5ho6e

— NHL Coaches' Association (@NHLCoachesAssoc) February 9, 2023
Payne has remained humble in that pioneer role, and he insists that his focus remains on where his feet have been planted. That is, of course, in the ECHL with Cincinnati.
Whether he continues to open doors for himself and moves up to the AHL or NHL remains to be seen, but that he's opened up doors for other current or aspiring coaches of color to one day do so, however, is inarguable.
"Honestly, you'll never know the true number of anything from myself, Joel and all the other coaches trying to open doors and break down barriers, until however many years down the road," he said. "You want to think you're making a positive impact, and I want to make sure I'm being the greatest person I can be, so that whatever opportunities come from doors to be opened for others, it'll continue. And a lot more will."