2023 Cedar Rapids RoughRiders vs Youngstown Phantoms
USHL Cleveland Classic: How To Watch Outdoor Game, Players To Watch
USHL Cleveland Classic: How To Watch Outdoor Game, Players To Watch
The USHL will take it outdoors Thursday as the Youngstown Phantoms and Cedar Rapids RoughRiders meet at FirstEnergy Stadium, home of the Cleveland Browns.
Feb 21, 2023
by Chris Peters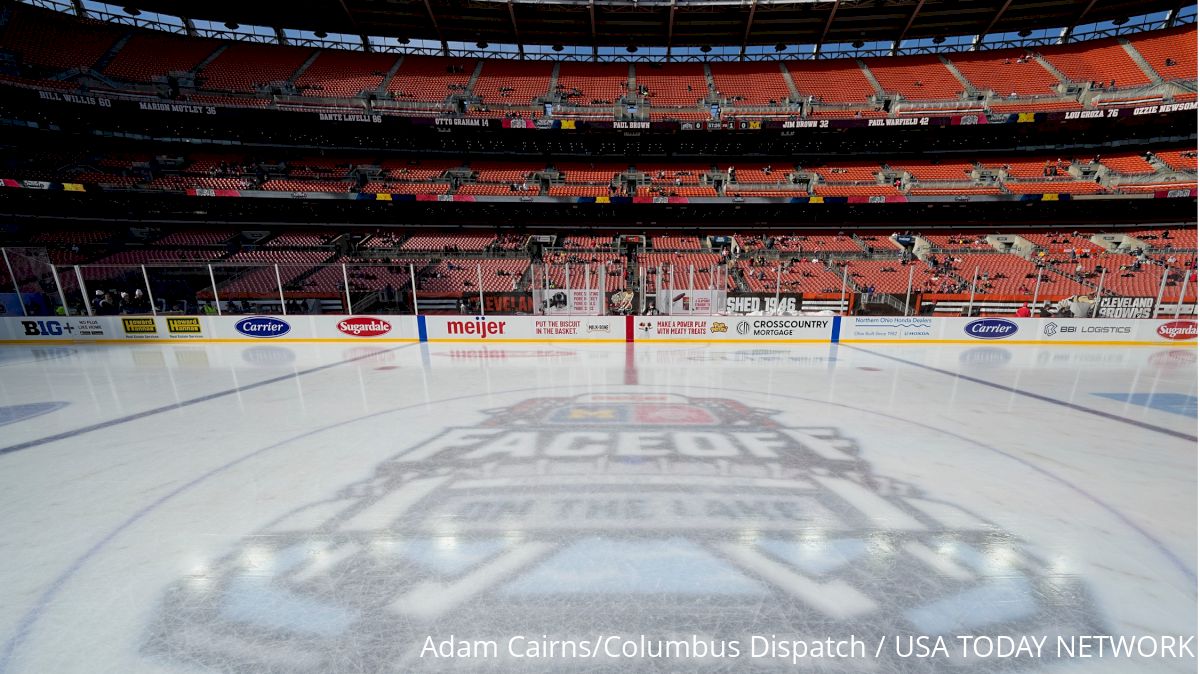 After a weekend full of outdoor games in the NCAA and NHL, the USHL is getting in on the act later this week as the Youngstown Phantoms and Cedar Rapids RoughRiders are set to do battle at FirstEnergy Stadium for the 2023 USHL Cleveland Classic Presented by Winmark. Puck drop is set for 6:05 p.m. ET on Thursday and you'll be able to watch the game right here on FloHockey.
This game will count in the regular-season standings, making it a critical Eastern Conference battle between two teams jockeying for playoff spots with the Phantoms currently third in the East and Cedar Rapids in sixth, but just five points out of fourth place.
The game will be played in the home of the Cleveland Browns which just played host to 45,000 fans for the Faceoff By The Lake featuring the University of Michigan and Ohio State University. Thursday's forecast calls for warmer temperatures with a high of 63 degrees with a drop expected in the evening hours to provide what could be near-perfect conditions for an outdoor game.
For the players, Thursday night's game creates a unique opportunity to play in a spectacular setting and have a little extra fun in what can be a long and grinding hockey season.
@USHL Cleveland Classic, presented by @WinmarkResale

🎥 @_msfilms

Visit our website for more information: https://t.co/cBxt2H0LEr pic.twitter.com/n0cDoaOUbP

— Youngstown Phantoms (@YtownPhantoms) December 22, 2022
It also affords the Phantoms to help the city of Cleveland continue celebrating its hockey past and present while supporting a good cause. A portion of the proceeds of each ticket sold is going back into Black Bear Youth Hockey Foundation, which aims to remove financial barriers for kids that want to play hockey but otherwise may not be able to afford it.
As part of the celebration of local hockey history, Cleveland native Blake Bolden, the first Black player in NWHL (now PHF) history, will drop the puck for the ceremonial opening faceoff.
"Blake is a trailblazer for women in the sport of hockey and has been an unbelievable role model for countless young hockey players. We would like to thank Blake for being a part of this once-in-a-lifetime experience," Phantoms head coach Ryan Ward said in a statement.
Bolden is also a pro scout for the Los Angeles Kings and works as a hockey reporter for ESPN.
Cleveland has a rich hockey history which includes a one-time NHL team in the Cleveland Barons. The local AHL team has also won the Calder Cup in 2016, led by current Colorado Avalanche head coach Jared Bednar.
But Thursday night will be all about the USHL and all about the players. Here's a quick look at some of the players to watch during Thursday night's outdoor contest.
Youngstown Phantoms
Jacob Fowler, G (2023 NHL Draft Eligible)
After picking up a shutout in his last start, he became Youngstown's all-time leader in shutouts with seven. The 6-foot-2 netminder has had an impressive season to date with a .918 save percentage with five shutouts this season. As the Phantoms have found their footing as a team, Fowler has been even better between the pipes for them. He is committed to Boston College.
After Saturday's game against Dubuque, Jacob Fowler has become the Youngstown Phantoms' all-time leader in shutouts. pic.twitter.com/CdO8px8per

— Youngstown Phantoms (@YtownPhantoms) February 20, 2023
William Whitelaw, C (2023 NHL Draft Eligible)
One of the most dynamic players in the USHL, Whitelaw is averaging nearly a point per game and has had a penchant for scoring big goals. He is tied for eighth in the league with 22 goals on the season and plays an entertaining brand of hockey.
Shane Lachance, LW (Edmonton Oilers)
Lachance's game has taken off quite a bit in his second USHL season. The Boston University commit is tied for third in the USHL in scoring with 26 goals. The 2021 sixth-round pick has the size NHL teams covet at 6-foot-4 and 194 pounds and now has that scoring touch on top of it. He's taken a meaningful step forward as a player.
Cedar Rapids RoughRiders
Ryan Walsh, C (2023 NHL Draft Eligible+)
Though 19 years old, Walsh is in his first USHL season after a highly productive career in prep hockey at Salisbury School. The Cornell commit is currently second in the USHL with 53 points and has four multi-point games over his last eight played including a five-point effort in late January against Muskegon.
Zacch Wisdom, RW (2023 Draft Eligible+)
A second-year draft eligible who is committed to play at Colorado College, Wisdom has a good chance at being picked this year. He has an unrelenting motor and work ethic that has allowed him to be a fearsome forechecker and disruptive player for the opposition. This season, he's nearly doubled his rookie scoring total from 2021-22, with 42 points. His 25 goals rank fifth in the USHL currently.
Eric Pohlkamp, D (2023 Draft Eligible+)
In the midst of a breakout season, Pohlkamp is trending towards being drafted. Pohlkamp is averaging nearly a point per game from the back end as his offensive game has taken off this year. A 5-11 right-shot defenseman, Pohlkamp has good mobility and plays with a bit of an edge. The Bemidji State commit is fourth in scoring for the Riders overall and tied for first among all USHL defensemen with 37 points.