2023 Army vs Bentley - Men's
Two Atlantic Hockey Freshmen On Tim Taylor Award Watchlist
Two Atlantic Hockey Freshmen On Tim Taylor Award Watchlist
Atlantic Hockey freshmen Max Itagaki and Nicholas Niemo were named to the Tim Taylor Rookie of the Year Watchlist honoring the NCAA's top rookie for 2023.
Feb 17, 2023
by Jacob Messing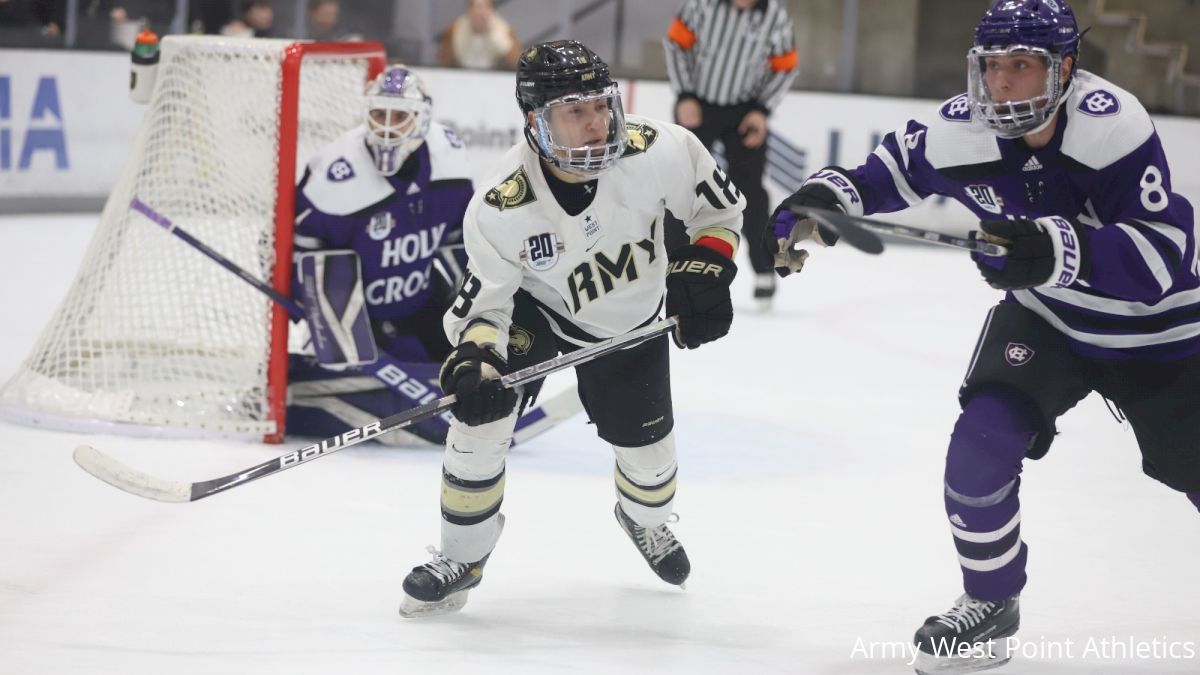 Atlantic Hockey freshmen Max Itagaki and Nicholas Niemo were named to the Tim Taylor Rookie of the Year Watchlist honoring the NCAA's top rookie for 2023.
The pair of Atlantic Hockey rookies are two of 27 names that have skated their way onto the watchlist.
Itagaki leads Army West Point in scoring with two goals and 26 points through 30 games. His 24 assists lead all Atlantic Hockey skaters and place him tied for eighth nationally, among the ranks of first-round NHL draft picks Logan Cooley (No. 3 overall, 2022) and Luke Hughes (No. 4 overall, 2021).
"Max has had an outstanding year for us, it's nice to see him receive the recognition," Army West Point coach Brian Riley said.
"Max is 5'5.5" and you wouldn't know that how he plays."
Itagaki sits sixth in conference scoring. RIT's Carter Wilkie, the 2022 AHA Rookie of the Year recipient, leads all Atlantic Hockey players with 33 points.
Army West Point's Max Itagaki and Bentley's Nicholas Niemo are among 2⃣7⃣ players named to the Tim Taylor Rookie of the Year Award watch list❗️

📰 https://t.co/poW1bMc7H2#AHA20 pic.twitter.com/9Zx4KOimq9

— Atlantic Hockey (@Atlantic_Hockey) February 9, 2023
Trophy or not, Itagaki's skillset has Riley excited for the four-year commitment required at West Point.
"I still think when you see him next year, he'll even take another step," Riley said.
"His hands and vision, that's something I haven't seen a lot of in freshmen coming through our program."
For now, Riley has little to say on adjustments for the 20-year-old, who is finding teammates with ease in the offensive zone and has helped sophomore Joey Baez reach 16 goals on the season and another four over the USNDT.
"I think he does have to be a little more selfish at times," Riley said regarding Itagaki's preference to make a play rather than take the shot.
Four hours northeast, Bentley's Nicholas Niemo sits second in scoring among Atlantic Hockey freshmen with six goals and 19 points in 28 games. Niemo leads the Falcons in scoring and is the lone player in the program holding a positive plus/minus with a plus-6 defensive rating.
Take what you will from the team-based stat, but it's an outlier relative to his teammates, and shows the freshman's dedication to a 200-foot game for the last-place Falcons.
Niemo is no stranger to providing offense. The forward finished tenth in NAHL scoring (17 G, 36 A, 53 pts. in 52 GP) during his first season in 2020-21 with the sixth-highest assist total in the league.
Congrats to Nicholas Niemo, named the national Co-Rookie of the Month for January by the Hockey Commissioners Association 👍👍

Nick led the AHA in both points (13) & assists (9) during the month. He carried a 7-game points streak into February.

Release: https://t.co/nJ4rL1GcF0 pic.twitter.com/9NTyfU7zc8

— Bentley Hockey (@BentleyHockey) February 7, 2023
The following season, Niemo's 38 goals were second in the NAHL, and his 74 points in 60 games were fifth in the league. His offensive accolades stemmed from playing the right way, as his plus-28 rating was tenth in the NAHL.
Niemo's adjustment to college hockey may not have been as quick as Itagaki's, but his spring semester has shown his ability to adapt.
Through the 12 games since the turn of the calendar, Niemo has recorded four goals and 10 assists with 11 primary points. The recognition comes after a dominant January.
---
Have a question or a comment for Jacob Messing? You can find him on Twitter @Jacob_Messing.