Men's Big Ten Hockey
2023 Hobey Baker Candidates: Fantilli, Hughes Strengthen Case; Levi In Mix?
2023 Hobey Baker Candidates: Fantilli, Hughes Strengthen Case; Levi In Mix?
The Hobey Baker race continues to heat up as the college hockey season heads towards tournament time.
Feb 16, 2023
by Chris Peters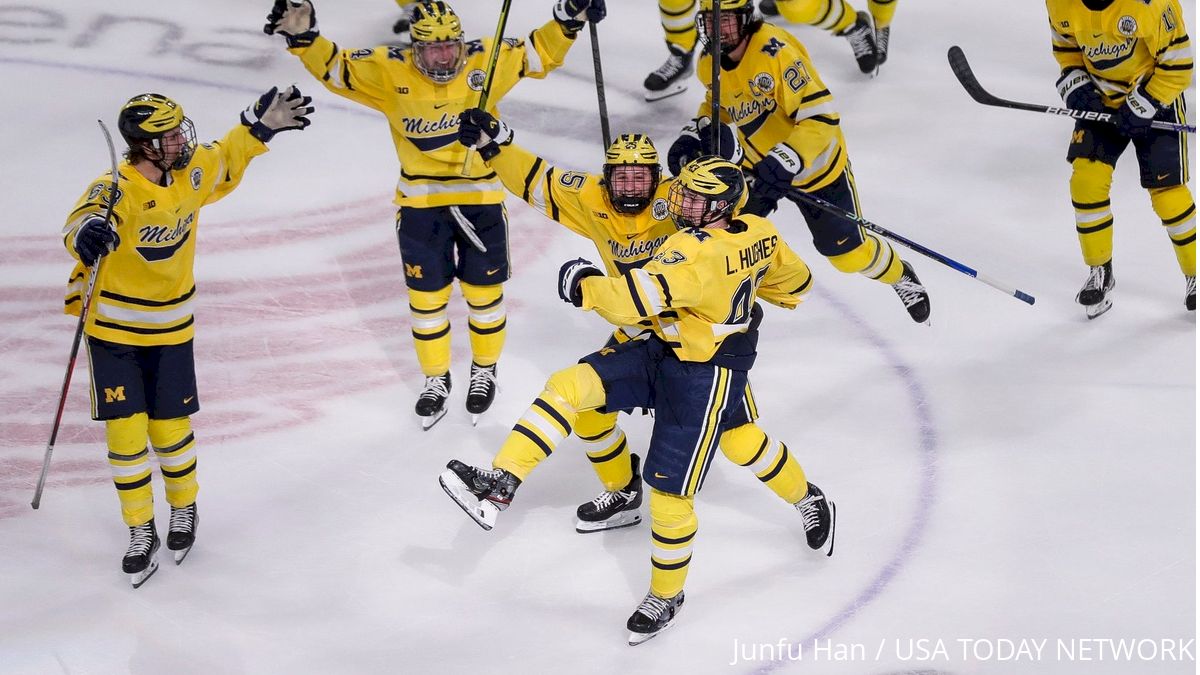 The race for the 2023 Hobey Baker Memorial Award is heating up and is far from decided at this point. Many players are still firmly in the mix for college hockey's top individual award as the postseason looms.
What makes this year particularly interesting, however, is how few players are in the mix that seem to fit the Hobey blueprint which has often skewed towards upperclassmen. This season, however, freshman and sophomores dominate the leaderboards in many major categories.
The committee that votes on the award is comprised of a lot of different people from inside and outside of the game and there have been plenty of occasions where the award goes to an unexpected recipient relative to the field. In the end, it's not all about points or even team impact.
It makes the Hobey Baker much more difficult to predict than other individual awards, like the Heisman Trophy or even the NHL's Hart Trophy. It's not always as cut and dried as it seems. This year's field however is skewing the candidate pool significantly younger.
So let's get a look at the top contenders at this point, understanding that there's still plenty of season and postseason to go to shift things.
I broke this down into the players that I think have the most realistic chance to threaten for the award, a separate category for goalies, some that should be in the mix but might not have as strong a case and some others to be aware of. Let's get to it.
Top Hobey Contenders So Far
Adam Fantilli, C, Michigan (2023 NHL Draft eligible)
The leading scorer in the country, Fantilli is averaging 1.88 points per game heading into Thursday night's contest against Ohio State. That puts him ahead of the pace of both Jack Eichel and Kyle Connor who each had 71 points in their freshman campaigns. What Fantilli is doing this season has been mostly mind-blowing.
Adam Fantilli is the National Player of the Month!

Fantilli led the nation in scoring during January, averaging 2.33 ppg. He scored five goals and nine assists in six games - all against top 10 opponents.#GoBlue〽️ pic.twitter.com/WSoH8HSG7k

— Michigan Hockey (@umichhockey) February 7, 2023
Since returning from the World Junior Championship, which cost him two regular-season games, he has 21 points over nine games. The Wolverines have won seven of those contests. It is very rare a freshman takes charge the way Fantilli has. He's been largely unstoppable.
A wrinkle in Fantilli's candidacy, however, is that he did recently just get a game disqualification for fighting. I personally don't feel like it should have much bearing on the award, but I'm also not on the committee and I think they do care about that stuff.
If there's a splitting hairs argument in the decision process, that may not be insignificant. It's also not insignificant that Fantilli has missed five games this season, two for illness, two to participate in Canada's World Junior camp and one due to suspension following the disqualification. Again, we're talking minutia stuff here, but I've learned never to rule anything out as a factor in the decision process that I've felt has overthought it one too many times.
Sean Farrell, LW, Harvard (MTL)
The second-leading scorer in NCAA hockey, Farrell has 42 points and is second in the nation with 1.68 points per game. He has been held off the scoresheet just four times this season and is 11 points clear of his next closest teammate in terms of production. Farrell has already smashed his career-highs in every offensive category.
Sean Farrell. (G, 3A). Another big time performance. Great play by Coronato to force the turnover. 5-3 Harvard. #GoCrimson

WATCH: https://t.co/ul4Su6A2GN pic.twitter.com/vfLhTp2HQB

— Harvard Men's Hockey (@HarvardMHockey) February 11, 2023
The speedy forward has been consistent. You know he's going to be a threat every game and in just his second season of college hockey has simply taken over. He has some great linemates, but Farrell is a driver who challenges opposing defenses and always seems to make the best play.
Jason Polin, RW, Western Michigan
The leading goal scorer in the country, Polin has scored 44% of his career goals in his senior campaign with 24. The Broncos had a ton of offense to replace from last year's team and looked like they might take a step back. Polin has stepped up in a major way to be one of the key drivers of one of the nation's most potent scoring attacks.
Polin has some advantages, not the least of which being his status as a senior. Additionally, there's precedent for the committee picking the nation's top goal scorer over its top point producer and Polin has a pretty nice lead in that particular category. And while that strengthens his candidacy, few things strengthen it more than how his production has led to team success in one of the nation's toughest conferences.
Luke Hughes, D, Michigan (NJD)
A remarkable second half of the season, over which Hughes has been among the most dominant players in the country, has put him right back into the Hobey discussion. A top-10 finalist last year, Hughes is tied with Lane Hutson for most points by a defenseman with 36 points and is just three points shy of his full season total from last year. Half of his points have come over the last 10 games as Hughes has keyed Michigan's recent seven-game winning streak.
Considering that three of the last five Hobey Baker winners have been defensemen helps Hughes's cause, especially since he's on pace to surpass the numbers of each of those three players including Cale Makar. If Hughes maintains his pace, he could get close to 50 points this season. Makar had 49. These last few weeks where he's averaged close to two points per game has reminded everyone of just how dominant Luke Hughes can be.
LUKE HUGHES! pic.twitter.com/7uHGU0hX8T

— Michigan Hockey (@umichhockey) February 12, 2023
Lane Hutson, D, Boston University (MTL)
Averaging 1.33 points per game as a freshman defenseman, Hutson may be able to finish the campaign with the highest per-game average of any freshman defenseman since the early 1980s. Notably, each of the last three Hobey Baker winning defensemen – Scott Perunovich, Cale Makar and Will Butcher – had a lower points-per-game rate than Hutson has this season and he's also slightly ahead of Luke Hughes's pace.
When it comes to team impact, few players make as big of an impact as Hutson as he's the second-leading scorer on his team and seems to come up with big play after big play. Meanwhile, BU's team success helps his cause. I think he's got a good chance to be a Hobey Top 10, but given the competition, it's not a lock yet.
In The Mix…
Ryan McAllister, LW, Western Michigan
For long stretches of the season, McAllister had a hold on the top of the scoring leaderboard in the NCAA. He was the first player to reach 40 points this season and has been a playmaking machine for the Broncos this season. His candidacy is hindered by the fact that he's got an upperclassman teammate with as strong a case if not stronger. Additionally, McAllister is in the midst of a five-game stretch without a point.
Jimmy Snuggerud, RW, Minnesota (STL) & Logan Cooley, C, Minnesota (ARI)
When you're the top two producers on the nation's top team, at least as far as the computer rankings are concerned, you should be in the mix for the Hobey. Cooley and Snuggerud, however, have had very similar stat lines for much of the season. Odds are, only one of the two will make the Hobey Top 10 and that could go to Snuggerud who has been the more productive goal scorer and currently has a slight lead in points per game. That said, it's hard enough for freshemen to win the Hobey and with Fantilli's commanding lead in terms of points right now, it would be hard for either of them to surpass him despite exceptional rookie campaigns for the Gophers.
All 👀's on the youngsters

Logan Cooley and Jimmy Snuggerud have been named to the National Rookie of the Year Watch List!

📰: https://t.co/lHKhrP5apc pic.twitter.com/mmi0zecjKA

— Minnesota Men's Hockey (@GopherHockey) February 9, 2023
Austen Swankler, LW, Bowling Green
One of the most consistent scorers of the entire season, Swankler has a good shot at breaking into the Hobey Top 10 with his massive production. He has been held off the score sheet in just six of 31 games this season and had a scoring streak of 19 consecutive games with a point earlier this season. As one of the national scoring leaders, and one that has propelled BGSU to a strong season, Swankler has a good chance to get into the Hobey Top 10 at least.
Collin Graf, RW, Quinnipiac
Graf's got competition on his own team as goalie Yaniv Perets was already a Hobey Top 10 finalist last season, but Graf has been the offensive leader for the No. 1 Bobcats all season. He leads his team in scoring by 11 points, with 41 on the year. His 1.37 points per game has helped key a Quinnipiac scoring attack that has maximized how defensively sound they are. Ultimately, Graf's candidacy is likely going to be impacted by the sheer volume of high scorers this season, but he definitely should get some significant consideration here.
The Goalies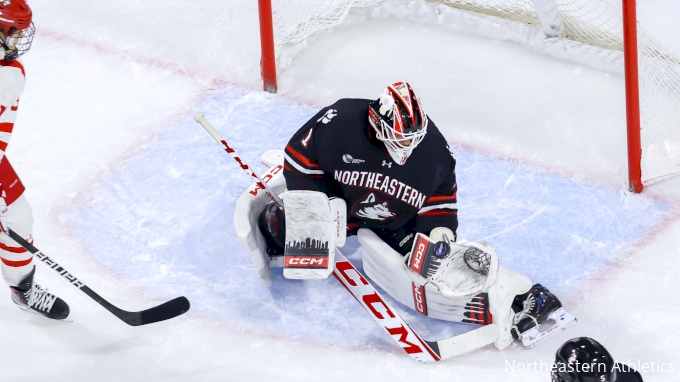 It is very difficult for goalies to win the Hobey. With the existence of the Mike Richter Award to makes sure the top goalie in the country gets honored, there's at least something. That said, goalies remain an especially key part of any team's success and only three netminders have ever won the award.
There are a lot of good goalies across the country this season, but I think it's going to be very difficult for any one of them to get past the Hobey Top 10. That said, I wanted to make sure they got their due credit.
Devon Levi, G, Northeastern (BUF)
He's back? Oh yeah, he's back. After not winning the Hobey Baker last year, but earning the Richter Award as the NCAA's top goaltender, Levi's numbers are not as good this season. His impact on his team, however, is unchanged. Without Levi, Northeastern is not close to sniffing a spot in the NCAA tournament and that shouldn't go unnoticed by the committee.
Levi did have a midseason swoon where his numbers took a big dip, but since the calendar flipped to 2023, he's been absolutely dominant. Play late in the season resonates more than what you do at the beginning of the year and Levi now has a Beanpot MVP on his resume after helping the Huskies capture their second straight title.
Levi is unbeaten in eight of his last nine games and owns a .947 save percentage. If he can carry the Huskies on a run into the NCAA tournament and beyond, his case only gets stronger. It takes a very, very special season for a goalie to win it, though, and I think he has a long way to go before he can truly contend. It's just not out of the realm of possibility at this point.
Blake Pietila, G, Michigan Tech
The Michigan Tech Huskies have been a great story this season. They lost a lot from last year's NCAA tournament team and expectations were lower going into this season. That said, they've got a shot at the CCHA regular-season title and are in position for an at-large berth to the NCAA tournament. They wouldn't be without the exceptional play of senior goalie Blake Pietila.
Blake Pietila Tabbed Richter Award Semifinalist

📰: https://t.co/2FskJSsdB2#CCHAHockey pic.twitter.com/cI8vjlMHWa

— CCHA (@CCHAHockey) February 15, 2023
He is tied for the national lead with eight shutouts, is fifth in save percentage with a .928 mark and has a 1.98 goals-against average. Team impact should be a significant factor in a player's candidacy and I think Pietila's impact should put him in the discussion to be at worst a Hobey Top 10 finalist and in the Richter Award top three.
Yaniv Perets, G, Quinnipiac
Tied for the national lead in shutouts, Perets also has a nation-best 24 wins and 1.61 goals-against average. While I don't think wins is a particularly valid goalie stat as it's a team stat, it is something that could resonate with the committee. That said, a .926 save percentage while averaging 21 shots against per game doesn't necessarily get the needle moving for Hobey candidacy. That's not to say Perets hasn't been excellent for the Bobcats, because he has, but he had better numbers last season and it will be harder to cut through.
Other Notable Candidates
Matt Brown, F, Boston University
Aidan McDonough, C, Northeastern (VAN)
David Silye, C, Minnesota State
Ryan Bischel, G, Notre Dame
Massimo Rizzo, C/W, Denver (CAR)
Carter Mazur, LW, Denver (DET)
Carter Wilkie, F, RIT