2023 Cedar Rapids RoughRiders vs Chicago Steel
Quinn Finley Fitting In Seamlessly After Trade Back To Chicago
Quinn Finley Fitting In Seamlessly After Trade Back To Chicago
Quinn Finley is back where his junior hockey career started. The Chicago Steel made a splash, acquiring him in mid-January. He previously was with Madison.
Feb 16, 2023
by Ryan Sikes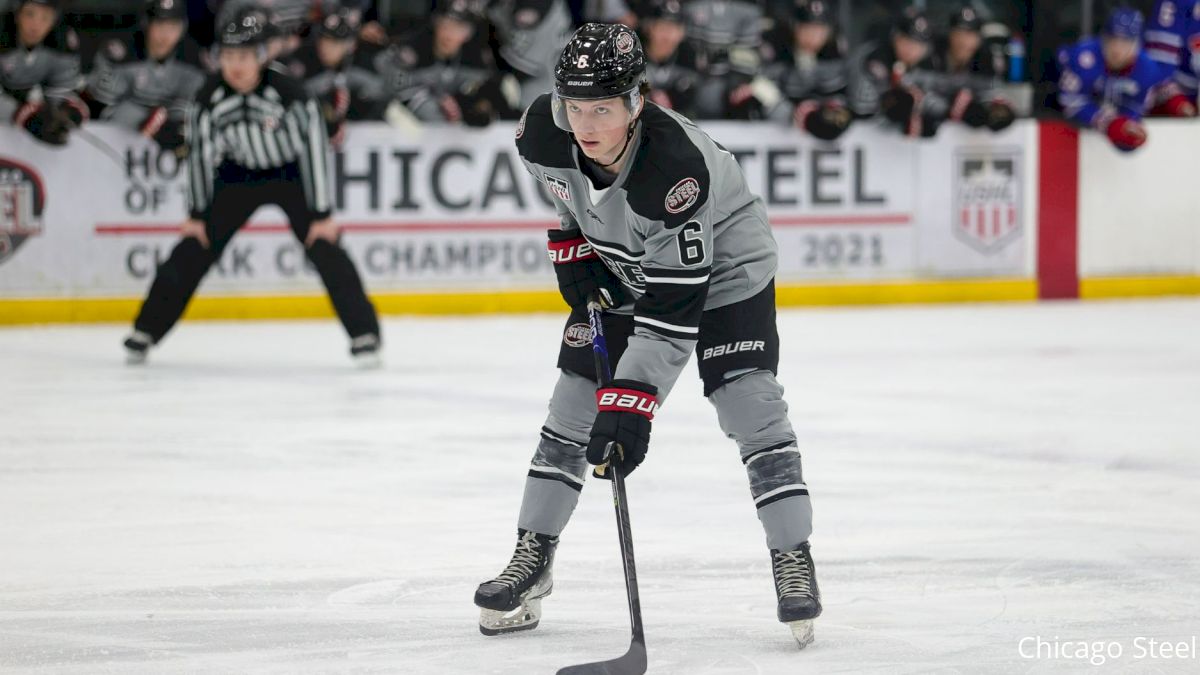 Quinn Finley is back where his junior hockey career started.
The Chicago Steel made a splash, acquiring the 18-year-old forward in mid-January, after it was apparent that a selloff in Madison was coming.
Finley, a third-round draft pick of the New York Islanders in 2022, was picked by Chicago in the 2020 Dispersal Draft, after Madison and Cedar Rapids opted out of the COVID-impacted 2020-2021 season.
Chicago's brass is hoping for similar results to the last time he was in a Steel sweater, culminating with the team hoisting the organization's second Clark Cup.
Following the 2020-2021 season, Finley returned to the Capitols. He had developed into one of the premier goal-scorers in the USHL and accumulated 10 goals and 27 points in 23 games this season prior to the trade.
"I'm super excited to be back in Chicago, and I'm just going to take advantage of the opportunity," Finley said. "There's a great group of guys here, so I'm excited."
That's a four-game point streak for Finner! #FeelSteel https://t.co/iW9UdWNW2d pic.twitter.com/CrPp1GwJxV

— Chicago Steel (@ChicagoSteel) February 12, 2023
After being acquired, the young forward drove down to Chicago a couple of days before the Steel were set to face Finley's old team in Madison on Friday.
While the ins and outs of Fox Valley Ice Arena hadn't changed much since the last time he was part of the team, he had to quickly learn first-year head coach Mike Garman's system.
The two spent much of the first few days and the bus ride up to Madison getting Finley up to speed.
"It was definitely a little weird Friday night playing in Madison," he said on immediately facing his old team. "The game was good, but it was awkward at first."
He was held off the scoresheet in his first weekend back in a Steel sweater, however. Since then, though, the University of Wisconsin commit has recorded points in eight of the last nine games.
Finley has 14 points (six goals, eight assists) in 11 games with Chicago, proving to be the offensive addition the team was looking for in acquiring him.
And despite the systems being a little different than two years ago under then-head coach Brock Sheahan, he has some familiarity with a few of the players from that squad, which has helped make the move as seamless as possible.
"It's been a really nice transition, and I'm super excited to keep moving forward," Finley said.
In his rookie campaign, he compiled six points (one goal, five assists) in 39 regular season games. As a depth player, Finley was a healthy scratch for the Steel's postseason run.
He watched from the press box as players such as Adam Fantilli, Matt Coronato and Sean Farrell, to name a few, headlined the Clark Cup Playoffs.
While most of those players have since moved on to collegiate hockey, several players from that Clark Cup-winning team still are on the roster.
Then you factor in first-year players, such as rookie sensation Macklin Celebrini, Cam Johnson and Michael Hagens, combined with players who have taken on a leadership role since then.
Finley sees a lot of similarities between the two Steel teams.
"Just the super high-offensive group that we have, I think we're super deep in the offensive category," he said. "We have some very good goaltending, as well, and I think our defense is getting better every game. "Our forwards are buying in the defensive zone. I think we're doing a really good job right now."
This time around, Finley is the veteran addition the Steel are hoping makes them the team to beat, not only in the Eastern Conference, but in the USHL.
Everything about this is *chefs kiss* 🤌🏻#FeelSteel https://t.co/iqOgwIEJGA pic.twitter.com/szihfApMsL

— Chicago Steel (@ChicagoSteel) February 11, 2023
He helped guide Madison to the Clark Cup Finals last year against Sioux City, with the Musketeers defeating his Capitals squad in thrilling fashion.
However, that doesn't take away from the fact that Finley gained 14 games of valuable postseason experience, a stretch that saw him pot five goals and 10 points, while averaging over four shots on goal per game.
"Everything I've learned in the playoffs, everything's so important – like making sure you get that blueline, making sure you get that puck deeper, beating out an icing – all those things matter in playoffs," he said. "I'm definitely taking my experience with Madison – my experience, too, from the Steel, and going all the way both years – and hopefully just helping to lead this team."