Men's CCHA Hockey
CCHA Freshmen Lleyton Roed, Kyle Kukkonen Continue To Impress
CCHA Freshmen Lleyton Roed, Kyle Kukkonen Continue To Impress
Bemidji's Lleyton Roed and Michigan Tech's Kyle Kukkonen are two freshmen making waves in the CCHA, and willing their teams to valuable playoff berths.
Feb 13, 2023
by Tim Rappleye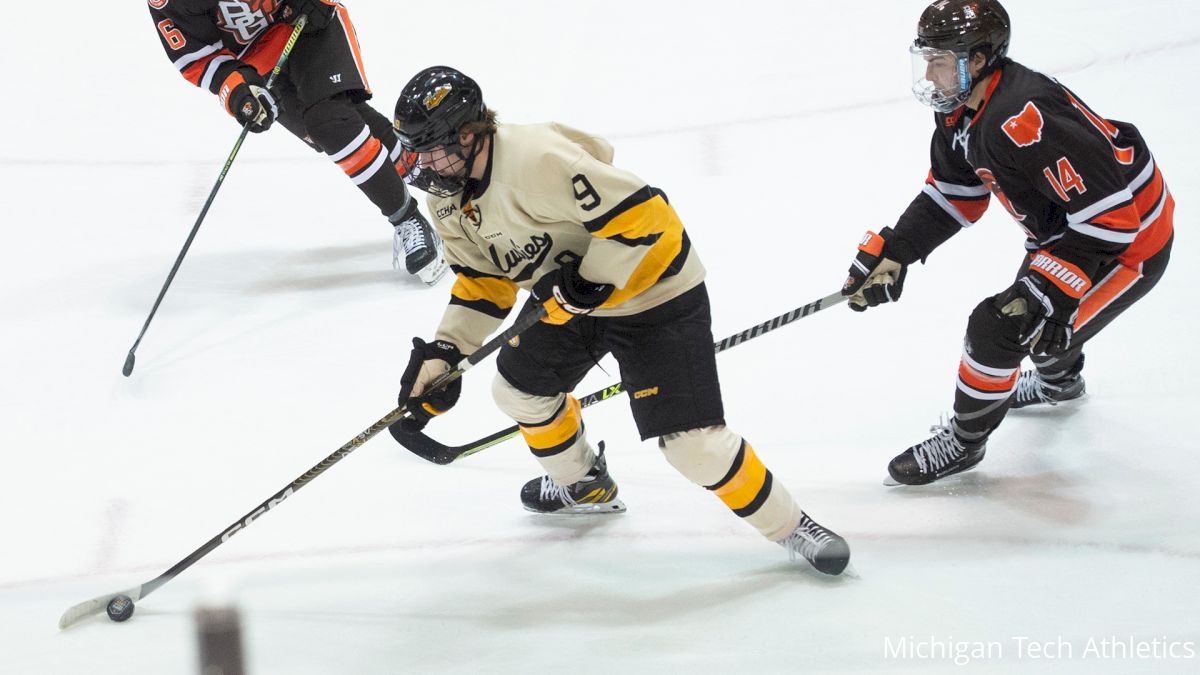 This week in RinkRap, two freshmen dynamos from the State of Hockey show the potential of the next wave of CCHA talent.
Two Rookies Drive Toward The Postseason
It's the year of the rookie in college hockey. Freshmen dominate national scoring charts, NCAA newbies tore up the World Juniors, and college rookies are front and center in the NHL draft charts.
This weekend it was a pair of CCHA freshmen who carried their respective teams to crucial victories Saturday night.
Bemidji's Lleyton Roed (White Bear Lake High) and Michigan Tech's Kyle Kukkonen (Maple Grove High School) are both products of America's cradle of elite hockey—the Minneapolis high school system. These two NCAA rookies are extremely close, their families are intertwined, and they are driving their respective teams as the postseason looms.
Seconds after exiting Bemidji's victorious locker room Saturday night, Roed—who sparked the Beavers with a goal and a helper—already knew that his pal Kukkonen had put on a show up at Michigan Tech's Winter Carnival.
"Four goals!" said Roed.
"Good for Kuks, I'm happy for him."
Roed appears to be the front-runner for the CCHA rookie of the year, but you'd never convince any of the 8,000-plus fans who wedged their way into the MacInnes Student Ice Arena this weekend that any rookie is more valuable—or productive—than Kukkonen. After he iced Saturday's win over a dangerous Bowling Green squad, the sold-out crowd began chanting his name, willing the frosh to the coveted Winter Carnival MVP award.
"It was a blast to be part of the Winter Carniaval," Kukkonen said.
"I knew of it from my cousins and family, and to finally be part of it for the first time was super special."
The rookie refused to take individual credit for the win, trying to shift the spotlight to his linemates and the 10 seniors being honored Saturday in Houghton. But the fact remains that he scored four of the six total goals by the Huskies this weekend—a second loss to Bowlling Green this weekend would have torpedoed Tech's hopes of catching Minnesota State in the chase for the MacNaughton Cup.
Saturday's win allowed Tech to leapfrog Minnesota State into first place by two points, but the Huskies will idle next weekend as the Mavericks try to exploit their two games in hand.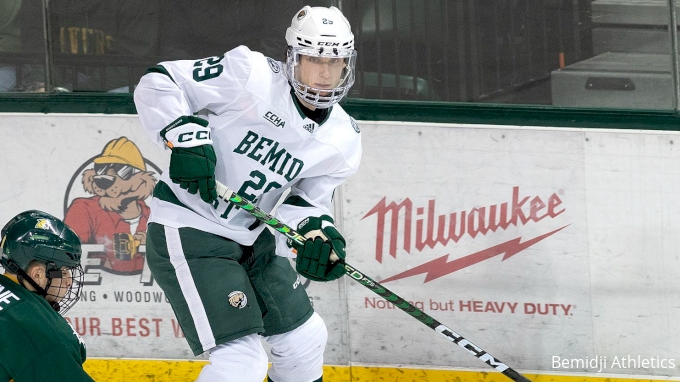 Gears Grinding Toward Season's End
Michigan Tech is also clinging to an at-large NCAA bid, having dropped two spots to 12th place in the computer rankings after Friday night's loss. Depending on conference tourney results, the NCAA cutoff will be between 13 and 15, so Tech is clinging to stable ground—for now. One fact emerged from Saturday's victory: the Huskies have guaranteed themselves home ice in the CCHA quarterfinals, and that provides a modicum of security when all else appears so fragile.
Bemidji fell out of a projected home ice berth after their loss Friday, and recovered it Saturday as they jockeyed with Ferris State for fourth place. Beavers coach Tom Serratore knows exactly what's at stake.
"You want to be in your own bed, you want that familiarity," Serratore said.
"When you start the year, that's what you want. Everybody does, then you go from there. If we lose, we're out of it, we're toast."
But thanks to the first period dynamics of freshman Roed, Bemidji halted their four-game losing streak. It allowed them to get onto their bus full of cheer as they tore into a tray of Italian sandwiches.
Changing The Tone
With home ice on the line Saturday, Roed proceeded to set up the first goal, score the second through sheer persistence, and then on his final shift of the period, replaced the boisterous shouts in Big Rapids with the echo of a puck on post. A near miss that brought gasps. The rookie knew he had Noah Giesbrecht—the league's hottest goalie at the time—dead to rights.
"I thought I had him beat, that was my shot, low blocker, it was a good look," said Roed, who was not afraid to reveal his mindset when screaming down the off-wing.
"Lefty, coming down the right side, it's a good spot."
Of all his attributes, it's Roed's skating that separates him from the pack. It was a major topic of Serratore's post-game presser.
"Lleyton's got a high motor, and he was revved up in the first. He was a driver for us."
Roed's dynamic wheels, cloaked in bright red CCM's, are not a result of pricy camps in the offseason, it's from living within minutes of 10,000 frozen lakes.
"No skating camps," Roed said.
"White Bear Lake is just 10 minutes down the road, the best city-lake around. There's little ponds and lakes all over my neighborhood."
Not to mention that his dad Peter constructed a rink in his back yard. It resulted in the ultimate hockey asset, the ability to get around the rink.
"I've always had my natural skating, had that from the beginning. It's a great attribute, and I like to use it."
Two products from the State of Hockey: Kyle Kukkonen and Lleyton Roed of the Twin Cities, a sniper and a streaker. They are the driving forces behind two CCHA contenders, and if they reach their respective seedings, will face each other in the tournament semifinals. Stay tuned.